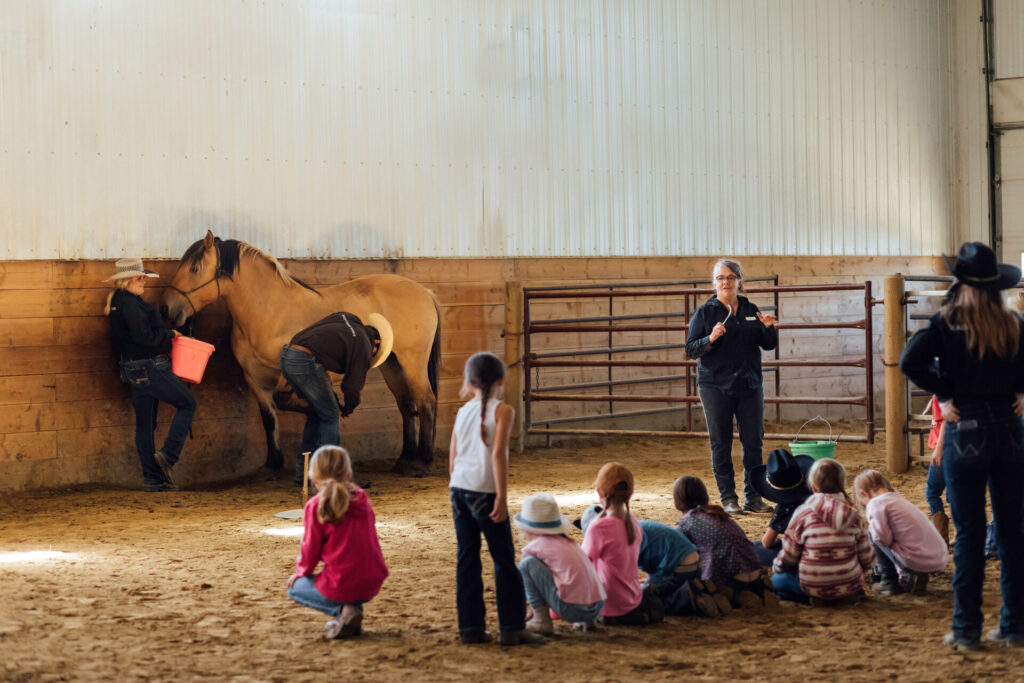 Ranch owner and guide brings Indigenous education to life through programs and experiences at Rainy Creek Ranch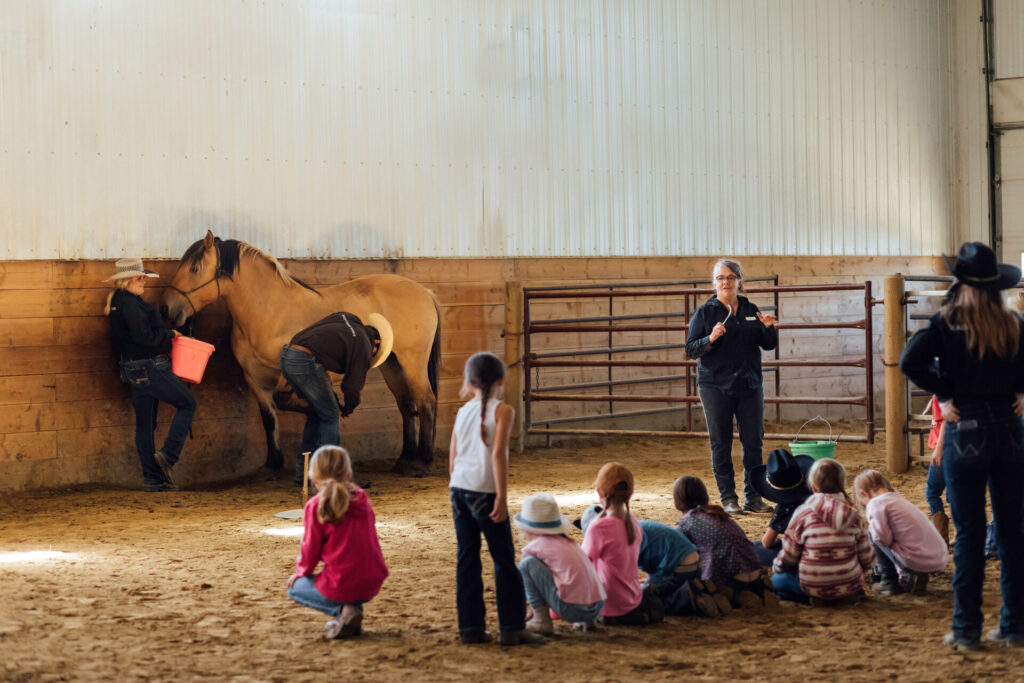 By Kelsey Olsen. Photos by Noella Steinhauer.
Just outside of Sylvan Lake in central Alberta is a trail that leads to the entrance of a large rustic barn. Beyond the solid wooden doors are pastures that are home to a variety of horses and ponies, all of which neigh quietly as they curiously observe your arrival at Rainy Creek Ranch. Expert and guide, Sandra Lacrocque McLeod welcomes you to saddle up and partake in a program offered within the comforts of their ranch. Rainy Creek Ranch offers western camps and experiences with an Indigenous educational component, creating new and exciting learning opportunities for participants to enhance their awareness of the Indigenous peoples and history surrounding the land.
"Does anyone know how we say 'thank you' in Cree?" Sandra Larocque McLeod asked the group of children attending the ranch's annual summer pony camp. One small hand shot up and a proud voice stated, "hiy hiy." McLeod invited the young boy up to the front and together, they taught the rest of the children how to thank their pony, in the Cree language, for spending the day with them.
For McLeod, owner and operator of the ranch, Indigenous culture is at the heart of everything she does. As a Métis woman, she has spent much of her life learning about, and reconnecting with, her own culture. "We're Asini Wachi Nehiyawak, the Mountain Cree," she said. "We never knew it. I knew we were Métis but I had no clue about our family history and culture." Métis-Cree people are the descendants of the children born in the 1700s when European fur traders married Cree women. McLeod went on to describe the moment she knew she needed to learn more about her family. "When my dad passed away, he was very sick and all he could speak was Cree. We all wondered, 'Where did that come from?' That was the moment I knew that I needed to figure out who we are."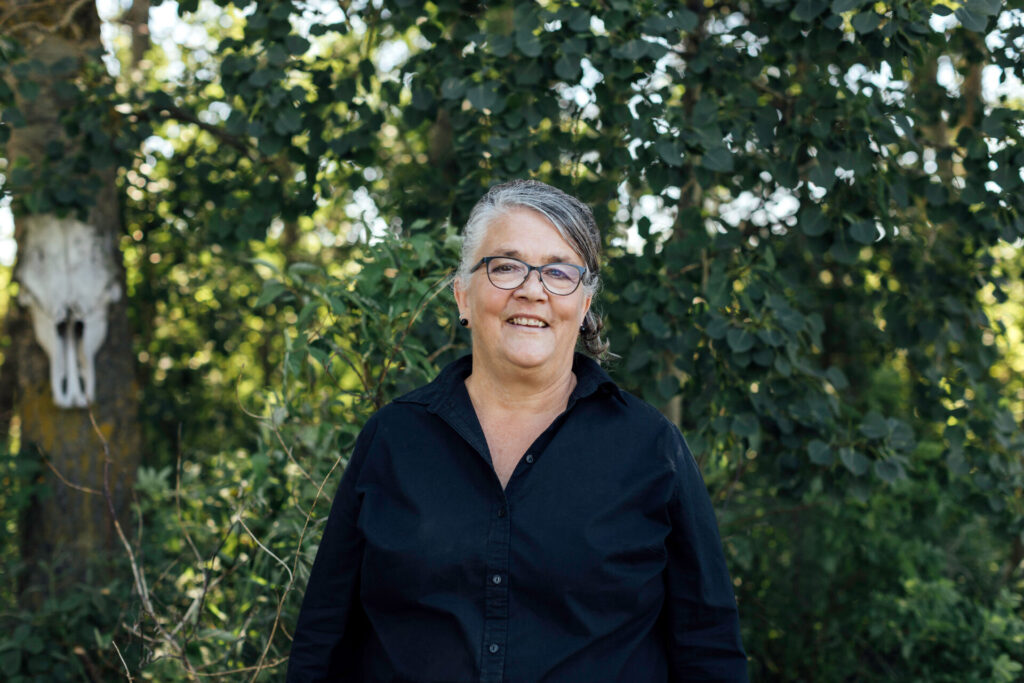 McLeod began asking her remaining uncles questions in order to start putting together the lost pieces of her family's history. Through her dedication, she discovered that her relatives were dispossessed of their land and resided on the meagre strip of land beside roads known as the road allowance, an all-too-common situation that occurred in Canada's history. Additionally, McLeod learned that her granny had to hide that they were Indigenous. "We only identified as French. I probably wouldn't be here today if we identified as Indigenous, so my granny hid that," she said. These important discoveries about her own family history helped to inspire McLeod to incorporate Indigenous culture into the programming at Rainy Creek Ranch. "I've sought it out. I've found it. I've dug it up and I'm not backing down," she emphasized. "We've had enough taken from us and nobody is taking that information from us again."
Reconnecting with her family's culture, history, and stories, has fuelled McLeod's passion for cultural awareness and learning. "At our children's camps, the kids are told about the Asini Wachi Nehiyawak and these kids are as young as five years old," she explained. "We teach them these things and then they go home and tell their mom or dad and it starts a conversation and the educational process." Through these efforts, McLeod hopes to inspire other Indigenous people to seek out lost aspects of their culture and history. She also hopes to share the importance of the traditional lands and build more appreciation of the cultures that have resided on these lands since time immemorial.
Today, Rainy Creek Ranch offers free summer pony camps that give children of all abilities and demographics the opportunity to work hands-on with these amazing animals. "When my son, Carter, was little, I was trying to figure out where I could take him to learn rodeo," McLeod said. "I realized that there's not many places that teach rodeo to kids except for places targeting elite families who have loads of money and that's not us. That's why we began."
The ranch also offers Indigenous cultural camps, mountain guiding camps, traditional hunting camps, rodeo and western programming, and equine-assisted learning programs for people with disabilities — another extremely important topic to McLeod. McLeod has witnessed firsthand the power that the bond of horses can have on a person. McLeod's daughter, Jordan, has been around horses her whole life and she has been able to build incredible connections with these animals. As a person with special needs, Jordan spends her days helping out at the ranch and participating in the equine-assisted learning programs. "We get some big special needs groups out here. We do an occupational therapy speech, and then we do math," McLeod stated. "We'll sort horseshoes or we'll fill a bucket with apples and practice counting. There are all sorts of activities. It's wonderful because a lot of the time they don't even realize we're doing homework because they're having so much fun."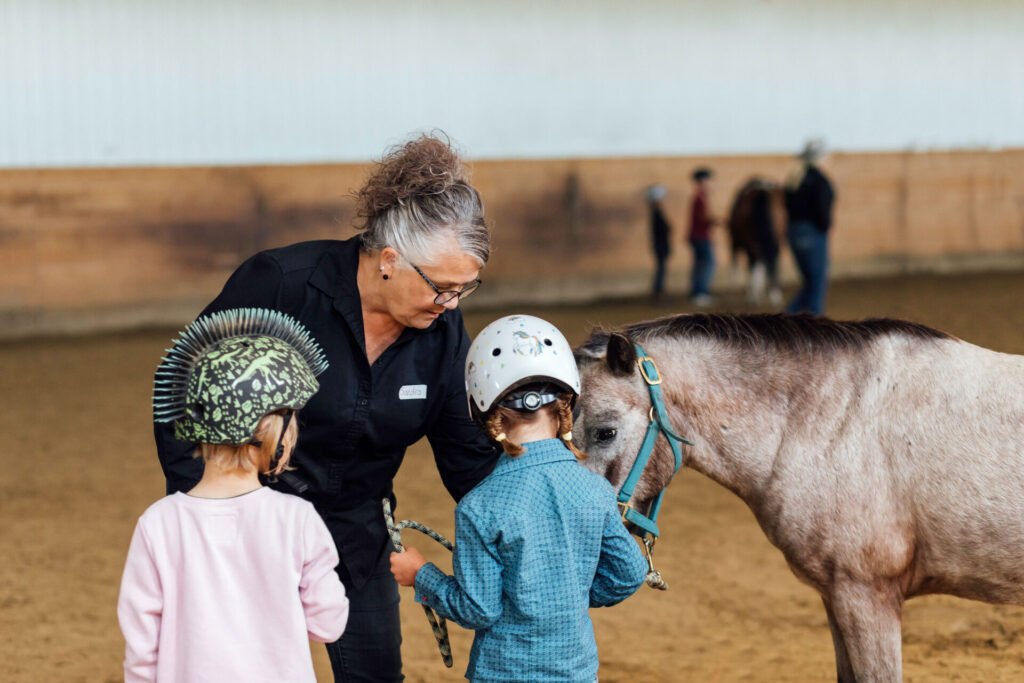 Being able to combine the world of horses to such meaningful causes is what Rainy Creek Ranch is all about. Whether you're a beginner looking to learn about horseback riding, or an expert wrangler, Rainy Creek Ranch invites all people to come out and experience the programs and tours that they offer in the beautiful area near Sylvan Lake, Alberta.
Kelsey Olsen is a Métis writer and author. Follow her on Instagram at @kelseyrolsen or on www.wanderwoman.ca.