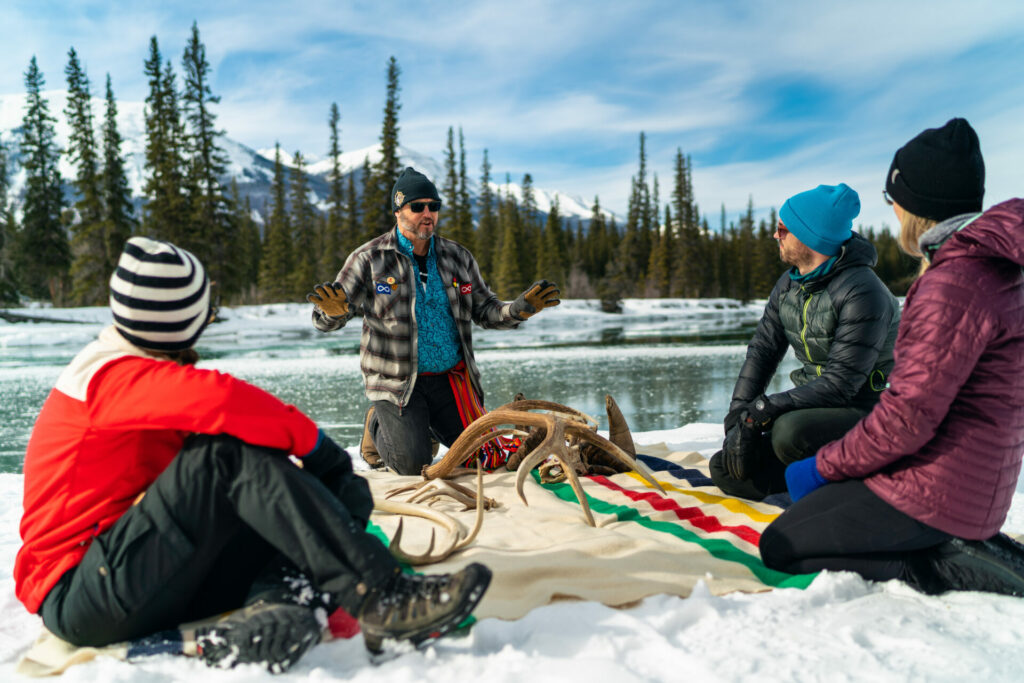 Guide's gift of gab brings Jasper's nature, culture and wildlife to vivid life
Jasper Tour Company's famously loquacious Joe Urie shares Metis culture and endless knowledge of Jasper National Park's plants and animals
Michael Hingston
Joe Urie loves to talk. Luckily, as one of the owners of Jasper Tour Company (along with his wife, Patti), Urie has no shortage of things to talk about—and no shortage of tourists, who come from all around the world to gobble up his colourful, captivating stories about world-famous Jasper National Park. Urie's friends and family like to call his memorable turns of phrase "Joe-isms." He prefers a term that, fittingly, he made up himself: "spewtaneity."
A proud member of the Métis Nation of Alberta, Urie has been giving customized tours in the area for more than 20 years. At first, he focused on the basic biology of the animals in and around Jasper, including beavers, elk, bighorn sheep, moose and bears. But following the Truth and Reconciliation Commission, which radically changed the way Canadians understood the history of their country, Urie realized that he could change course, too. These days, Urie draws on his own family history to tell a far larger story that aims to show that every person who visits him has a fundamental connection to the land. "I want people to come away understanding that nature's not something that you visit," he says. "It's where you live."
By the time I meet up with Urie for one of his popular winter wildlife tours, he's already been hard at work for hours, scouting locations and keeping tabs on where local wildlife is likely to be found. By the time my group climbs into his van, he already knows there's a pair of bald eagles by the transfer station, a group of elk crossing the road by the entrance to the Fairmont Jasper Park Lodge and a few dozen bighorn sheep wandering around a hill overlooking the Athabasca River.
First, we decide to head down to the river, which Urie refers to as "the blood in my veins." The Athabasca has connected several generations of his family, dating all the way back to the Red River Settlement, in Manitoba, in the 1860s. "My connectivity to this place flows through that river," he says. "I'm informed by it."
Urie brings his van to a rumbling halt on the side of the highway, and we all march down to a narrowing band of mud and sticks near the water. As we look out onto a series of beaver dams and lodges, Urie describes how this creature brought both sides of his family—the Indigenous side and the European side—together during the fur trade.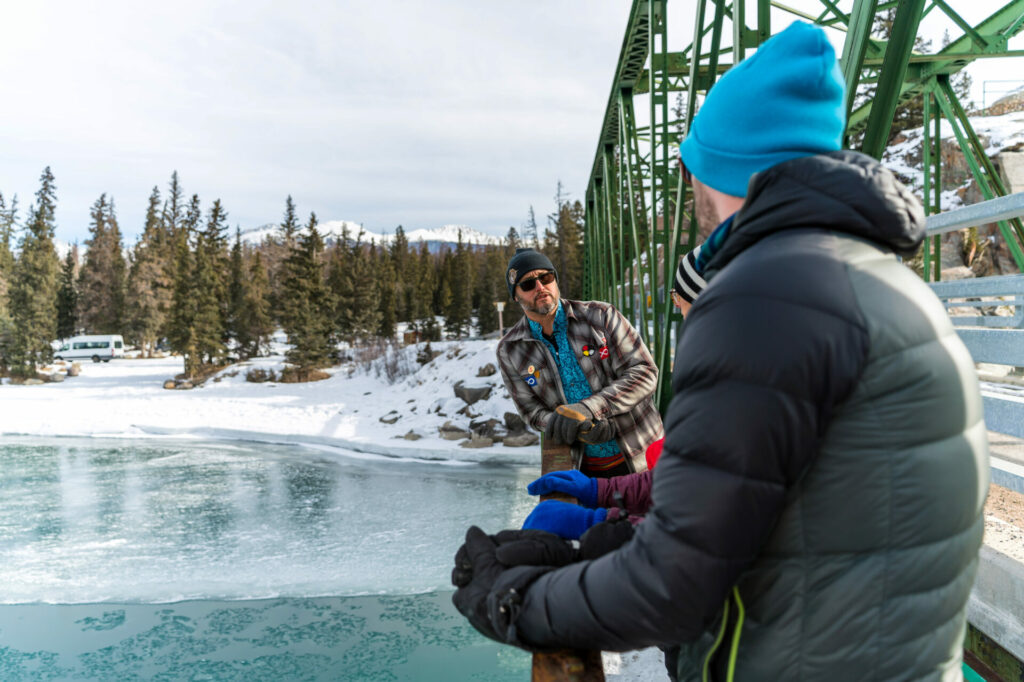 Urie maintains a familiar but respectful relationship with many of the animals in Jasper, to the point where beavers and sheep don't even blink when they see him approach. His knowledge of the wildlife, sometimes down to the individual animal, is nothing short of remarkable. Like many casual visitors to the park, I've been known to gawk at the sight of a single bighorn sheep licking salt off the highway; on a ridge called Edna Knoll, Urie leads us up to see more than thirty of them, grouped lazily around a tree. As we marvel at their spiralling horns, Urie explains how male sheep skulls let them crash into each other at full speed and not give themselves concussions—a marvel of physics currently being studied by the NFL.
From there Urie leads us to the top of Edna Knoll, where I hear the sound of our collective breath catching. The panoramic, 360-degree view is unlike any view of Jasper National Park any of us have ever seen before. I tell Urie I don't think I'm ever going to forget seeing Jasper from this angle.
He laughs and says, "Me neither."