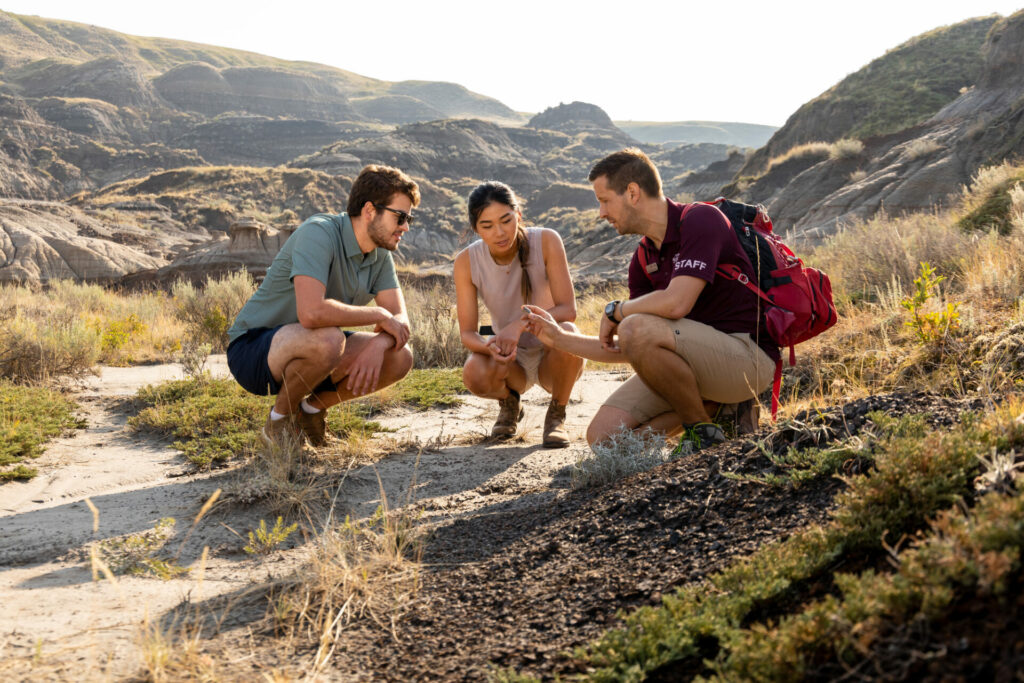 Add some Indigenous experiences to your summer bucket list
By Debbie Olsen
Summer is prime time for exploring Alberta. Wherever your travels take you this summer, make sure you take the time to have some Indigenous travel experiences along the way. There are unique Indigenous tourism experiences in every part of the province that reflect the unique cultures of the area. These adventures are fun and they can open your eyes and help you understand the place now known as Alberta in a deeper way. Here are some Indigenous experiences in some of the most popular travel regions in Alberta.
Banff
Stunning mountain scenery and natural hot springs inspired the creation of Canada's first national park in 1885 and Banff National Park remains one of the most popular travel destinations in the country. An Indigenous experience can give you a glimpse into the Indigenous history and culture of the park.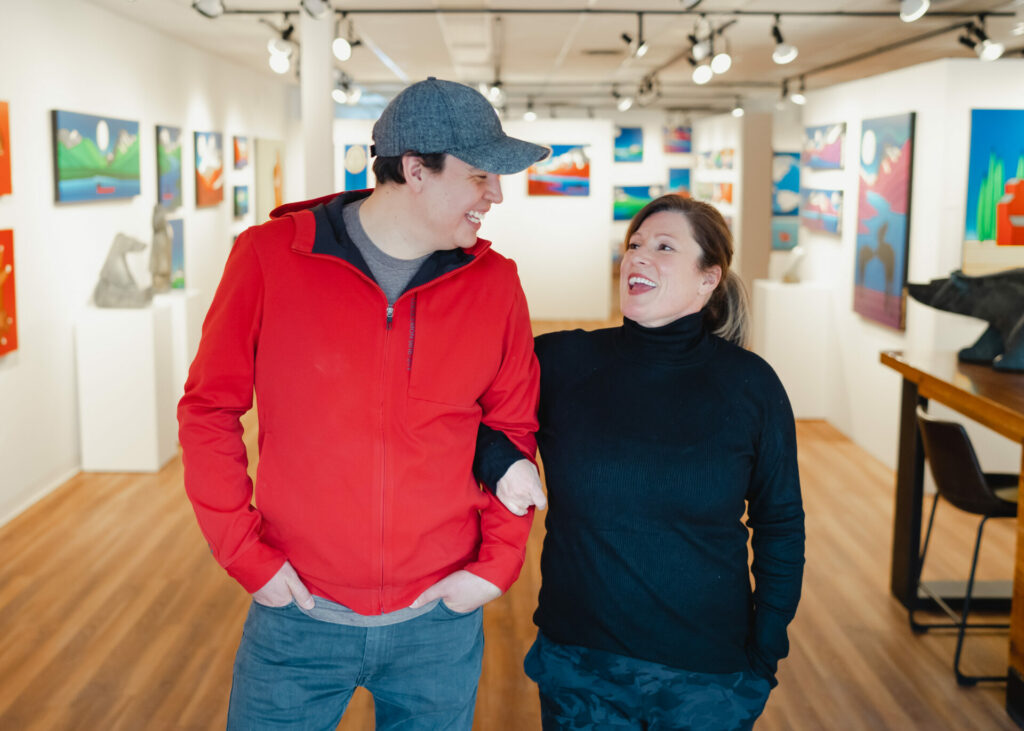 Carter-Ryan Gallery and Live Art Venue
With locations in Canmore and Banff, the Carter-Ryan Gallery and Live Art Venue celebrates the works of Jason Carter, an acclaimed painter and soapstone sculptor from Little Red River Cree Nation. He uses bright colours and striking contrasts to create magnificent contemporary paintings of wildlife and nature. He also makes incredible sculptures. During the day, Jason Carter can often be found doing carving demonstrations or offering carving workshops for small groups. In the evening, the gallery often becomes an entertainment venue when Bridget Ryan's passion for musical theatre infuses the gallery with live entertainment.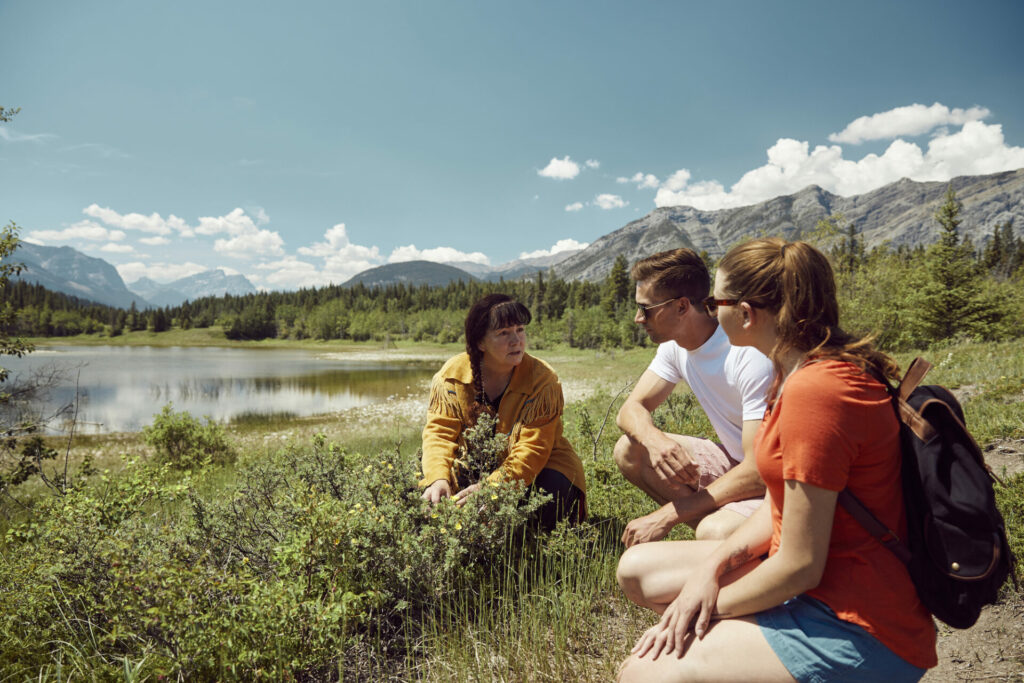 Mahikan Trails
When you take a guided medicine walk through the forest with Brenda Holder or one of the other Indigenous guides at Mahikan Trails, you learn to look deeper. Holder and her team can tell you about the plants and how they are used for survival and in Indigenous medicine. Holder, the operator and owner of Mahikan Trails, is Métis and traces her lineage to the Cree-speaking Kwarakwante people of Jasper, Alberta. She is passionate about sharing the knowledge of her ancestors who made their lives in and around the Canadian Rockies.
Jasper
Jasper National Park is the largest and wildest of the Canadian Rocky Mountain parks. It is a place of extraordinary beauty with many amazing outdoor adventures. Learn some of the rich Indigenous history of Jasper on a guided Indigenous tour. The mountains, plants and animals had Indigenous names long before Europeans came to this region and began renaming them.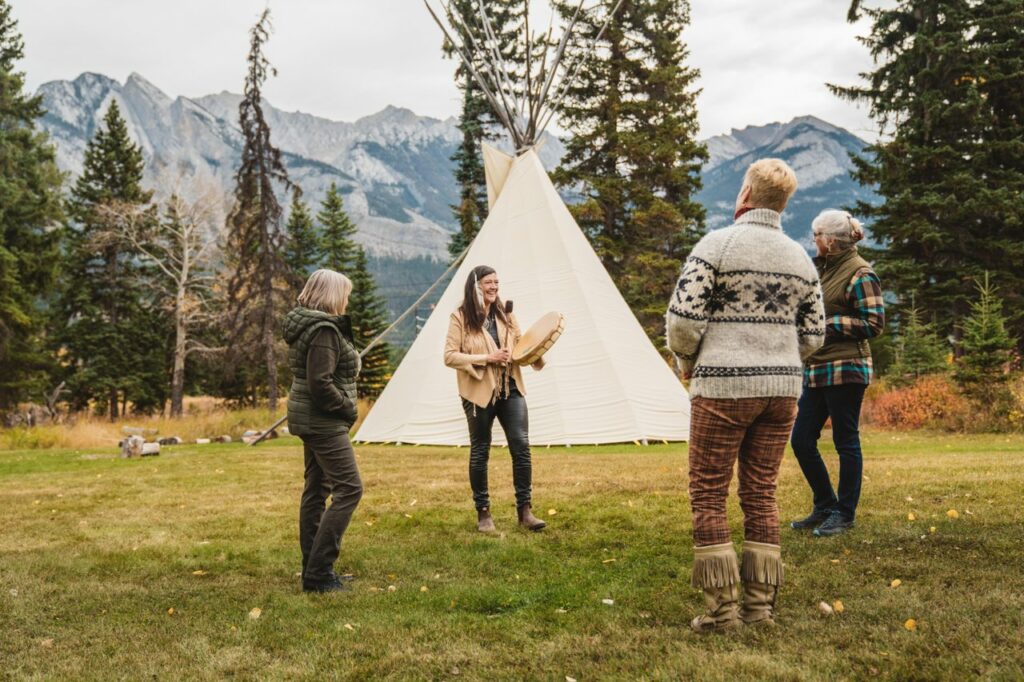 Warrior Women
Have you ever heard the heartbeat of Mother Earth? There is a special power in drumming, singing and storytelling and you can feel it during a Warrior Women performance. Warrior Women is owned and operated by Matricia Bauer and her daughter Mackenzie Brown. They offer fireside chats and medicine walks inside the park. During the walks, you will learn about plants and their uses and hear legends and stories of the Sturgeon Lake Cree Nation.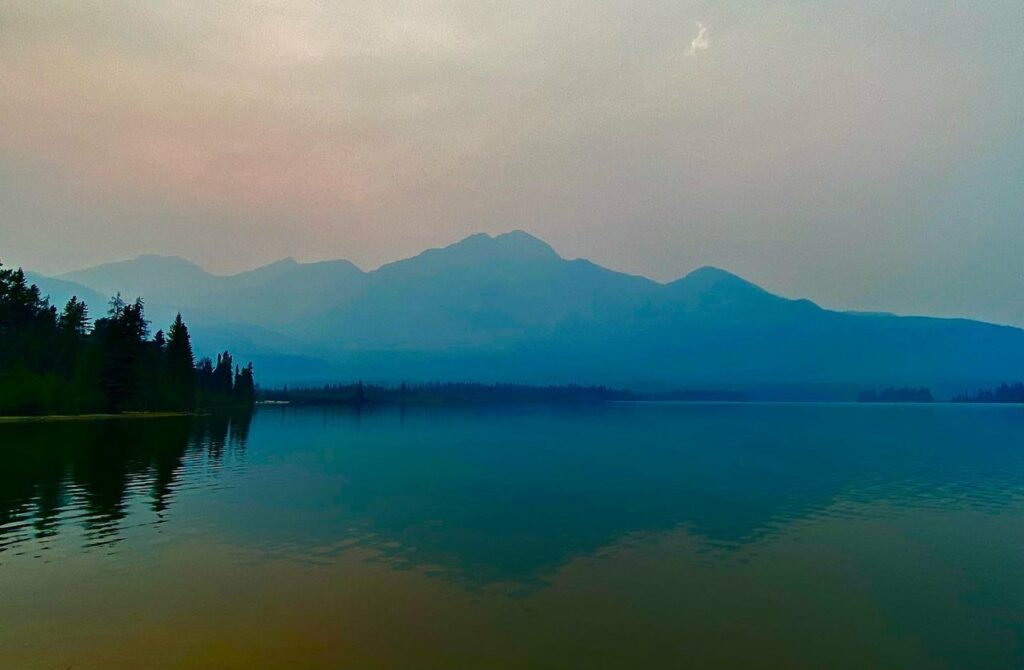 Jasper Tour Company
Many companies offer sightseeing and wildlife tours in Jasper National Park, but a tour with Jasper Tour Company gives you insights that you won't find anywhere else. Métis owner and operator Joe Urie offers boutique tour experiences that help you connect with the land in a special way. You'll see the sights and the wildlife, and you'll also learn the Indigenous history of this region of Canada and the Indigenous names for many of the places you visit.
Calgary
Calgary is known worldwide for the Calgary Stampede and the Calgary Winter Olympics, but it is much more than just a fun festival city. The city has amazing walking and cycling trails, fantastic home-roasted coffee bars, wonderful restaurants, world-class attractions, entertainment venues and more. Here are some suggestions to help you explore the city's Indigenous side.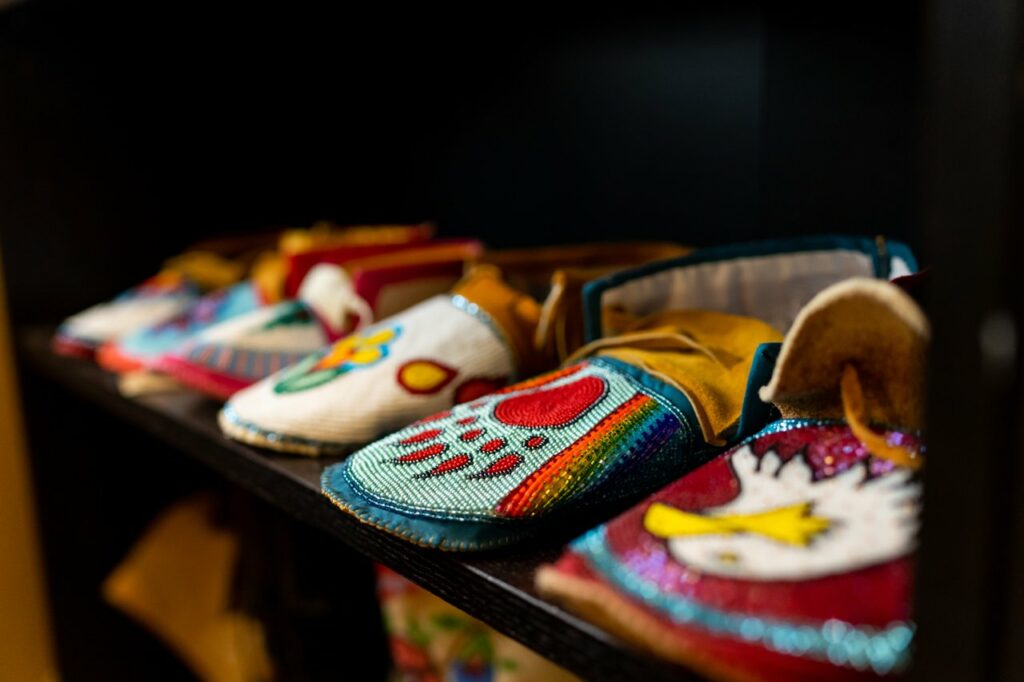 Moonstone Creation Native Gallery & Giftshop
You can find beadwork, paintings, leatherwork, jewellery, sculptures, apparel, ceremonial drums and more at Moonstone Creation Native Gallery & Giftshop in Calgary. The store contains one-of-a-kind creations from more than 60 Indigenous artists. You can also purchase kits to make your own creations or take an in-person class.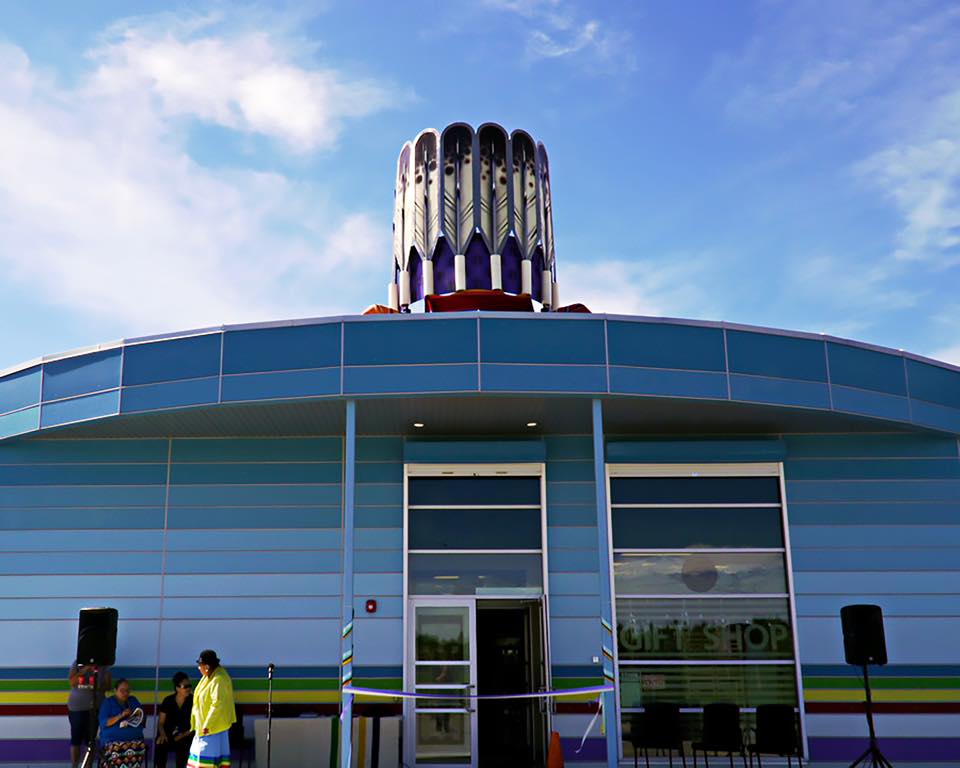 Tsuut'ina Nation Cultural Museum
Learn about the fascinating history of the Tsuut'ina people at Tsuut'ina Nation Cultural Museum on the Tsuut'ina Nation just outside Calgary. The museum contains interesting artifacts that you can explore on your own or with an Indigenous guide who can explain the significance of each item. The onsite museum gift shop sells authentically handmade Indigenous goods such as clothing, jewelry and moccasins made by more than 40 artisans. The store also supports the local artisans by providing beading and regalia-making supplies to the Treaty 7 area. Chief Bullhead's historic homestead is located next to the museum.
Central Alberta
The region of Alberta between Calgary and Edmonton is commonly referred to as Central Alberta – though it's not technically in the centre of the province. This region is known for its beautiful lakes, prairie farmland, quaint towns and cities.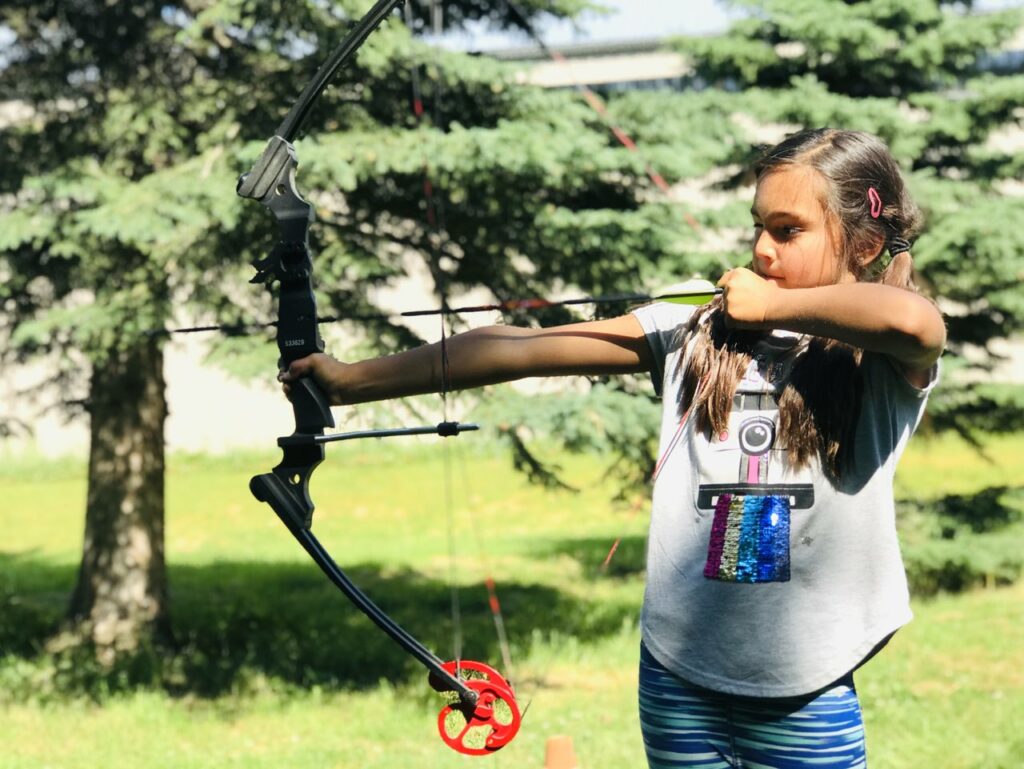 Painted Warriors Indigenous Outdoor Experience
Experience the traditions of the Cree and Saulteaux people with Tracey Klettl at Painted Warriors Indigenous Outdoor Experience southeast of Sundre. Painted Warriors teaches skills such as animal tracking, archery, and horseback riding. Guests can stay overnight in Métis trapper's tents and enjoy Indigenous inspired meals, storytelling, medicine walks and other experiences.
Edmonton
Alberta's capital region has incredible attractions like the Royal Alberta Museum, Fort Edmonton Park, and the Art Gallery of Alberta. It is also home to theatres, boutique shops, restaurants and an incredible array of festivals including an annual fringe theatre festival that is second only to the original one in Edinburgh. Indigenous history also runs deep in Edmonton.
Talking Rock Tours
See the Edmonton River Valley as you've never seen it before on a guided tour with Talking Rock Tours, Alberta's first geo-educational hiking and sightseeing adventure company. Métis owner and operator Keith Diakiw has a passion for geology and Indigenous culture and you get a bit of both on his fascinating tours. Tours are also available in Elk Island National Park and to areas that explore oil and gas history near Edmonton. Talking Rock Tours is based in Edmonton, but also offers tours in other areas of the province.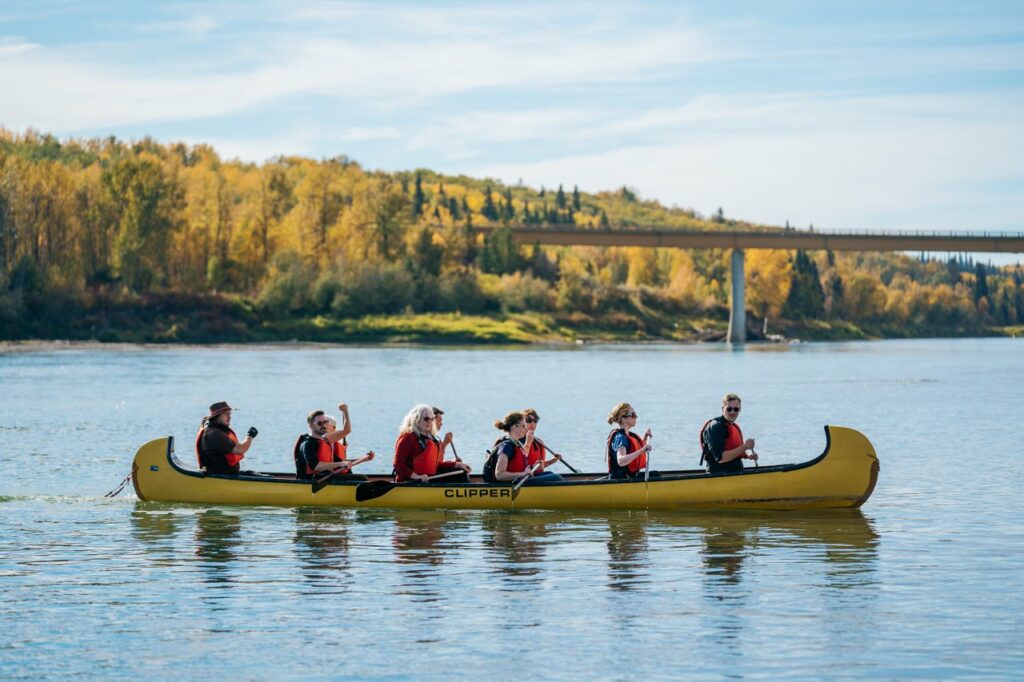 Metis Crossing
Located 115 kilometres northeast of Edmonton near Smoky Lake, Métis Crossing was built on the original river lots of some of Alberta's first Métis settlers. Alberta's first Métis cultural site was conceived, designed, built and is operated by Métis people to tell their story. There's an interpretive centre, a wildlife park, a campground, fully equipped Métis trapper's tents, a guest lodge, an Indigenous restaurant and many different programs and activities. You can meet an Elder, learn to make a traditional craft, paddle a voyageur canoe, learn to dance the Red River jig, and follow costumed interpreters through a historical village. You can even see a rare white buffalo. Visiting Métis Crossing is a fun adventure and a great way to learn about Métis culture.
Debbie Olsen is an award-winning writer and a national bestselling author. Follow her at www.wanderwoman.ca.