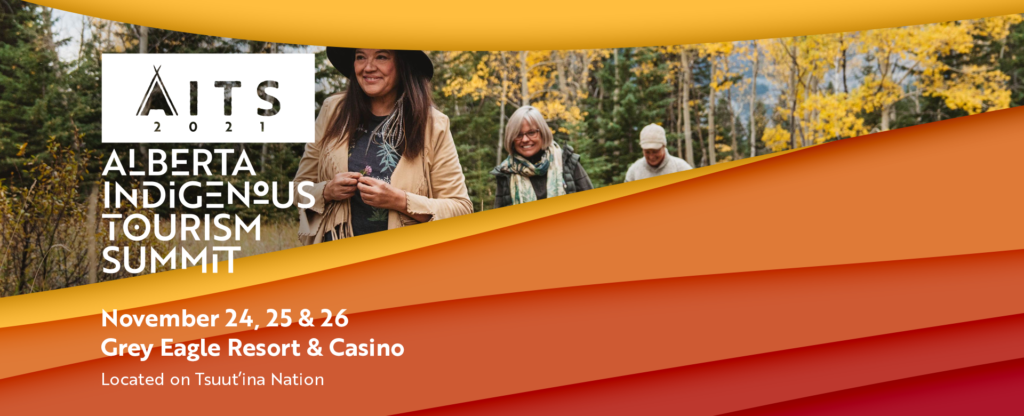 Alberta Indigenous Tourism Summit 2021
Join us to learn, grow and share at the 3rd annual Indigenous Tourism Alberta Summit, a two-day gathering of over 300 Indigenous tourism operators and supporters sharing opportunities to build, grow and succeed as Indigenous businesses. Indigenous Tourism Alberta has organized a two-days of speakers, panels, and group discussions to help you discover pathways to success in Indigenous tourism, as a community or as an independent entrepreneur. Enjoy coming together with others interested in or actively operating in Alberta's rapidly growing Indigenous tourism industry. You will learn that significant economic opportunities can be found while respectfully sharing Indigenous cultural experiences.
Wednesday, November 24:
Join ITA for an evening of Cultural Tourism Experiences! Experiences include:
Dinner Theatre show with Making Treaty 7
Casino Movie Experience at the Grey Eagle
All you can Eat Buffet at Grey Eagle
Fire side chat and interpretive walk with Warrior Women and Painted Warriors
Thursday, November 25:
AITS kicks off with a full day of programming, speakers, panels and group discussions.
Keynote speakers include:
David Goldstein, CEO of Travel Alberta
Bridgette Laquette, first First Nations athlete to play on Canada's women's Olympic hockey team 2018 and two-time participant at the IIHF U18 Women's World Championship winning gold in 2010 and silver in 2009.
Teara Fraser- first Indigenous women-owned airline Iskwew Air
and many more!
TASTE OF ALBERTA
Join ITA for an evening of Indigenous cultural cuisine from chefs across Alberta.
AWARDS GALA
New this year, put on your best ribbon wear and join ITA for an Awards Gala, celebrating Indigenous tourism businesses and best practices.
Friday, November 26:
AITS ends on another full day of programming, speakers, panels and group discussions
ITA Members are invited to join ITA for our Annual General Meeting in the afternoon.
Early bird tickets (Until September 30): $180
Summit tickets: $200
Room discount at the Grey Eagle Resort and Casino. Book by calling direct and mention the Alberta Indigenous Tourism Summit.