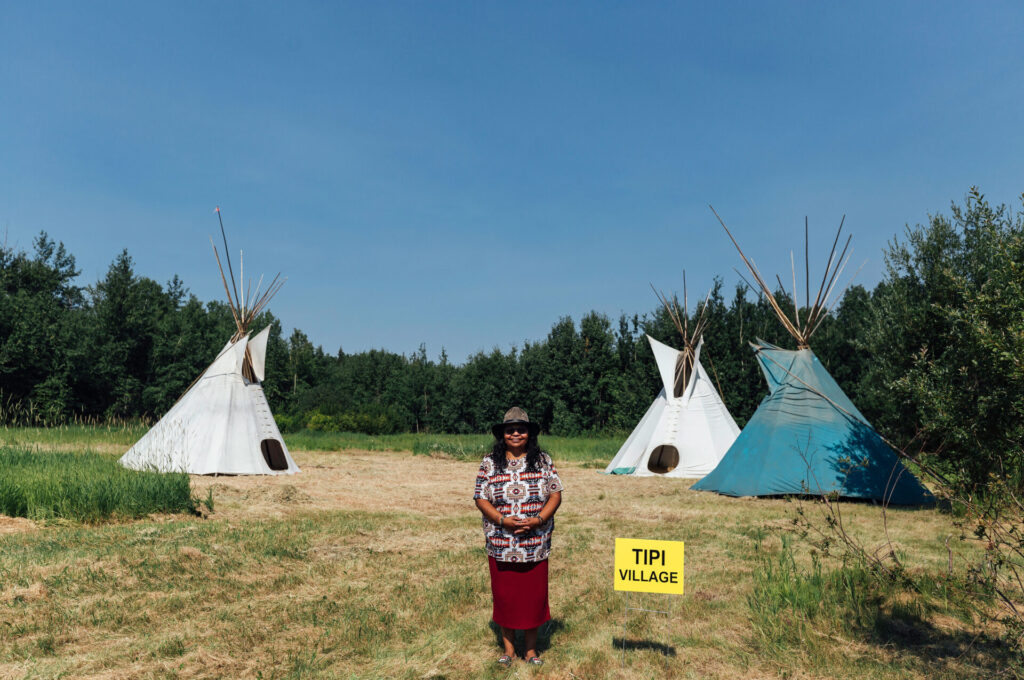 Experience the power of love and healing through traditional practices at this Tipi camp
By Kelsey Olsen. Photos by Noella Steinhauer.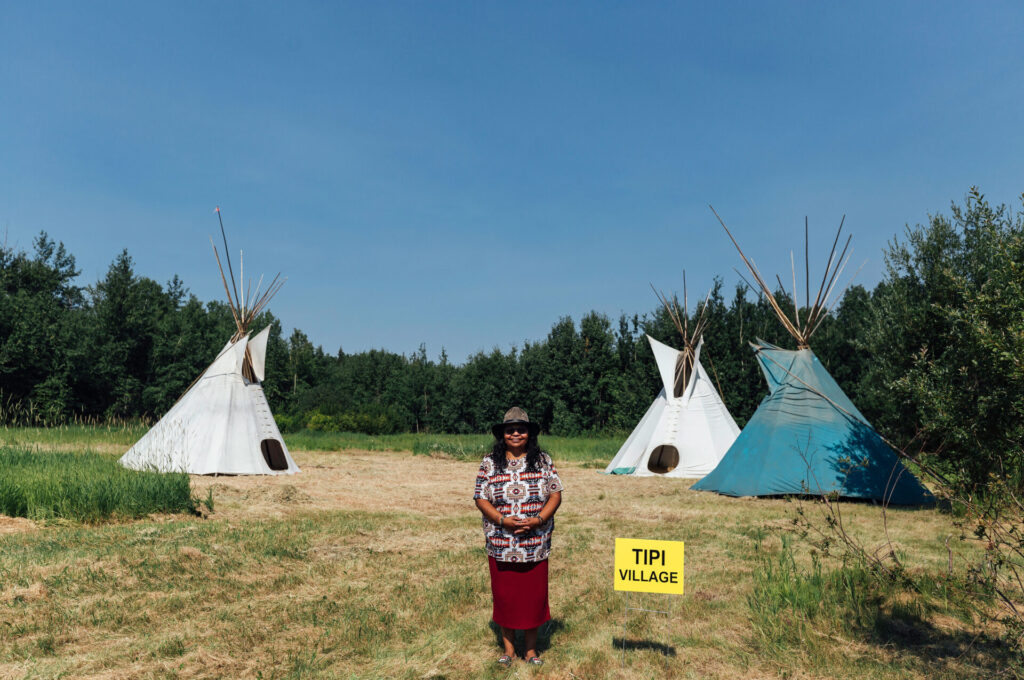 Trigger warning: This story contains details regarding the Sixties Scoop, addiction and abuse. Discretion is advised.
Kokum's Outreach is a unique Indigenous experience focused on emotional, spiritual, physical, and mental healing through wellness camps based on the medicine wheel teachings. It is located just west of the Driftpile Cree Nation reservation, about 50 kilometres east of High Prairie in Treaty 8 territory near the southern shores of Lesser Slave Lake. Operated by April Isadore, Kokum's Outreach provides many services that all work towards the goal of providing mental and spiritual healing. The Cree word "kokum" means "grandmother" and the word has different associations for different people. For Isadore, the word is associated with her mother and the power to be strong and to love unconditionally.
At a recent summer showcase, Kokum's Outreach provided a glimpse into many of the activities and services offered. Included was a medicine walk with an Elder, traditional dancing, a tipi demonstration, tarot card readings, massages, hand games, healing through painting, and more. "I provide these services to help people discover their inner selves, but also because I need it too," Isadore stated. "Many of the activities and wellness camps I provide are coping mechanisms that I need just as much as anyone I provide the service to. It fills my spirit too."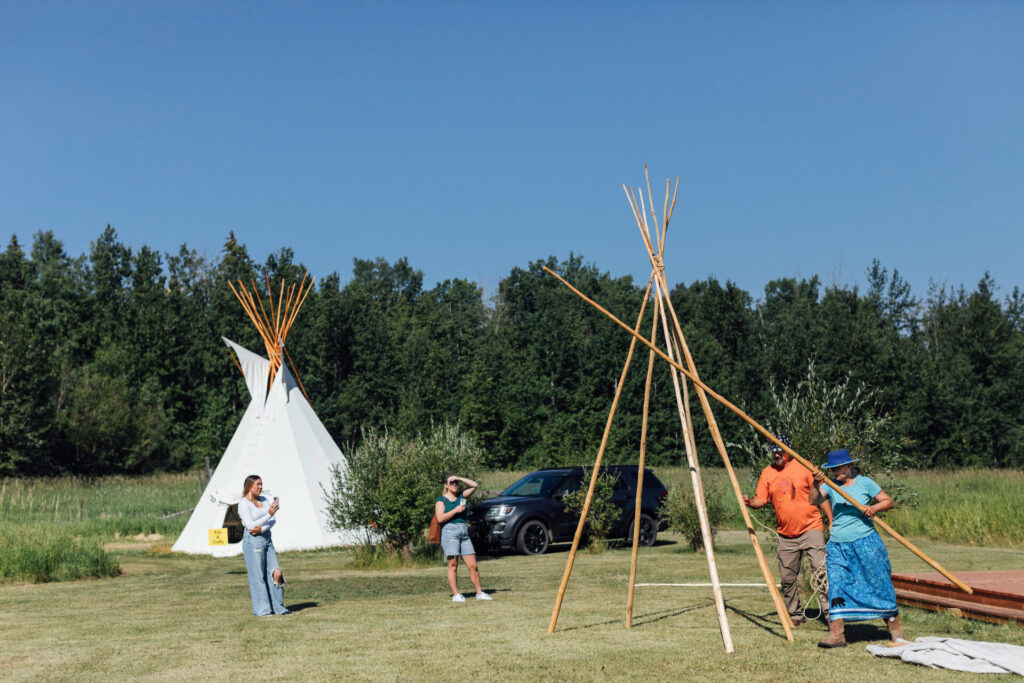 For Isadore, healing has been a crucial part of her life. At just five years of age, Isadore was removed from her family and reserve and placed in foster care – living in a number of non-Indigenous homes. She has experienced firsthand the loss of identity, culture, and traditions that being removed from her family caused. "That's actually the first reason why I developed Kokum's House, the group home I run on my nation," Isadore said. Prior to establishing Kokum's Outreach, Isadore opened Kokum's House with the primary goal of preventing the erosion of culture and identity from happening to other children in Driftpile. The group home opened in 2014 and provides Indigenous children a safe place to stay within their community while families take the necessary time to heal, essentially keeping families together. "I was born on the reserve. I wasn't born at the hospital. I was born right on Driftpile, so I shouldn't have been taken from my reserve and from my family and community." Isadore named the group home Kokum's House in honour of her mother who was raised in a residential school as a child.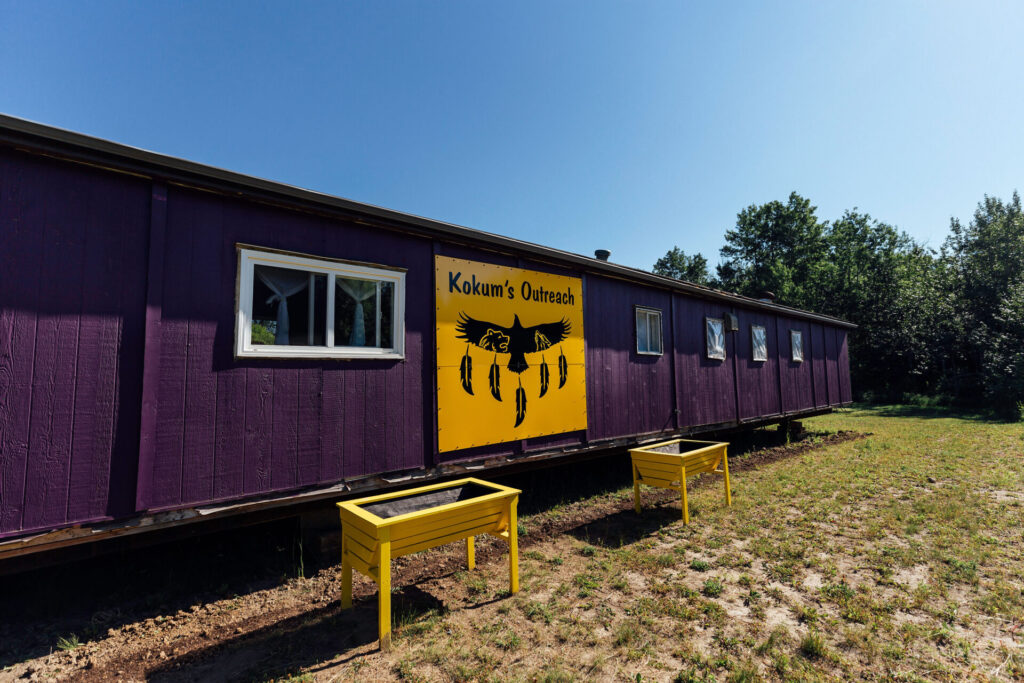 In 2019, Isadore began her journey with Kokum's Outreach. She wanted to create a place that would help Indigenous and non-Indigenous people heal and become the best version of themselves. Despite being busy operating Kokum's House, Isadore recognized the need for Kokum's Outreach in her community and she began working to make her land the perfect place to host retreats and activities. A huge motivating factor for her was the intergenerational trauma that she and so many other Indigenous people experienced and are still experiencing today.
Being removed from her family and community was devastating to Isadore and it was made even worse by the sexual abuse of a foster parent. "Social services thought they would put me in a model home with a policeman and he ended up molesting me from ages 7-14," Isadore said. "When I actually got the courage to go and tell someone, nobody listened because he was a cop and I was just a troubled kid making up lies."
Troubles with addiction were the result of the childhood trauma that she experienced as an abused Sixties Scoop foster child. She felt as if she had lost her real family, her community and her support system. "I was basically the face of addiction. I lost my children to child welfare. I lost my job. I lost my license. I didn't pay my bills. I didn't have food. I sold everything," she explained. A pivotal moment in Isadore's life was when she woke up in the ICU after an overdose that resulted in her heart stopping. In that moment, she decided that she needed to get better. She went to treatment and then later, became a certified addictions counsellor, to help others going through similar struggles.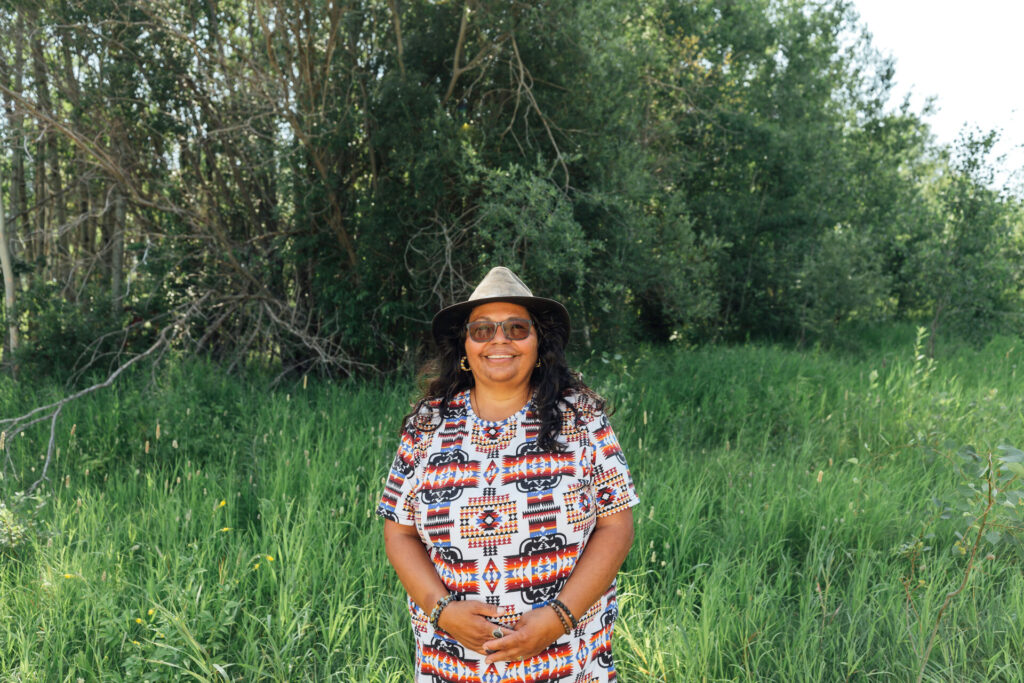 The strength that Isadore has portrayed throughout her life along with her life experiences surrounding healing has moulded her into the ideal person to guide others along on their healing journey. From 2019 until now, Kokum's Outreach has come a long way and the establishment is still growing. In August, Isadore's dream of creating a tipi village became a reality, making her ability to host retreats and stays even easier. Kokum's Outreach is more than just a wellness camp: Kokum's outreach provides Sober Living, a program that supports and assists men who are in need of shelter as they journey towards sobriety. Even more so, Kokum's Outreach provides a mobile outreach program, known as Kokum's Outreach Drive Program, that includes a shuttle service dedicated to help seniors access services such as groceries. Today, Kokum's Outreach has been accredited by the Canadian Accreditation Council for 'showing dedication to a process based on best practice standards and promoting service excellence."
Wellness is the motive behind everything Isadore does, and anyone is welcome at Kokum's Outreach for a day, a weekend or a one week camping and healing experience. Isadore named her business in honour of her own mother, but for those who visit Kokum's Outreach and experience the power of love and healing that happens there, Isadore herself becomes a beautiful expression of what the word "kokum" can really mean.  
Kelsey Olsen is a Métis writer and author. Follow her on Instagram at @kelseyrolsen or on www.wanderwoman.ca.
Noella Steinhauer is a Cree photographer located in Edmonton, Alberta. Follow her on Instagram @noellasteinhauer or on www.steinhauerphotography.ca