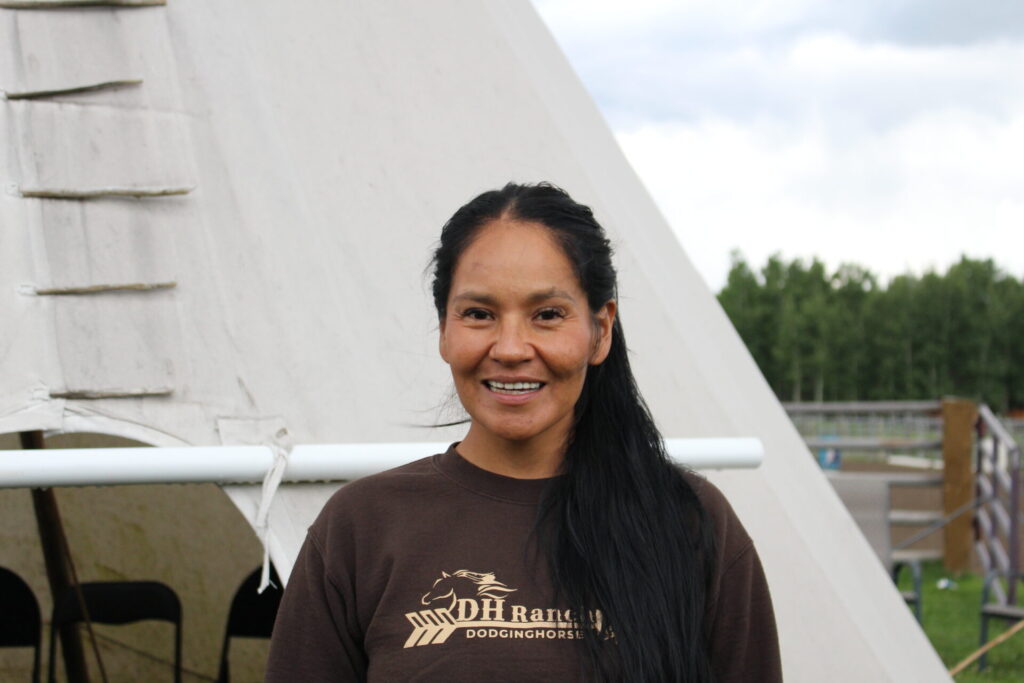 More than just a gorgeous ranch on the prairies
DH Ranch helps people find a healing path forward through the spirit of horses
By Cailynn Klingbeil
Sonya Dodginghorse knows firsthand the powerful spirit of the horse. A world champion barrel racer, Dodginghorse's bond with the animals runs deep. Now she's sharing the healing and strength she's experienced through a lifelong connection to horses with others, at her new business, DH Ranch.
Located in the heart of Tsuut'ina Nation, DH Ranch offers various programs from April to October, including team building for corporate groups, educators and other organizations, trail rides and day camps. Some programs involve riding horses, while in others, people interact with horses in specially-designed learning exercises.
"Horses are such natural healers, and we have these strong connections with them, as our ancestors used them for survival," Dodginghorse says. "They really do help you heal. They can take your feelings, your energy, and you can talk to them. They won't share or judge; they won't tell anyone."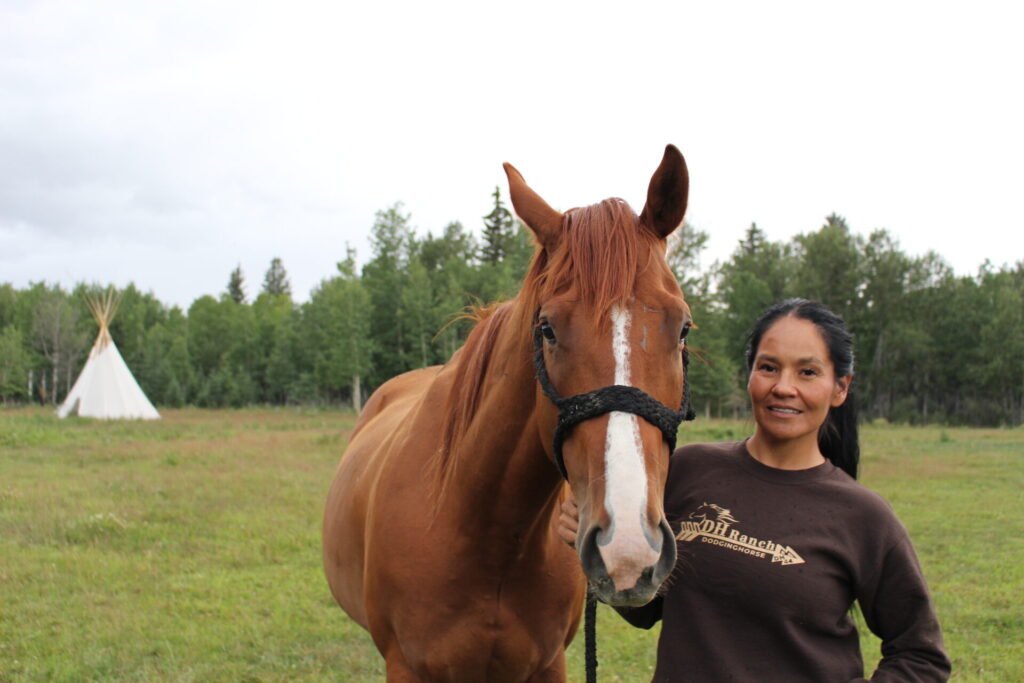 Dodginghorse's admiration for horses began during her childhood in Saskatchewan, where she grew up on a ranch in Kahkewistahaw First Nation. Her dad was a champion calf roper, and she got her start in rodeo at the age of five.
"Horses were always a part of my life," she says. Dodginghorse went on to become a teacher, working in classrooms in Saskatchewan and later Alberta, where she moved after meeting her husband, Brent Dodginghorse, who grew up on Tsuut'ina.
Brent Dodginghorse is also a rodeo world champion, in the steer wrestling event, and he played hockey for The Calgary Hitmen. The couple's 16-year-old daughter, Cayda, also competes in rodeo. In 2019, both Cayda and Sonya won world champion titles in barrel racing at the Indian National Finals Rodeo (INFR).
After more than two decades of teaching, Dodginghorse decided she needed a change. She enrolled in an equine assisted learning program at Cartier Farms, and quickly saw the potential to indigenize and adapt what she learned to create programs for DH Ranch, which opened in July 2021.
Now Dodginghorse welcomes visitors to her family's ranch, a beautiful and varied landscape with mountain views, wide-open spaces, forests and the Fish Creek. Here, equine assisted learning is combined with Indigenous ways of knowing, to create one-of-a-kind programs where horses aid in healing, reduce anxiety and build confidence.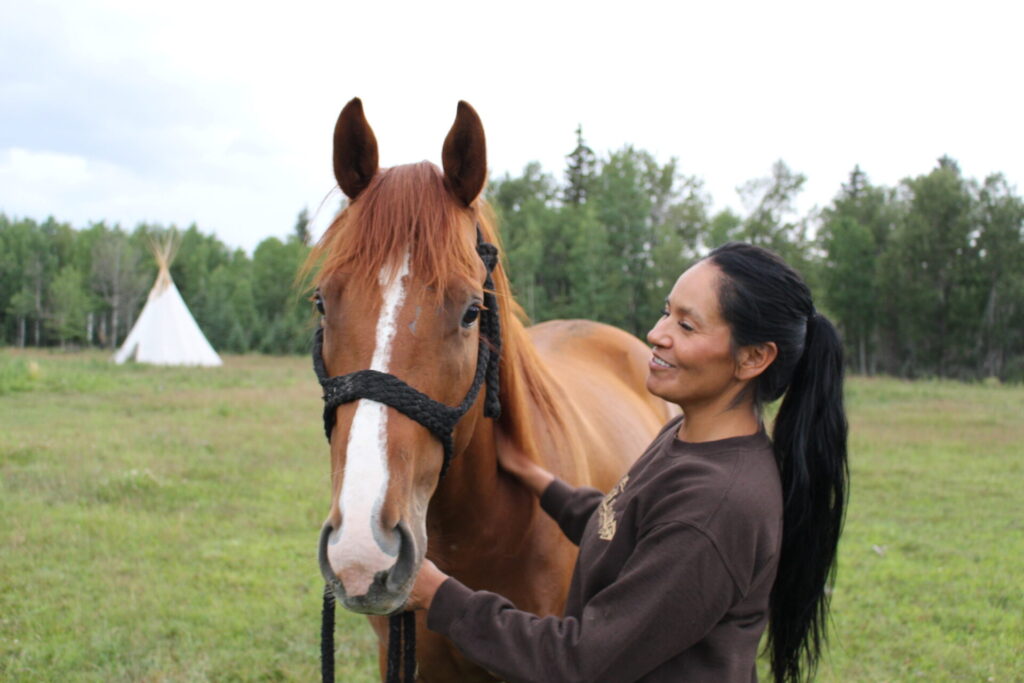 "Horses are ideal teachers," says Dodginghorse, "we teach a lot about communication through the horses. When the colonizers came and they began to make the treaties, the biggest barrier was communication. And so a big lesson that we teach here is communication: how you communicate with your partner, with your co-workers, with your children, with your families."
Through DH Ranch, as well as her travels for rodeo, Dodginghorse aims to raise awareness of Indigenous issues. Her vibrant horse trailer is covered with various rodeo images, as well as logos for Every Child Matters and No More Stolen Sisters.
The ranch's own logo includes the number 44, which was the number given to Brent's granny, Katie Dodginghorse, when she attended residential school. Barrel covers at the ranch are also decorated in memory of Granny Katie.
"The number is part of her story and what she went through, and it's part of our story. We're raising awareness of residential schools and what they have done to our people and our communities," Dodginghorse says.
Dodginghorse's parents also attended residential school, and, like many other families, she says her siblings and her have faced intergenerational effects because of her parents' experiences. For her, horses were crucial to overcoming those struggles. Now, she's dedicated to ensuring all visitors to DH Ranch experience their own healing and relationship building, through the spirit of the horse.
"It was the horse that I have always turned to, as they are sacred medicine for our spirit," she says. "They have the ability to reconnect us to our ancestors whose strength runs through our blood. They have the ability to heal our hearts and ease our minds. They have the ability to heal our prayers and not judge."
Cailynn Klingbeil is a freelance journalist and editor based in Calgary and a member of the Métis Nation of Alberta.