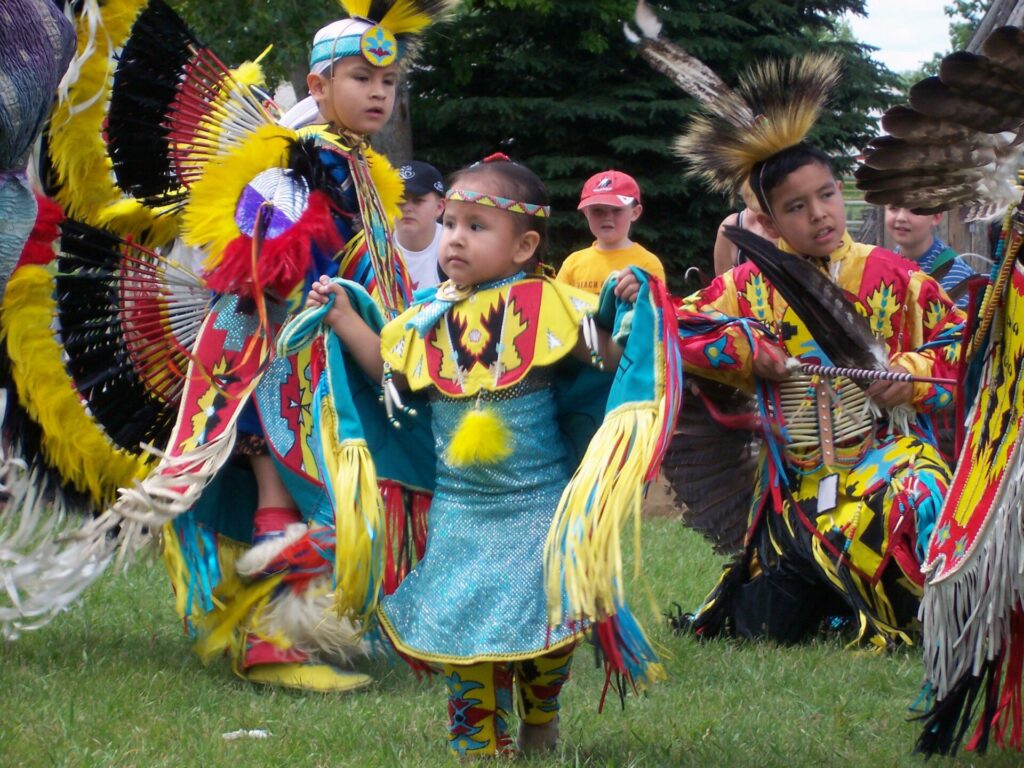 Top ways to celebrate Indigenous People's Day in Alberta
June 21 is National Indigenous People's Day. This is a day for all Canadians to come together and celebrate and recognize the unique heritage, diverse cultures and outstanding contributions of First Nations, Inuit and Métis peoples.
This year, more than ever, National Indigenous People's Day is an important opportunity for people to learn about the Indigenous people that have called this land home for more than 500 generations. While celebrations may look different because of COVID-19, they are no less important.
A few ways you can celebrate National Indigenous People's Day on June 21:
Canada House Gallery
Join Canada House Gallery either in person in Banff or online, in honouring Indigenous heritage and culture through an exquisite exhibition of curated artworks by some of Canada's most prominent Indigenous artists. Northwest Coast, Cree, Ojibwe, Dene Suline/Saulteaux, and Inuit artworks and cultural stories are showcased in this exceptional exhibition. Click here for more information or to join the celebration.
Banff Centre for Arts and Creativity
Join the Banff Centre for Arts and Creativity in celebrating National Indigenous People's Day virtually with a rich and unique immersion in Treaty 7 arts and culture. The FREE events and workshops include:
Drawn to Nature Online Workshop led by Alberta Rose W/Ingnuk
Domestic Mark Making Printmaking Workshop led by Laura Grier
Live Stream Music Performance by Juno-nominated Celeigh Cardinal
Film Screening of OChiSkwaCho by Jules Koostachin
Film Screening of Win'ge'he Ahiya – (Raising a Song) by the Stoney Nakoda AV Club
Aboriginal Awareness Week Calgary
Join Aboriginal Awareness Week virtually on June 21 for their National Indigenous Day celebration. This year's theme is "Keeping the circle strong through Mother Earth's Future Generations," and reflects the pride of First Nations, Métis and Inuit communities. Participate and find out more information here.
Bent Arrow Traditional Healing Society
Join the Bent Arrow Traditional Healing Society June 15-19 for a week of Virtual Teachings via ZOOM. Teachings include beading, bannock making, pow wow dancing and more. Click here for more information.
Reconciliation Lethbridge
Take part in a free screening of Elder in the Making, a documentary that follows Cowboy Smith and Chris Hsiung on a road trip across Blackfoot territory as they rediscover their shared heritage. The screening is followed by a Q&A with the Directors. More information here.
Boys & Girls Clubs of Calgary
Join the Boys & Girls Clubs of Calgary together with Hidden Story Productions on June 18 for a free online screening of Warrior Fathers. The story of a Stoney Nakoda father searching his upbringing for wisdom on parenting in a colonial world. The screening will be followed by a panel discussion with Tom Snow and Director Chris Hsiung discussing men's mental health and parenthood. Join here.
Pei Pei Chei Ow – Get Cooking
Chef Scott Jonathan Iserhoff is from the Attawapiskat First Nation in northern Ontario. As a youngster, his grandfather called him "Pei Pei Chei Ow" (Robin) which is also the name of his pop-up restaurant and catering company. Scott has considerable restaurant experience but only began cooking Indigenous foods after having an unusual dream of a moose in the kitchen. The dream was interpreted by his wife as a sign that he should be cooking the foods that were part of his cultural identity. He's offering a special menu on June 21 for National Indigenous People's Day to give people a taste of the pow wow events that have been cancelled due to the pandemic. More info here.
River Cree Resort
Join Reiver Cree Resort for a National Indigenous Peoples Day Virtual Showcase by Dancing Cree streamed live from the River Cree Resort.
Tune into their Facebook page Sunday, June 21 at Noon for a virtual showcase performance at the River Cree Resort. Watch here.
At-Home Learning
It's never been easier to learn more about the Indigenous Peoples of Canada from the comfort of your own home and to have fun doing it. The Government of Canada has created an extensive learning and activity guide filled with stories and games that will help you and your family learn more about Indigenous cultures from across the country.
Immerse Yourself in Indigenous Music
Celebrate both Father's Day and National Indigenous People's Day with the virtual Festival of Fathers event happening via Facebook live that will feature steller Indigenous artists who are fathers and identify as First Nations, Metis, or Inuit. Click here for more information.