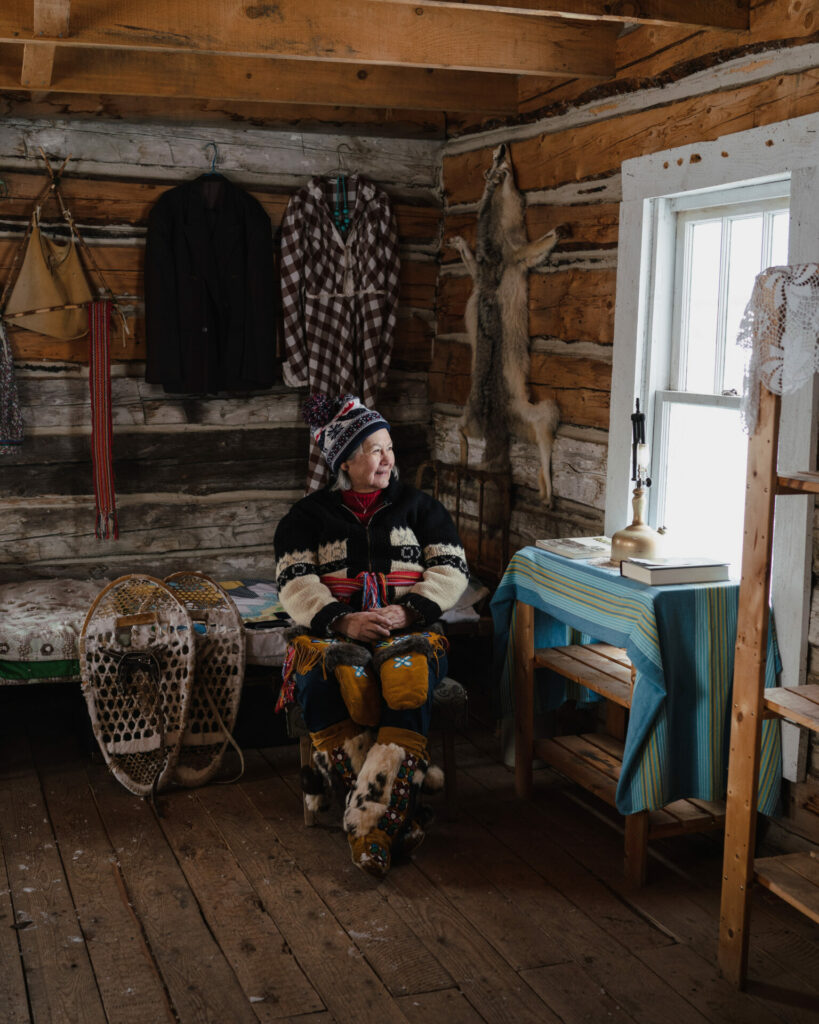 Metis Crossing delivers warmth and wisdom alongside its cultural teachings
Unique year-round cultural centre on historic site in Alberta celebrates unique culture borne of Indigenous and European backgrounds
Michael Hingston
When I step inside the front door of the Métis Crossing Cultural Centre, the first thing I see—and smell—is a roaring fire inside a tall, traditional stone fireplace. The spacious gathering room beyond, meanwhile, is bright and airy and seems to pull you right inside. "As Métis people, we like to celebrate," says Krista Leddy, the centre's previous Experience Development Co-ordinator. "And our houses are built for that."
That was true of the original, open-concept houses built along the North Saskatchewan River as far back as the 1860s, some of which are still standing on the 512 acres that comprise the Métis Crossing grounds. But it's equally true of the sleek new cultural centre, which opened in spring 2020. Located near the former site of Fort Victoria, a 10-minute drive south of Smoky Lake, the building was designed by Tiffany Shaw-Collinge, a Métis architect with the Edmonton firm Manasc Isaac, and includes several nods to traditional Métis culture. If you look closely at the rows of wooden beams overhead that support the ceiling of the gathering room, for instance, you'll see that they spell out the infinity shape that is a traditional symbol of the Métis people, recognized as Indigenous peoples in Canada who are of mixed European and First Nations descent. At more than 12,000 square feet, the Smoky Lake building isn't just the biggest Métis cultural centre in the province: it's the largest one in the world.
In addition to serving as a gathering place for Métis people everywhere, Métis Crossing also offers public experiences that connect life in the 21st century with stories, cultures and traditions that date back hundreds of years. Tales from the Trapline, one of their newest offerings, is like spending four hours in a time machine. Elder Lilyrose Meyers and manager Leon Boychuk-Hunter begin by welcoming us to the area. Next, they help us get into character by having us try on the traditional Métis wool coats called capotes. Once we start to get a feel for the clothing that Métis trappers would have worn all winter, it's time to take things to the next level and head outdoors.
As a brisk wind rolls in off the North Saskatchewan River, Meyers and Boychuk-Hunter have us strap on snowshoes and follow them to a series of historical buildings on one of the traditional river lots. Inside a nearby barn, we study black-and-white photographs of Métis history, from the 1800s to the 1990s. We then visit a traditional one-room cabin (similar to the one where Meyers herself was born) and learn all of the things that go into a trapline survival pack, from axes to sunscreen to homemade pemmican in a Tupperware container. Finally, we put our newly minted survival skills to the test as we head down into the woods and try to build our own temporary shelters.
Throughout, Meyers is a gracious guide, and her stories are full of the warmth and wisdom that can only come from more than 30 years' experience as a trapper herself. As she gently shows us how to set a snare on a fallen log, she pauses, then turns to look back over her shoulder. "Remember," she says, "we don't let animals suffer. Ever."
Métis Crossing was originally envisioned as a much-needed gathering place for the Métis people. But since first opening to the public, back in 2005, it has also become a way to share Métis culture. "Other places have told the story on our behalf. And that's not always the right story," says Leddy, a few steps from the roaring fireplace. "We want to share the story of who we are, what we've done and where we're going—from our perspective."