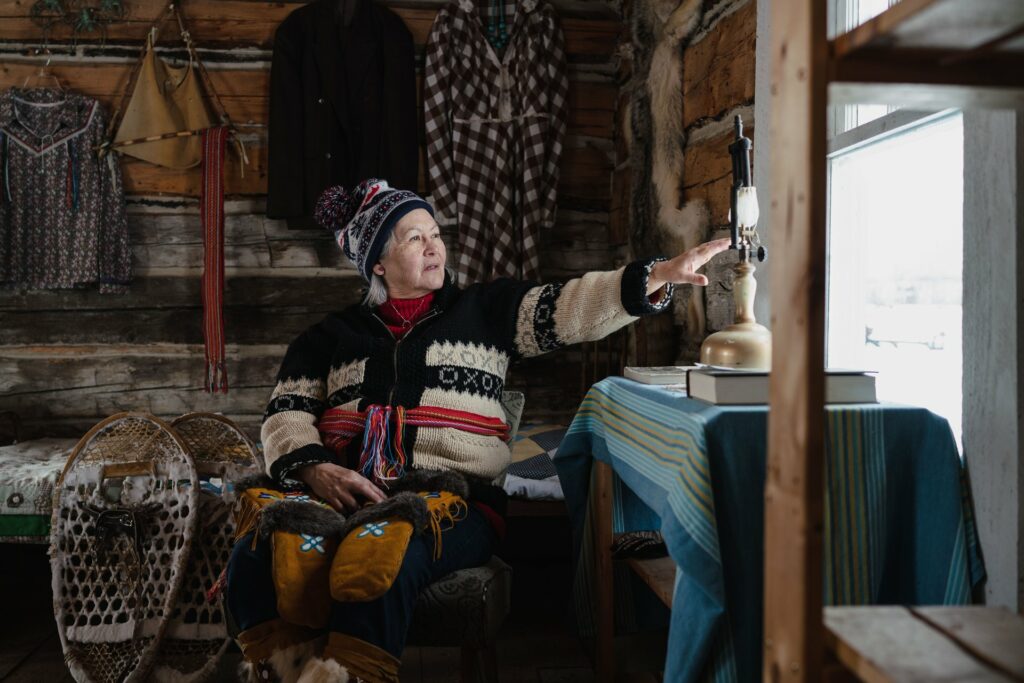 Warm up to winter with these Indigenous perspectives
First Nations, Metis and Inuit experiences will deepen your connection to the season, the land and the people throughout Alberta
Snowshoeing is a wonderful way to connect with nature, but an Indigenous snowshoe tour goes a step further. I learned that years ago as my kids and I were crouching over some animal tracks on a snowy trail near Canmore. We were trying to guess what kind of animal made the tracks and which direction the animal was heading. I can't remember if I identified the tracks correctly, but I remember how excited my kids were each time our guide, Brenda Holder, found another animal track for us to identify.

We snowshoed through some spectacular mountain scenery, got great exercise, and had an amazing time together, but it was the extra knowledge that made our snowshoe tour with Mahikan Trails special. Besides teaching us to identify animal tracks, Holder helped us recognize medicinal herbs and told us how they were used in traditional Indigenous medicine. She talked about her Métis grandmother and how she used herbs harvested from the forest.

When it was all said and done, we booked a snowshoe tour, but we got much more. The sharing of culture during an Indigenous tour always results in a deeper, richer experience.
---
Connecting to Place
One of the things that most Indigenous experiences offer is a unique connection to place. Metis Crossing, Alberta's first Métis cultural interpretive centre, for example, is located 110 kilometres northeast of Edmonton near Smoky Lake. It was built on the original river lots of Métis settlers and it's the ideal place to experience the culture of Métis people, one of the three recognized Indigenous Peoples in Canada.
In the autumn of 2021, I stood outside the gates of the new wildlife park at Métis Crossing and watched as bison ran through the fields in a place where the species had been extinct since about 1865. I saw wood bison, plains bison, white bison, elk, and Percheron horses. Seeing bison – especially rare white bison was a fascinating experience. Many Indigenous people consider white bison to be the most sacred creatures on the planet and there are countless legends about them. Métis Crossing is one of the few places in the world where you can see white bison.
Another highlight of my visit was the chance to spend time with Lilyrose Meyers, the Elder and Knowledge Keeper at Métis Crossing. She spent an afternoon teaching me and a few others the fine art of moose hair tufting. As beginners, we practiced with yarn rather than moose hair. While she taught us the ancient craft, she talked about what it was like growing up as a Métis person and shared many interesting aspects of the culture.
This is the first winter Métis Crossing will be open, and the cultural site has some exciting new experiences and developments for visitors to enjoy on the land of the Métis people. There are new cross-country sky trails, new interpretive programs, and a new 40-room guest lodge to host overnight guests – all of which provide visitors with a connection to this special place.
---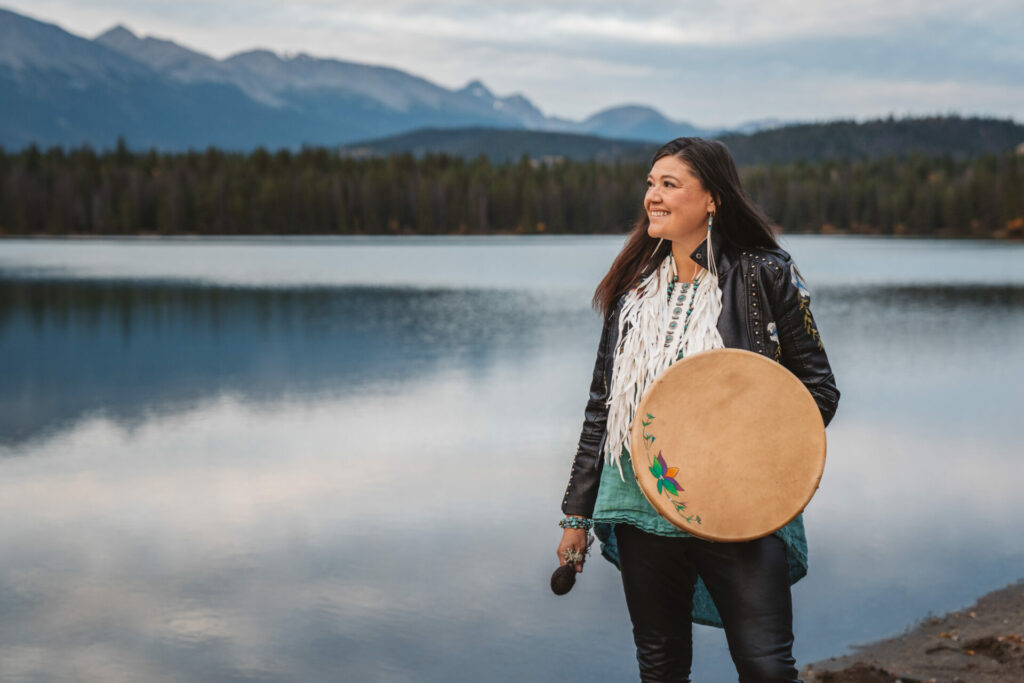 Connecting to Culture
The Indigenous community in Alberta is broad and diverse, and that cultural diversity can be seen in the tourism experiences available. Warrior Women, for example, operated by Matricia Bauer and Mackenzie Brown, offers fireside chats in Jasper, drumming performances, workshops, training, and virtual medicine walks that can all be enjoyed indoors.
In the autumn, I sat inside a tipi listening to the mother-daughter duo as they were drumming, singing and storytelling. Originally from the Sturgeon Lake Cree Nation, the pair shared ancient Cree legends as they sang and drummed.
The art of storytelling dates back thousands of years. Storytelling was one of the ways Indigenous history and culture was passed down through generations.

Drumming is also an ancient tradition and one that is considered sacred. The sound of the drumbeat represents the universal heartbeat of Mother Earth. The rhythm of the drums facilitates healing and the reestablishment of balance. Listening to the Warrior Women drumming performance was a very moving experience and the legends of the Cree people have stayed with me long after the performance was over. It was a unique way to connect with Indigenous culture.
---
Diversity across Alberta
Indigenous tours and experiences are authentic, genuine, and truly unique. The adventures are limitless and include guided hiking, snowshoeing, ice walks, climbing, camping, and a variety of cultural experiences that all have that indefinable extra something that leads to a richer experience that leads to a sense of connection that stays with you long afterwards.
Here are a few experiences that you can experience this winter:
Check out many more winter experiences in our Things To Do section.
Debbie Olsen is an award-winning Métis writer and a national bestselling author. Follow her at www.wanderwoman.ca.