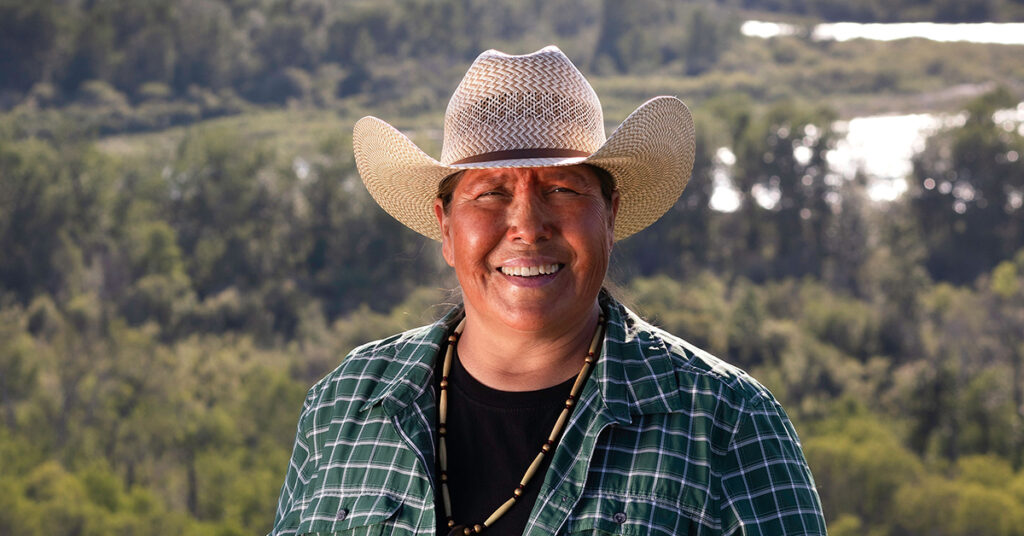 A ranch experience that connects to Blackfoot culture and history

Many Guns Ranch welcomes travellers and locals to learn about Blackfoot culture while touring the traditional lands cared for and lived on by the Blackfoot people since time immemorial.
By Kelsey Olsen
About an hour's drive east of Calgary, Many Guns Ranch sits on the Siksika Nation, the second largest First Nation by total land base in Canada. It's a stunningly beautiful landscape where the Blackfoot People have lived for thousands of years, and it's filled with rich history. For more than 20 years, Jeanette Many Guns has been offering trail rides, wagon rides, cultural experiences, and custom tours on horseback through Siksika Nation lands. These tours allow guests to see a gorgeous landscape up close and they also share the history and culture of a people who are both powerful and resilient from the perspective of a passionate Blackfoot Elder and historian.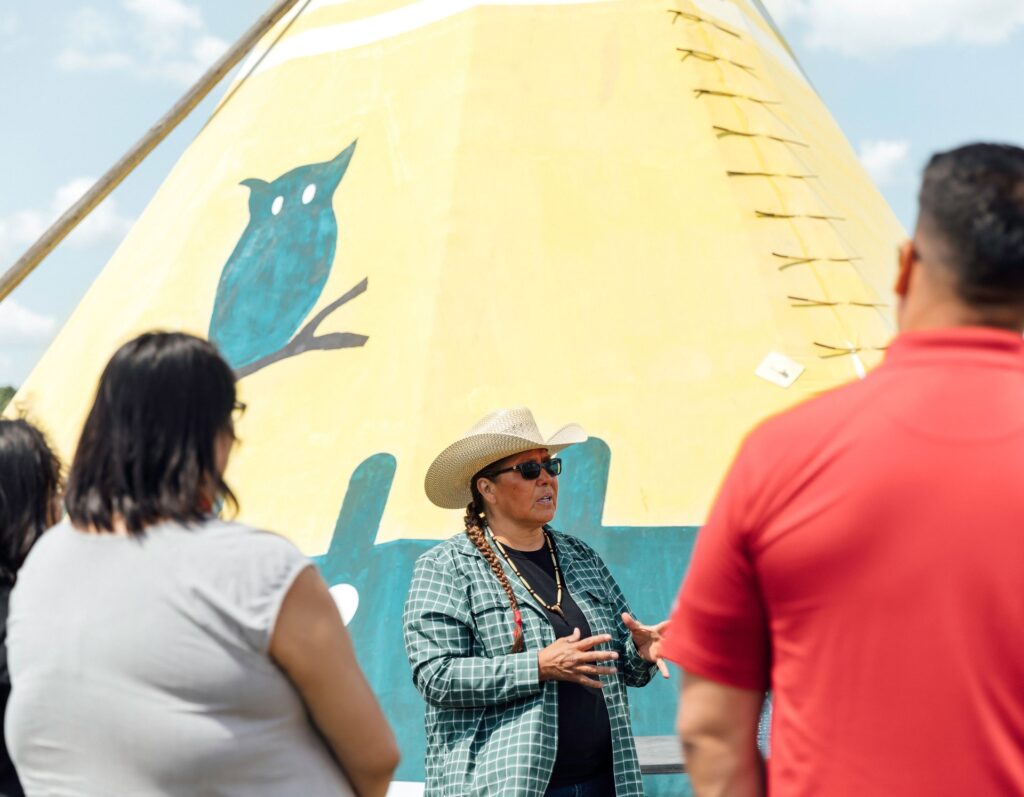 Many Guns Ranch offers a wide array of experiences including horseback riding tours, wagon rides, tipi camping, and a variety of other cultural experiences such as tasting traditional Blackfoot meals, enjoying cultural dance performances, listening to Blackfoot music, and more. "A lot of Canadians do not know the history of Canada," explains Many Guns. "That is why we want to educate people about who we (the Blackfoot) are."
A visit to Many Guns Ranch is an opportunity to immerse yourself in Blackfoot culture. Each tour is customizable, so visitors can take part in experiences of their choosing to make each visit as personal as possible. When you tour Many Guns Ranch, you can ride horseback or in a wagon as your guide leads you through the history of the area.
On a recent visit to the ranch, my friends and I experienced a wagon ride and an incredible history lesson. As we travelled across the land, we felt like we had stepped back in time. Virtually untouched prairie is rare to see these days and it took my breath away. I could even see wild horses prancing in distant fields, something I'd never seen before. On wagon rides and horseback rides, guests can also view badlands and venture up to a vantage point that overlooks a canyon carved over thousands of years by the majestic Bow River.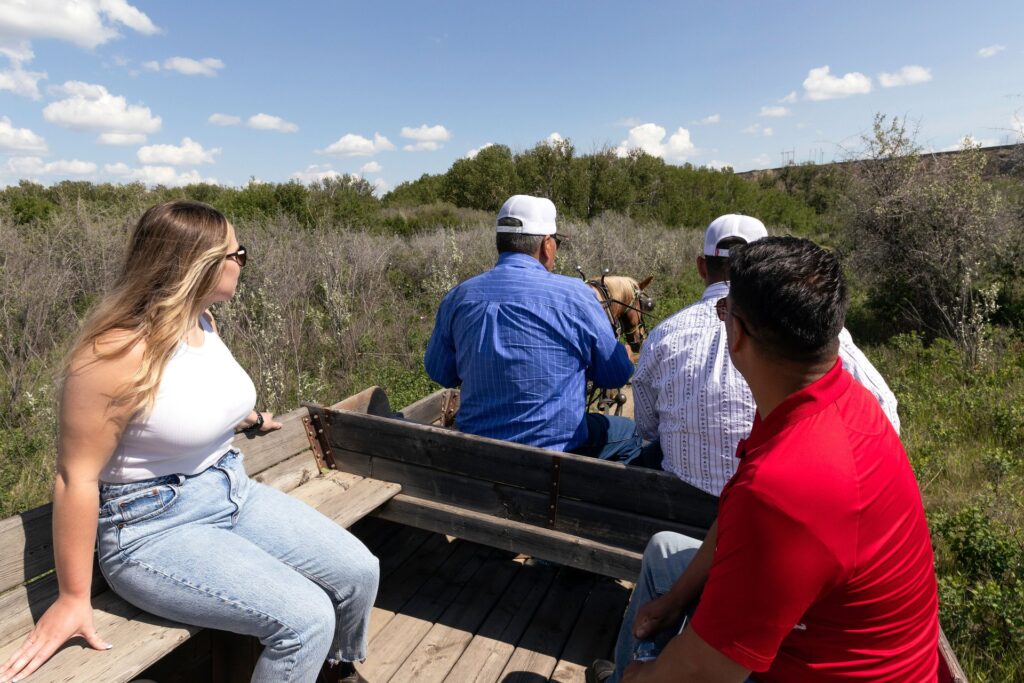 When Many Guns leads a tour on Siksika lands, she is sharing a place she knows and loves, and she is sharing stories from the perspective of a historian. Jeanette Many Guns comes from a family of historians. She recalls growing up with her great grandmother who only spoke Blackfoot. "Back then, nobody spoke English." she says. "We always spoke our own language. But now, it is the other way around. You hardly hear Blackfoot language."
Many First Nations people who attended residential schools lost the ability to speak their traditional language. Students were not allowed to speak traditional languages in residential school and were made to feel ashamed or were punished if they spoke in their mother tongue. Many residential school survivors never spoke their language again and consequently never taught their children how to speak their traditional language.
In recent years, Indigenous People have been reviving traditional languages and reclaiming their culture. Many Guns' passion for sharing and preserving her native tongue is palpable. It is something that has been reinforced in her life through her family's dedication to sharing their culture and history.
Along with a dedication to educating visitors, Many Guns Ranch also strives to support and inspire local children and youth who reside on the Siksika Nation. One example of this happened during my visit to the ranch. In collaboration with Siksika Children's Services, actor Eugene Brave Rock, and musician Olivia Tailfeathers, Many Guns Ranch provided a day of wagon rides and cultural experiences. The wagon rides were followed by an inspirational discussion inside a tipi with Brave Rock and concluded with traditional music from Tailfeathers. This experience is part of a larger effort to diminish the effects of intergenerational trauma and build up the children and youth in the area whilst encouraging them to follow their dreams.
These collaborations and programs are another way Many Guns Ranch is working to preserve Blackfoot history, culture, and language. Many Guns Ranch welcomes all people to experience the beauty of the land and learn about the history and the rich culture of the people who have thrived in this place for thousands of years.
"When I was young at school, I never learned about my own history," Many Guns says. "So now this is our time to start telling people about who we are. It's important for people to know who we are because we were the First Nations."
Kelsey Olsen is a Métis writer and author. Follow her on Instagram at @kelseyrolsen or on www.wanderwoman.ca.