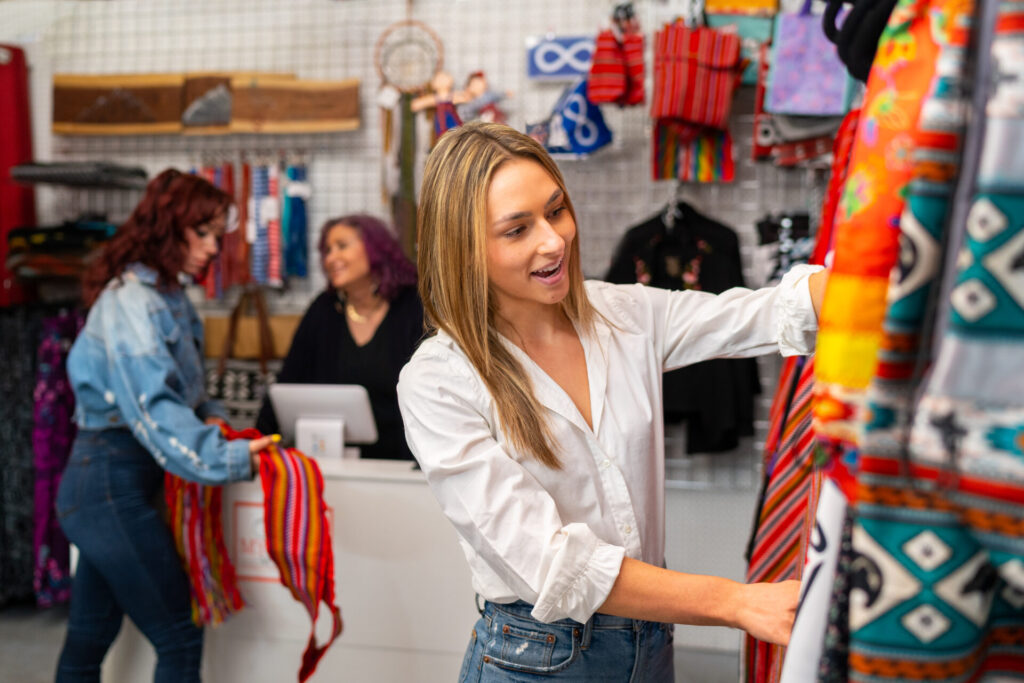 An Indigenous Gift Guide for 2023
Our curated list of Indigenous products means you'll find all the gift ideas in one place. You're sure to find something for that special someone in your life, or to commemorate a special day. From staple blanket pieces, to fun athletic fashion to natural self-care products, we're certain you'll find something that will bring a smile to your special someone on their special day.
Boy Chief Trading Post
Located on Siksika Nation, Boy Chief Trading Post is named after the owner's great grandfather and great Blackfoot warrior. The trading post bears its name from a respected leader: Boy Chief. His legacy speaks through these collections as his designs and colors are reflected within a period of time that drew on ancient traditions and brought them forward to an ever changing landscape.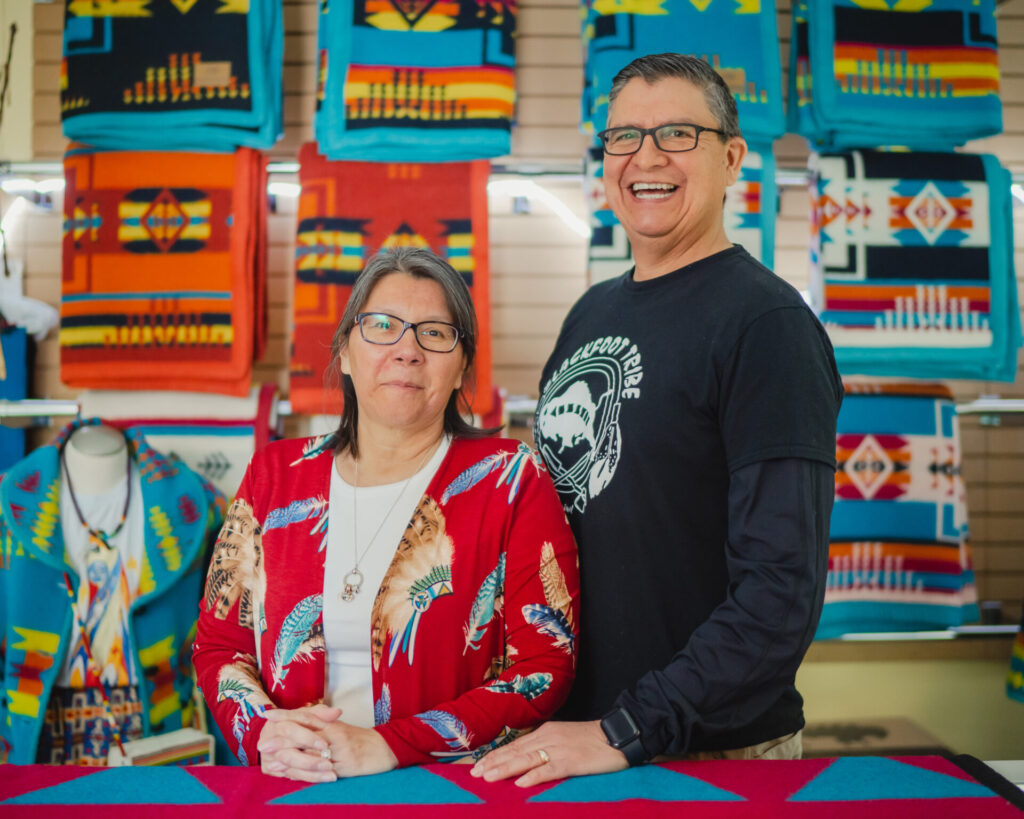 The New Boy Chief collection features Boy Chief Blankets, a popular demand among customers. Boy Chief Trading Post honours the pioneering spirit of the Blackfoot people and recognizes their efforts in the continuous fight to keep their cultural diversity and traditions alive.
"The earthy colours represent the various clays and sage brush used in our Blackfoot societies and spiritual ceremonies while geometric symbolism tell a story of life and death, of rebirth and the power of the creator over us all," says the Boy Chief Trading Post website.
New Boy Chief Collection is more than just blankets: it's a piece of Blackfoot history. The collection honours and symbolizes Blackfoot history while adding a flair of style to your home. Did we mention that these blankets are perfect for warmth and comfort?
If the New Boy Chief Collection is not the gift you're looking for, the store has a diverse range of items such as handcrafted accessories, to kitchenware and clothing perfect for that special occasion or special person in your life.
Visit the store online or in-person to learn more.
Located at Siksika First Nation, AB | boychieftradingpost.com
Moonstone Creation
Looking for gifts that are unique and stylish? Well, look no further, because Moonstone Creation is a native gallery and a gift shop under one roof. This shop is one stop for all your needs. Indigenous owned, this shop supports over 60 Indigenous artists.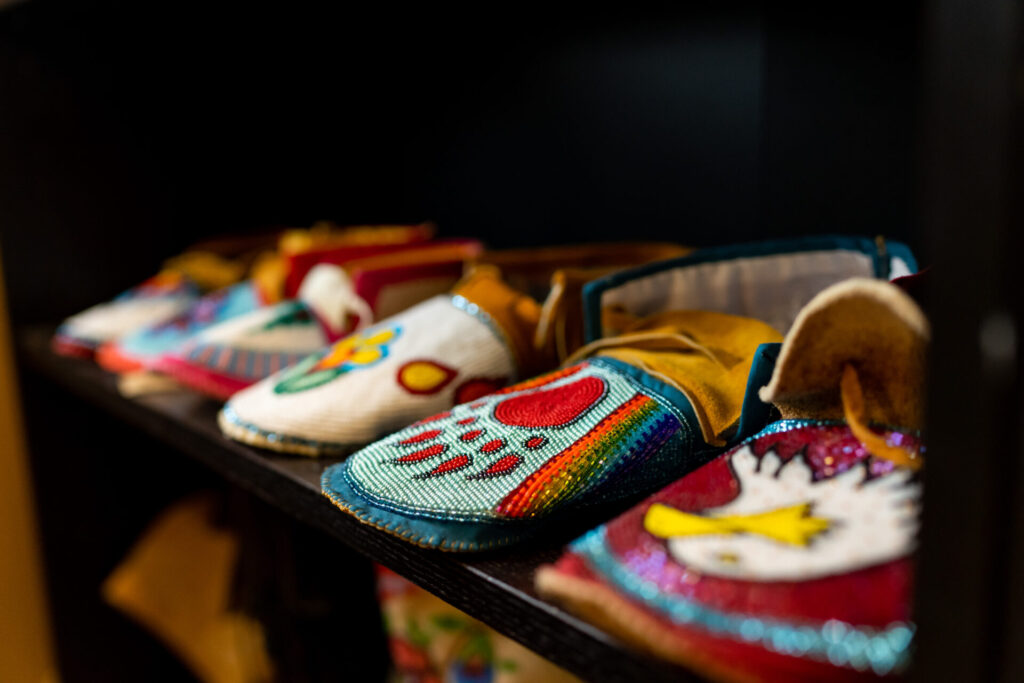 You can find beadwork, paintings, leatherwork, jewellery, sculptures, apparel, ceremonial drums and more at Moonstone Creation located in Calgary. The gallery contains one-of-a-kind creations from more than 60 Indigenous artists, each item crafted carefully with attention to detail. Be careful though! You may just find what you're looking for and more. Moonstone Creation really wasn't playing around with their name: You can create your own artwork through purchasable kits to make your own creations or take an in-person class and learn the skill from the experts themselves! 
Located at 219 10 Ave SE, Calgary, | moonstonecreation.ca | Online and in-person
Mystical Métis
Completely Indigenous owned and operated, Mystical Métis strives to create a strong Indigenous economy by supporting supporting artists and reconciliation actions. Mystical Métis is committed to building bridges between cultures by welcoming visitors to explore our world and Indigenous ways through art and conversation.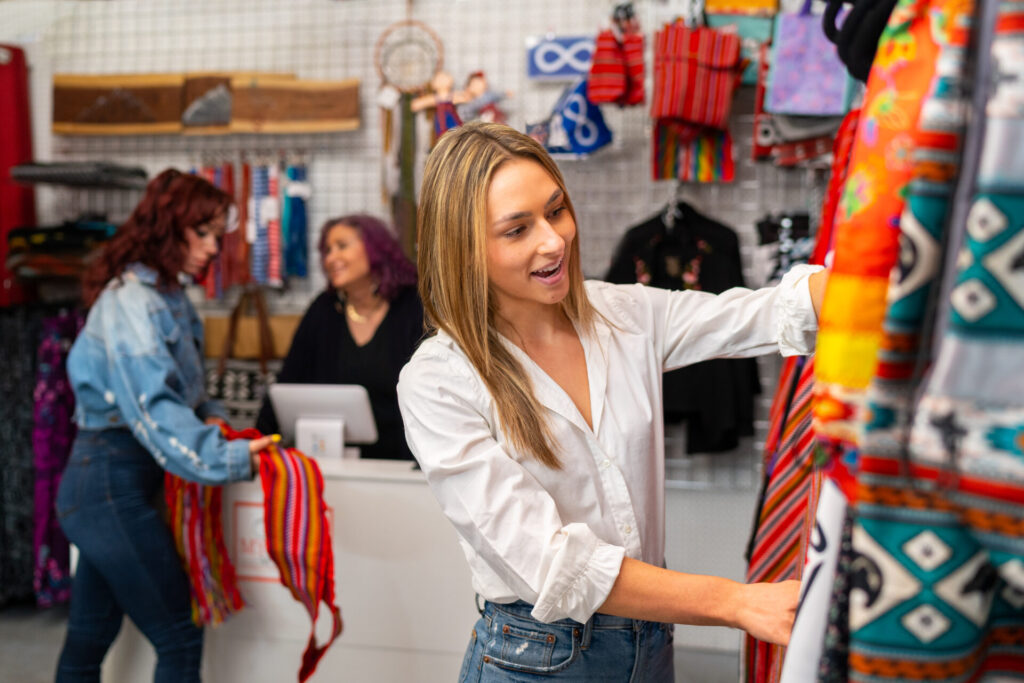 At some point, you know you're going to be in the market for Indigenous artist-designed Sasquatch items, right? Well look no further. Mystical Métis not only carries Sasquatch hoodies, but the store is filled with all sorts of authentic Indigenous-made items.
Think T-shirts, caps, pins, stickers, bowl covers and more. Mystical Metis also carries Indigenous artist-designed clothing such as eco-friendly leggings, capris, shorts and sports bras that are made from recycled bottles. They are double-stitched, moisture-wicking, breathable, and antibacterial. Mystical Metis carries many items to beautify your home and kitchen all designed by Indigenous artists: tea towels, microfibre towels, spatulas, teapots and more.
Whether you pay a visit in-person or browse online, Mystical Metis is a great stop for your gifting needs.
Located at Crossroads Market 166, 1235 26 Avenue SE Calgary, AB | mysticalmetis.ca
Fallen Mountain Soap
There is nothing that beats handcrafted items to give to someone special in your life. Fallen Mountain Soap, located in Grande Cache, Alberta, captures "the colours, scents and textures echoed in the landscapes that my people have walked over many generations," according to Lauren Moberly, owner of Fallen Mountain Soap.
Fallen Mountain Soap is available at a number of retailers around northern Alberta. These Indigenous-made artisan soaps are made with hand-selected wild ingredients from the land. The comforting aroma of the Sweetgrass – Wîkaskwa will have you feeling like you're holding a freshly braided sweetgrass strand. These sweetgrass soap bars have been infused with hand-crushed sweetgrass flakes and colored a beautiful green with gold mica powder accents and scented with essential oil. The Cedar Balsam – Masakîs scent will have you hooked. Every Cedar Balsam soap bar contains carefully hand-crushed Cedar Balsam flakes providing you with a mild exfoliation experience while the goat's milk leaves your skin feeling moisturized.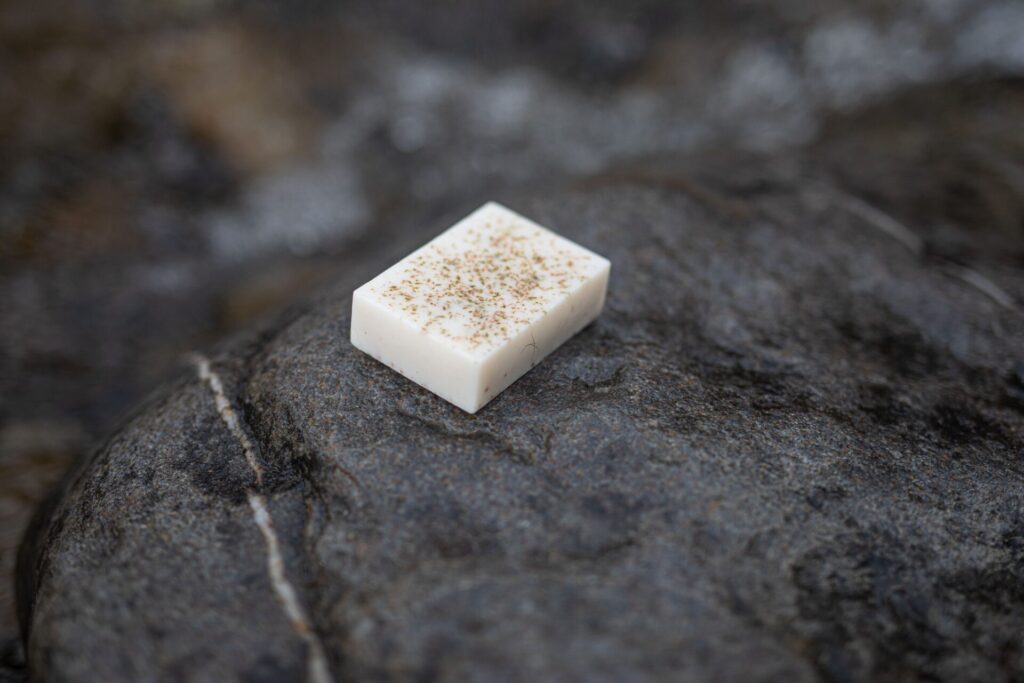 Fallen Mountain Soap also carries bathroom statement pieces to pair with your customized soap.
"When I walk into the forest, foraging for natural, wild ingredients, I am inspired by the traditional teachings I learned from my Elders," says Moberly.
Located in Grande Cache, AB | www.fallenmountain.com
Mother Earth Essentials
Mother Earth Essentials offers natural beauty products and teas made from ingredients sourced from the lands, using traditional knowledge passed down from founder Carrie Armstrong's grandmother.
Soy candles are in huge demand at Mother Earth Essentials. One whiff of the sage soy candle will transform your mind out onto the wide-open, windswept summer prairies. Sage represents youth and the warmth of the southern sun in the North American medicine wheel. The sweetgrass soy candle brings a sense of comfort. This sweet aromatic essence is known to soothe & calm.
If candles aren't your thing, Mother Earth Essentials offers body care products, essential oils, tea, and skincare products. All crafted with natural ingredients! What is there not to love?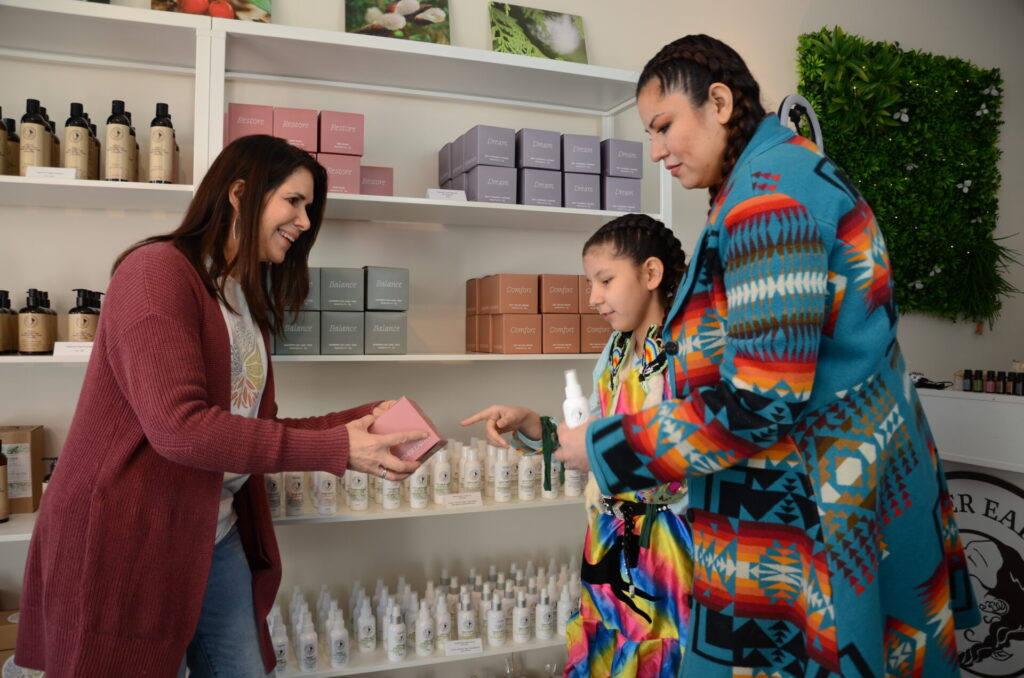 "We believe the reason our products are popular with our customers is because we tell a story," says Armstrong. "We aim to educate through a high quality line that people find unique. As far as we know, we were the first brand to offer beauty products utilizing plants like sweetgrass, sage and cedar. People tell us they love to learn more about Indigenous plants through our line, or that they love seeing their own culture represented among other known brands."
Located at 12316 111 Avenue NW, Edmonton, AB | motherearthessentials.ca
Tee Pee Treats
Sharing food has been a longstanding form of expression love and gratitude among Indigenous peoples. Tee Pee Treats is a 100 per cent Indigenous-owned and operated business that strives to provide quality, contemporary Indigenous food made with love that gives back to the community.
Gift the Bannock Dry Mix and pair it with the Artisan Tea Blend to make a delicious combination. These kits are perfect to take home and whip up fresh in your kitchen. You'll feel like you're on the powwow trail with just one bite of Tee Pee Treat's bannock recipe. These kits are perfect to share with your family or at a community gathering, or simply, for yourself, your secret is safe with us.
"You have to continually work on your skills. You have to work toward a goal and accomplish each goal accordingly," Curtis Cardinal, founder of Tee Pee Treats.
Located at 9641 102A Ave NW, Edmonton, AB | teepeetreats.com
Colouring It Forward
This business collaborates with Indigenous artists and elders to produce authentic books, cards and journals to tell the story of Indigenous people — of hope and of a different future. Colouring It Forward is more than a colouring book, it's a gathering place for people to share their own stories, art, and to build a community.
Cree Nation Art & Wisdom Colouring Book includes wisdom teachings shared by Cree elder John Sinclair inherited by his forefathers. While you take in the teachings, colour the beautiful artwork by Cree artists Delree Dumont.
The Blackfoot Nation Art & Wisdom Colouring Book provides traditional wisdom shared by Blackfoot elder Camille Pablo Russell while you add vibrant colour to the beautiful pieces of Blackfoot First Nation art by Kalum Teke Dan and Ryan Jason Allen Willert.
Colouring It Forward colouring books are ideal for all types of people. It is the perfect gift that blends learning and creativity! While you fill the pages with colours, Colouring It Forward donates proceeds to projects that help sustain Indigenous resiliency and Indigenous economic growth through a grassroots approach.