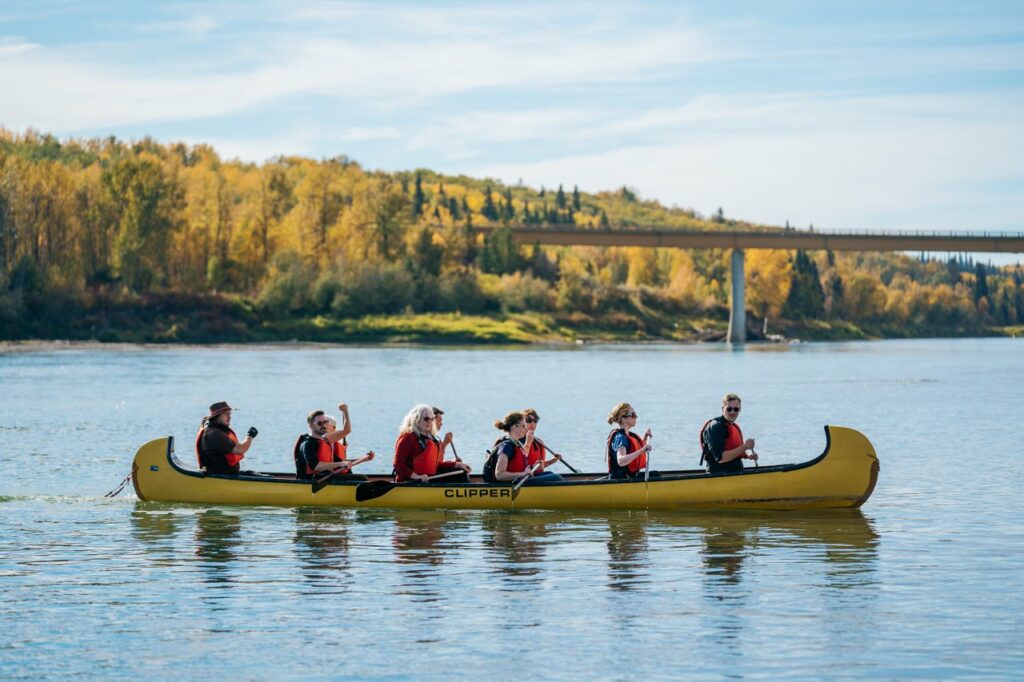 Take an Indigenous Road Trip This Summer
By Debbie Olsen
Alberta was made for road trips. Those breathtakingly beautiful landscapes are everywhere. But if you're looking for a deeper experience that goes beyond the postcards, why not turn it into an Indigenous road trip? Indigenous tourism adventures are fun, fascinating, diverse, and they provide the opportunity to really understand the land and its people in Alberta. Here are a few Indigenous-themed journeys you can discover.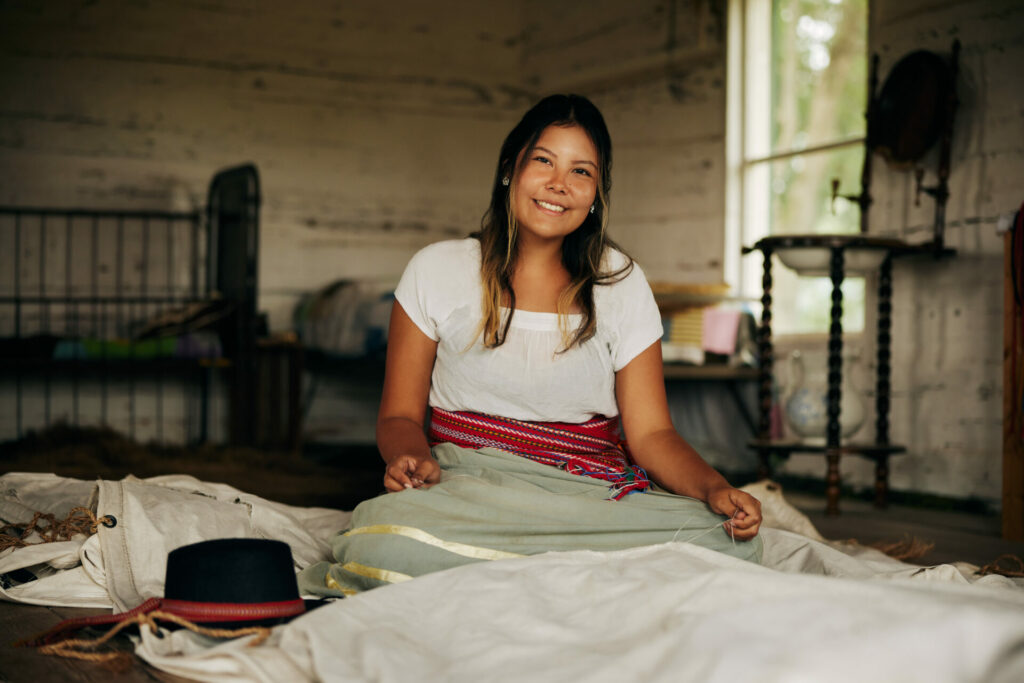 The Bison Trail
This journey will take you to key Indigenous attractions and experiences in Alberta's capital region. Along the way, you'll learn about the importance of bison in Indigenous culture and even get to see some.
An Indigenous Geology Tour: See the Edmonton river valley in a way you've never experienced before with (A) Talking Rock Tours, the first tour company in Alberta that combines geology and Indigenous culture.
Fort Edmonton Park: Check out the (B) Indigenous Peoples Experience at Fort Edmonton Park to understand the diversity of First Nations and Métis people in the Beaver Hills region of Alberta.
Indigenous Art Park: Explore "the story of this place" through the creative work of Indigenous artists at (C) ᐄᓃᐤ (ÎNÎW) River Lot 11, Edmonton's Indigenous art park.
Royal Alberta Museum: View thousands of Indigenous artifacts dating from the mid-1800s to present at the (D) Royal Alberta Museum in Edmonton. Included in the collection is Manitou Asinîy, a 145 kg iron meteorite that is considered sacred by many Indigenous Peoples, and has been the subject of repatriation discussions by First Nations Peoples in Alberta for several years.
Elk Island National Park: Visit the place where bison were brought back from the brink of extinction. At (E) Elk Island National Park you can see plains bison, wood bison, and many other species. You can also enjoy hiking, canoeing and interpretive programs.
Métis Crossing: Paddle a canoe, follow costumed interpreters through a historical village, talk to an Elder, make a traditional craft, see rare white bison at the onsite wildlife park, and eat Indigenous cuisine at (F) Métis Crossing. Stay overnight in a Métis trapper's tent or in a room at the comfortable and luxurious guest lodge.
---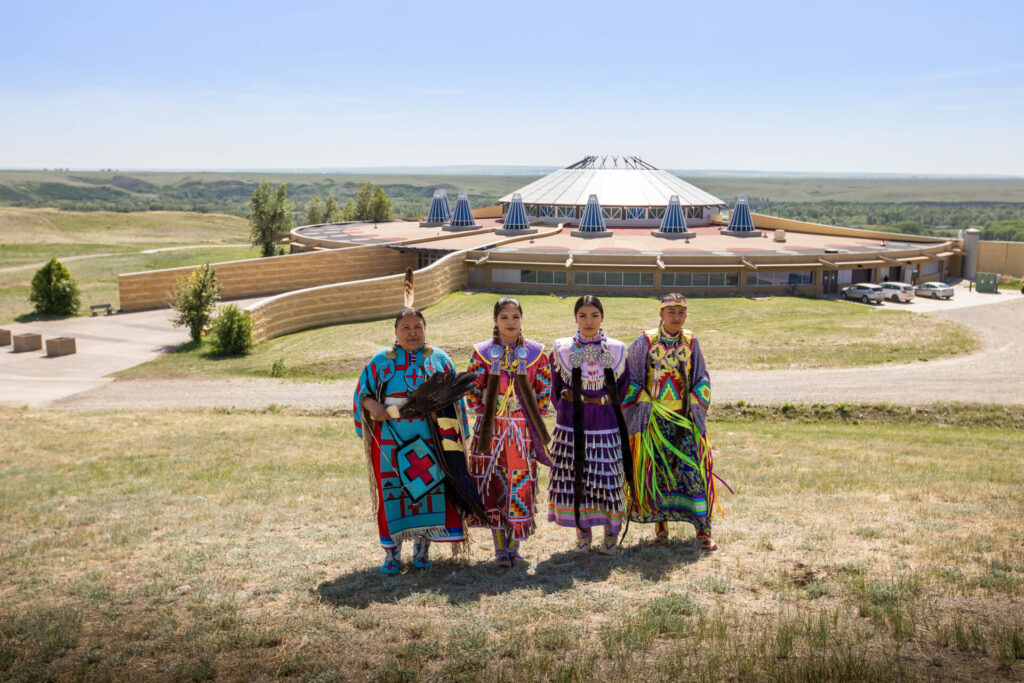 The Blackfoot Trail
This adventure will take you from Calgary, east to Blackfoot Crossing and south to such attractions as Head-Smashed-in Buffalo Jump and Áísínai'pi.
Calgary Indigenous Shopping Tour: Shop for handmade art, fashions, jewelry and more at (A) Moonstone Creation Native Gallery & Giftshop and (B) Mystical Métis.
(C) Blackfoot Crossing Historical Park: At the site of the signing of Treaty No.7, Blackfoot Crossing Historical Park has an excellent museum with displays that tell the story of Siksika First Nation history and culture. There's also a restaurant, a gift shop, walking trails and a tipi village. A new Chief Crowfoot exhibition is scheduled to open in 2022.
(D) An Indigenous Overnight Stay: There are plenty of options for an Indigenous overnight stay on this road trip. Choose a room at River Ranche Lodge, Many Guns Ranch and Adventures, or a take a trip south to Buffalo Rock Tipi Camp.
(E) Stop at the Trading Post: Make a stop at Boy Chief Trading Post, on Siksika Nation, a 50-minute drive east of Calgary. Shop for giftware, western wear, horse hardware, jewelry, authentic Indigenous arts and crafts, Boy Chief Blankets and more.
(F) Head-Smashed-in Buffalo Jump: Visit a UNESCO World Heritage Site that was used as a communal buffalo hunting site for thousands of years at Head-Smashed-in Buffalo Jump and learn about the history of the Plains People through the onsite exhibits.
(G) Áísínai'pi: See incredible hoodoos and the largest collection of rock art on the Great Plains of North America at Writing-on-Stone Provincial Park.
---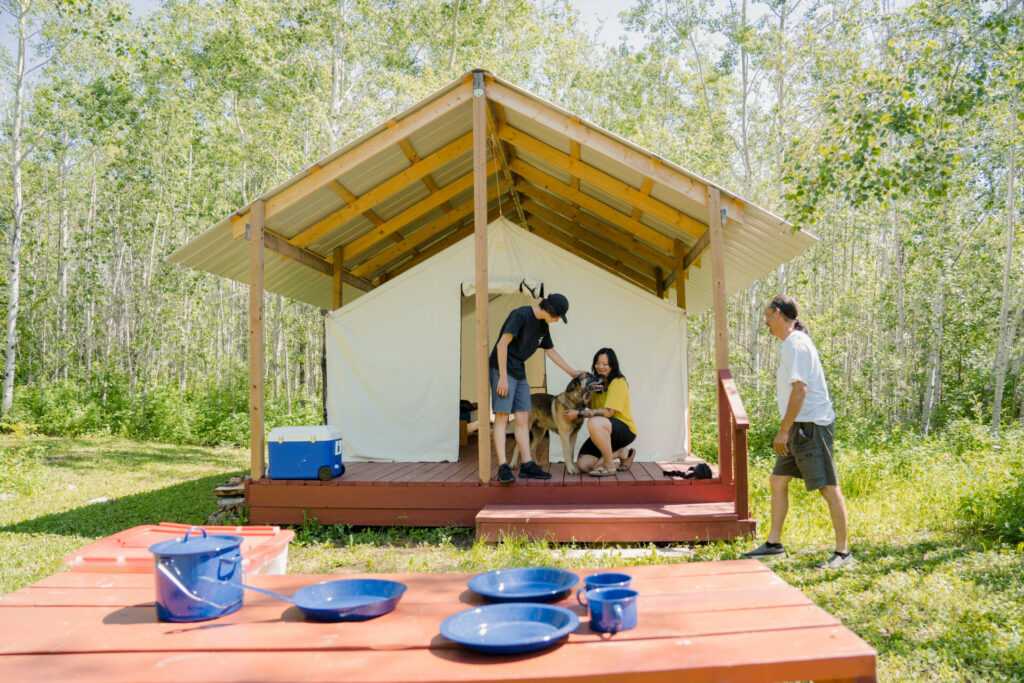 Lakeland Trail
Head north of Edmonton towards Lac La Biche and experience overnight Indigenous adventures, fishing, and shopping.
Overnight Adventures: Enjoy a stay in a cozy cabin or a campground site on the shores of Whitefish Lake at (A) Kikino Silver Birch Resort. Stay in a fully equipped traditional tipi at Alberta's only island park, (B) Sir Winston Churchill Provincial Park. Experience Métis hospitality and traditional activities while staying in a fully equipped Métis trapper's tent at (C) Hideaway Adventure Grounds.
Go Fishing: Enjoy a guided fishing adventure, stay overnight in a cabin or rent a boat at (D) Winefred Lake Outfitters in Lac La Biche County.
Shopping: Purchase authentic Indigenous arts and crafts at the giftshop at the (E) Lac La Biche Canadian Native Friendship Centre. If you're up for a longer road trip, a three-hour drive north will take you to the (F) Fort McMurray Metis Trading Post.
---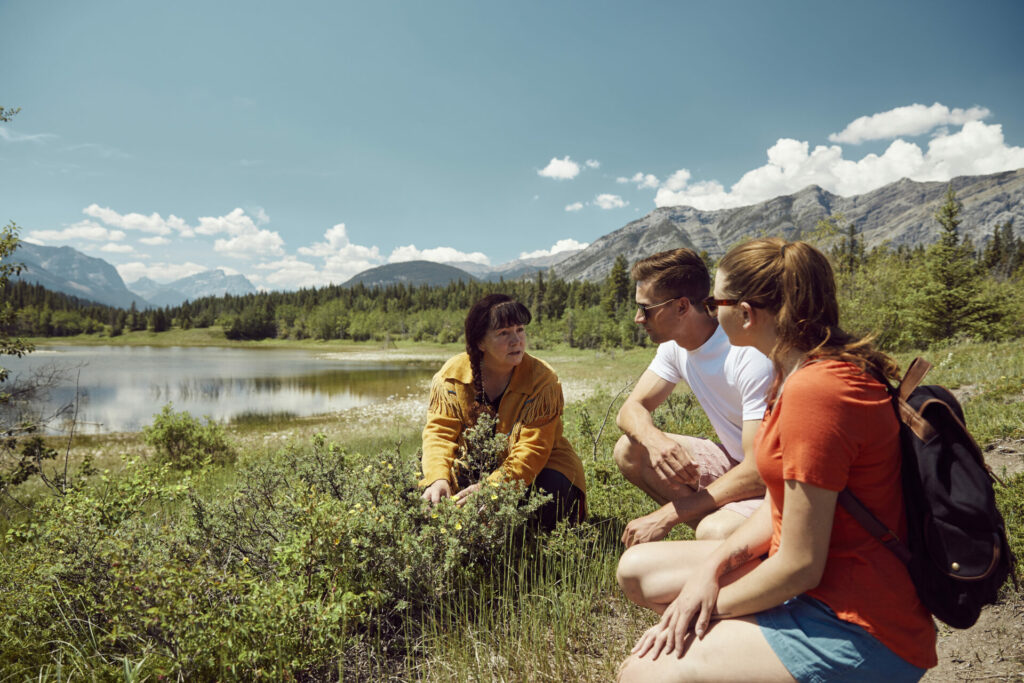 Indigenous Rockies
Experience the Rockies from a new perspective with these unique Indigenous adventures.
Go on a Medicine Walk: Look deeper and get a new perspective on the Rockies with a guided medicine walk with (A) Mahikan Trails in Banff or Canmore.
Experience an Inidge-scape Tour: Get an Indigenous perspective on the Rockies on a guided hiking adventure with (B) Buffalo Stone Woman.
Arts and Culture: Learn about the myriad First Nations that have long made the Rockies part of their lives at the (C) Luxton Buffalo Nations Museum in Banff, and pick up some authentic Indigenous art at (D) Samson Native Gallery in Lake Louise.
Take a Guided Hike on the Athabasca Glacier: Experience the thrill of hiking on the surface of an ancient glacier with (E) Zuc'min Guiding. Cultural plant hikes, backpacking and many other adventures are also on offer.
Enjoy an Indigenous Wildlife Tour: See wildlife in Jasper National Park and learn the Indigenous names for the animals and some of the Indigenous history of the park with (F) Jasper Tour Company.
Debbie Olsen is an award-winning writer and a national bestselling author. Follow her at www.wanderwoman.ca.