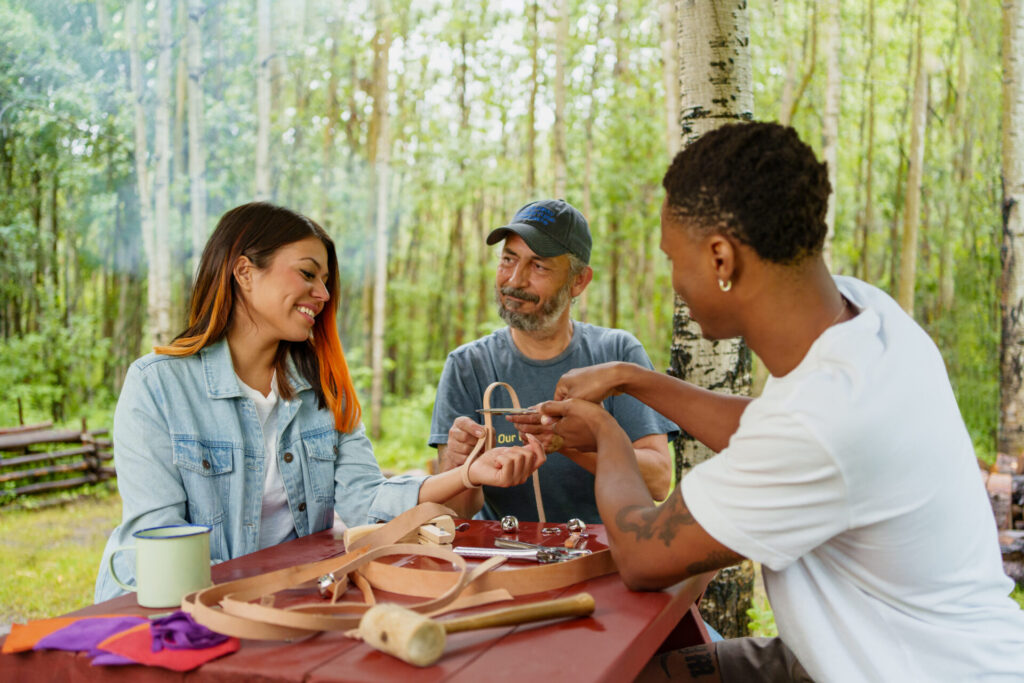 The resiliency of the Métis: Connecting to land, culture and community
By Cailynn Klingbeil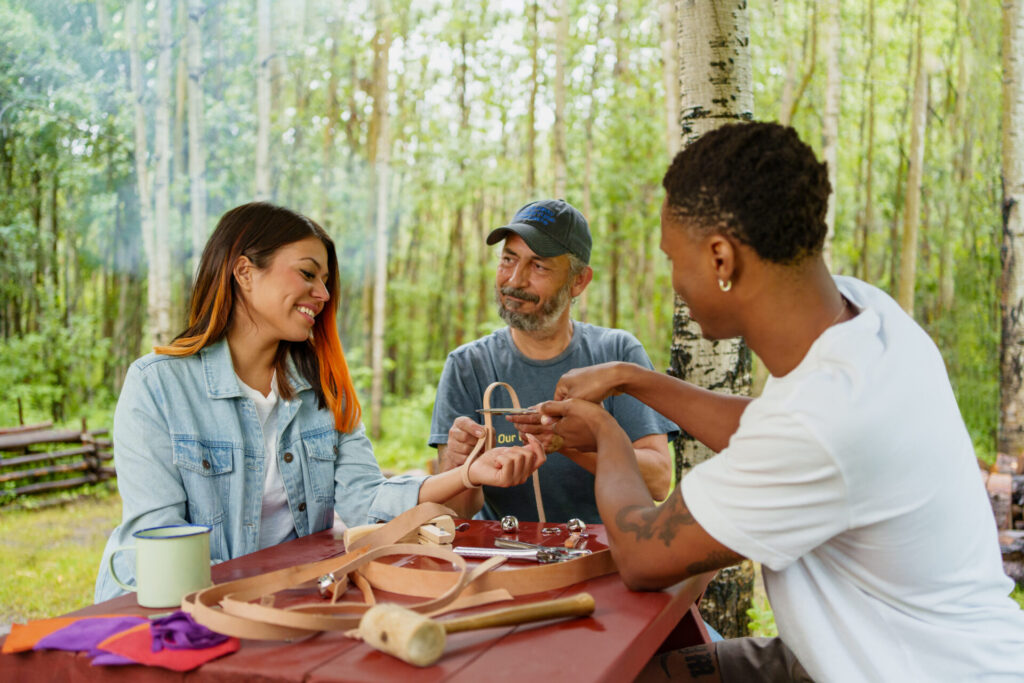 As a child, John Ritchie used to travel with his family two hours northeast of their Edmonton home to the Kikino Métis Settlement, where Ritchie's grandparents lived. He revelled in the experience, especially the wilderness setting. Instead of an urban environment with concrete underneath, Ritchie had an expansive forest to explore.
Ritchie later moved to Kikino, first at age 16, and later returning with his young family. Now he's sharing the specialness of this place with others, through his business, Hideaway Adventure Grounds.
Located on the Kikino Métis Settlement, Hideaway offers comfort camping in trapper's tents and land-based learning and activities, to help people experience and understand Métis culture. Ritchie, a Métis Settlement member, shares his own knowledge and also invites other knowledge holders in the community to share their stories and skills.
"Instead of just a campground where you can put your head on the ground and then go home, Hideaway is a stage where people can come share stories and other people can come hear stories," Ritchie says.
That includes Ritchie's own story, of growing up in an urban environment, detached from the land and feeling like he didn't belong. That changed when he moved to the Kikino at age 16 and reconnected with his culture, learning from Elders and relatives about the resiliency of the Métis people.
In Canada, the Métis are one of three distinct groups of Indigenous Peoples, alongside Inuit and First Nations. Métis people have their own way of life, culture and history.
"It's a distinct culture; we're not First Nations and we're not white," says Pat Aaker, a Métis Elder who lives in Medicine Hat, Alberta.
For her, being Métis means valuing family and taking care of each other. She enjoys beading with her daughter and granddaughter, partaking in a practice that goes back generations, with floral beadwork a distinctive Métis symbol. "It's also important to take care of our land, to stay connected with the land," she says.
For Ritchie, his Métis identity is rooted on the settlement where he lives, land that generations of Métis have called home. "Alberta is unique in Canada for having the only land-based Métis communities, which we call Métis settlements. Today we have eight Métis settlements and they are all north of Edmonton," Ritchie said.
The Métis Settlements are self-governing and, in total, encompass 1.25 million acres. Kikino, in northeast Alberta, is a vibrant community home to about 1,200 residents. The name Kikino comes from the Cree language and means "Our Home."
"When I moved to Kikino, I saw that the focus was around community. Everybody pitched in and everybody had a role to play and it was so warm and welcoming," Ritchie says. "That's why I returned to Kikino with my young family when I was an adult, so I could share that same warm, inviting, open community that helped me to open up, to become somebody better than who I was."
Throughout his career, Ritchie chose jobs that would develop his business skills, with the goal of one day owning and operating his own business. He achieved that goal in 2018, at age 50, opening Hideaway Adventure Grounds. While he initially envisioned a simple campground, this peaceful, relaxing setting in the woods seemed perfectly suited for experiential, land-based learning, and so guests began to join him on adventures.
Today, visitors to Kikino are welcomed by Ritchie and his dog Buddy, a friendly and gentle German Shepherd. "You come and stay in a trapper's tent on a Métis settlement and we share some Métis skills and some Métis stories, and together as a community, we learn," Ritchie says.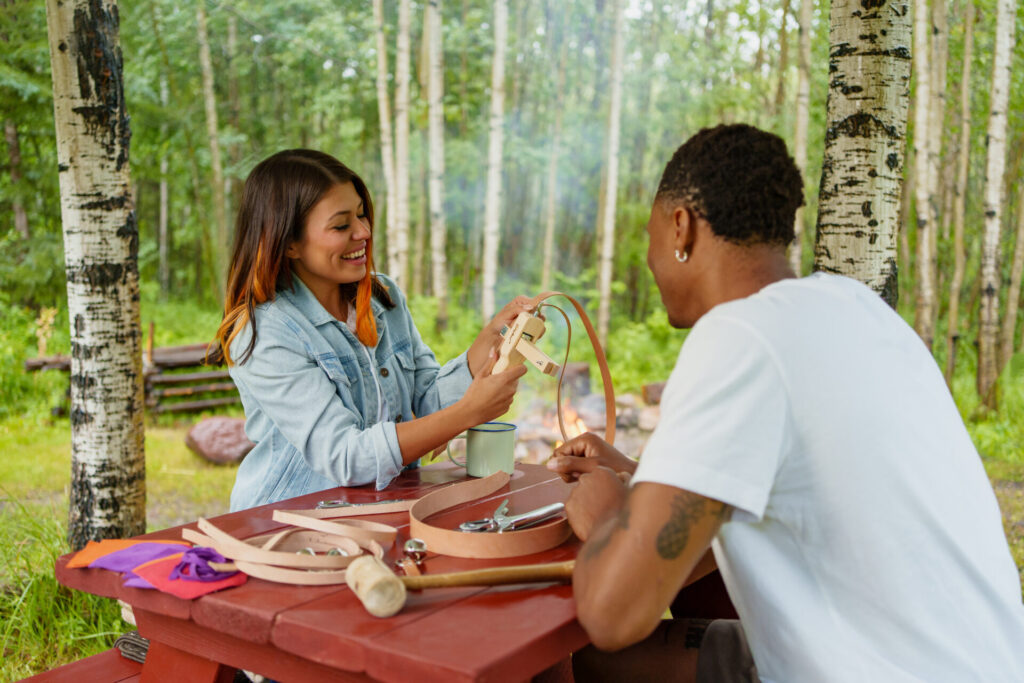 That can include specific skills, like plant identification or knot tying, and broader values, like a connection with nature. Hideaway also offers winter camping, with heaters in the canvas tents keeping guests warm, plus snowshoes to explore the nearby trails.
Winter is a favourite time for Ritchie to explore the many trails in the area, because snow makes it easier to practice tracking skills. "You can see the different species moving on the land and how they move, because their tracks show up in the snow until the next snowfall," Ritchie says.
Ritchie has future expansion plans for Hideaway, including building additional accommodations, showers and cooking facilities, and offering longer stays. But the core of Hideaway will remain the same: an opportunity to experience the specialness of this quiet wilderness and learn the history of this land and its people.
"I have found a new skill and ability in myself in the last five years, and that is the ability to tell stories and be a storyteller," Ritchie says. "That's what people have been calling me lately. And I'm finally growing into the idea, finally accepting that role of who I am. That's what Hideaway is, it's a place of stories."