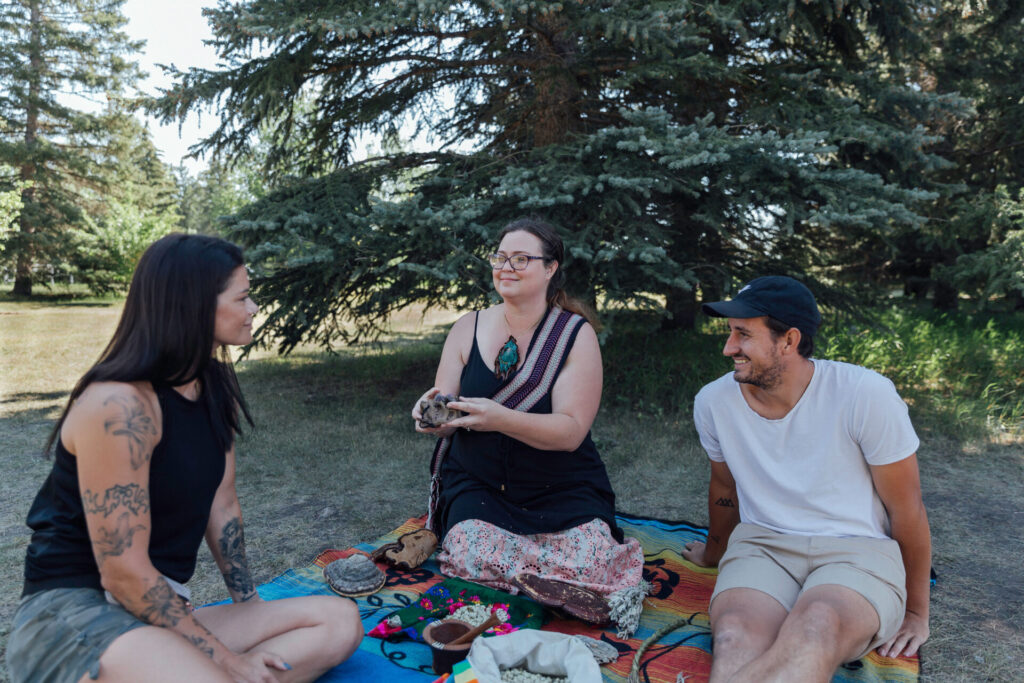 Discover the power of medicinal plants and immerse yourself in Métis culture on a guided tour
By Kelsey Olsen. Photos by Noella Steinhauer.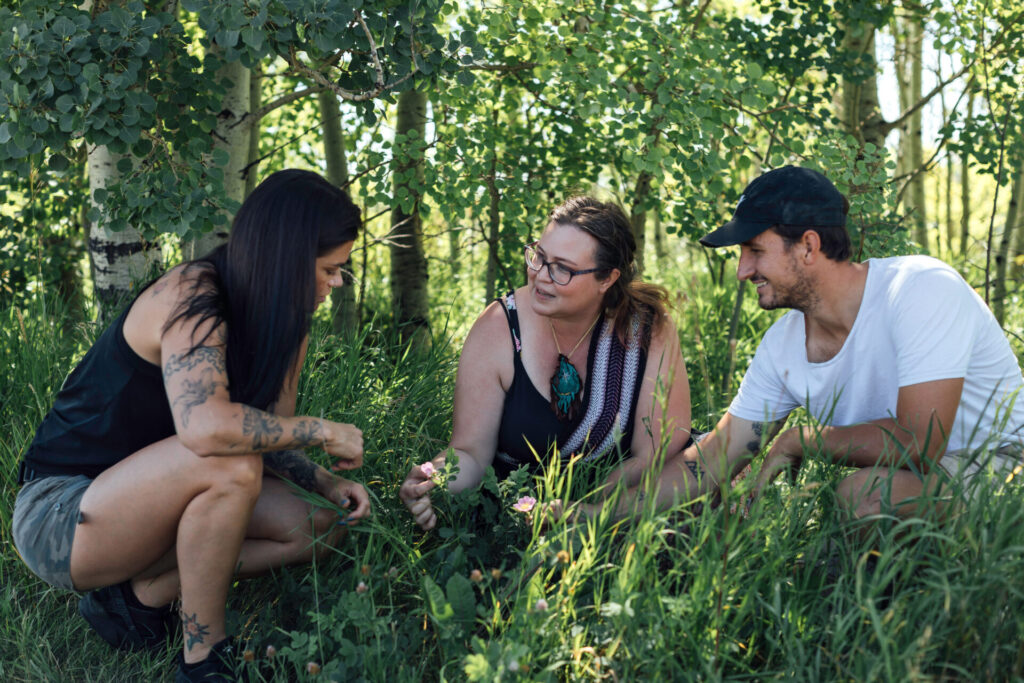 As a Métis herbalist, knowledge keeper and craftsperson, Kalyn Kodiak is passionate about sharing these parts of her culture through her business Kodiak Herbal. Located in Calgary, Kodiak Herbal offers immersion in Michif traditional medicine, arts, crafts and nature.
As she guided a small group of people through a natural area in Calgary, Kodiak stopped to point out a plant that has been used by Métis people for centuries. "Some of our best medicines are the most humble plants," she said as she gently touched the rust coloured twigs of a wolf willow shrub. She explained that this prairie plant grows in places that many other plants are not able to survive. Then she showed the group a beautiful rosary that she had made from wolf willow berry seeds and explained how the berries can also be used to make a unique traditional dessert known as Métis ice cream. There are many common herbs in Alberta that have served important purposes to Indigenous peoples for thousands of years.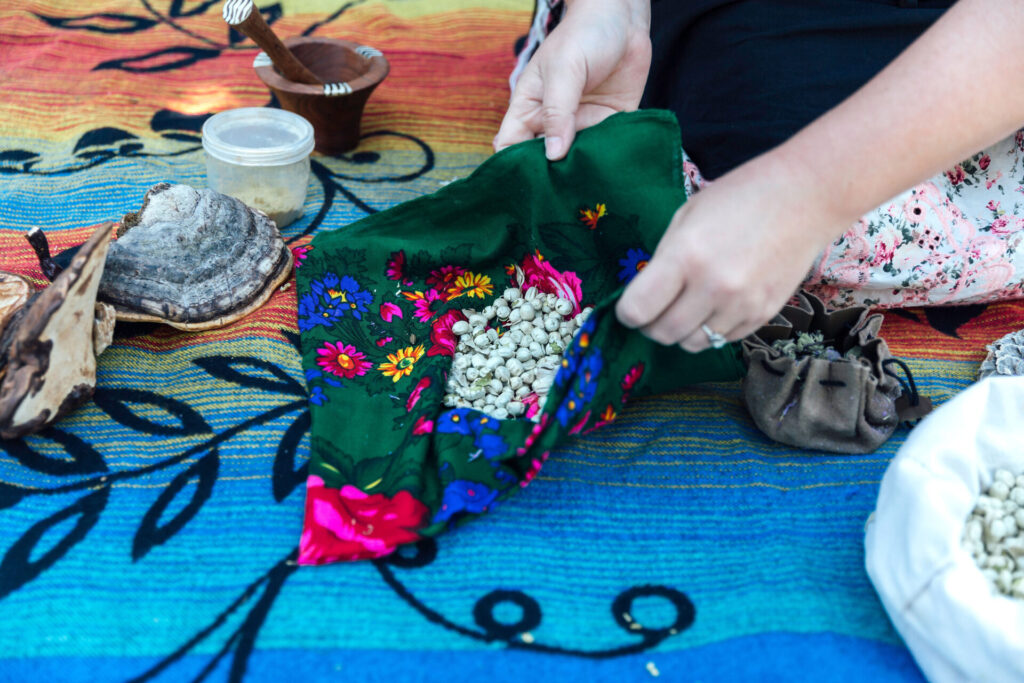 A big inspiration for Kodiak and one that encouraged her to start her business, Kodiak Herbal, was her great-great-grandmother, Marie Rose Delorme Smith, a Métis midwife and herbalist. "I'm really lucky because my grandma Smith wrote down stuff about her childhood growing up on the trail," she explained. "My family was a large family of traders from Red River and they travelled every year between Alberta and Red River so she wrote all about that." Through this memoir, Kodiak was able to learn a great deal about her culture and her own family's history. The memoir discussed difficult parts of Smith's life and how she managed to overcome these challenges and live a life full of beautiful moments. "She was inspiring in the way that she was able to maintain her joy and interest in life and her culture," Kodiak stated. "Enough to write a book about her memoirs and not make it all about her struggles but to focus on what makes life beautiful in Métis culture."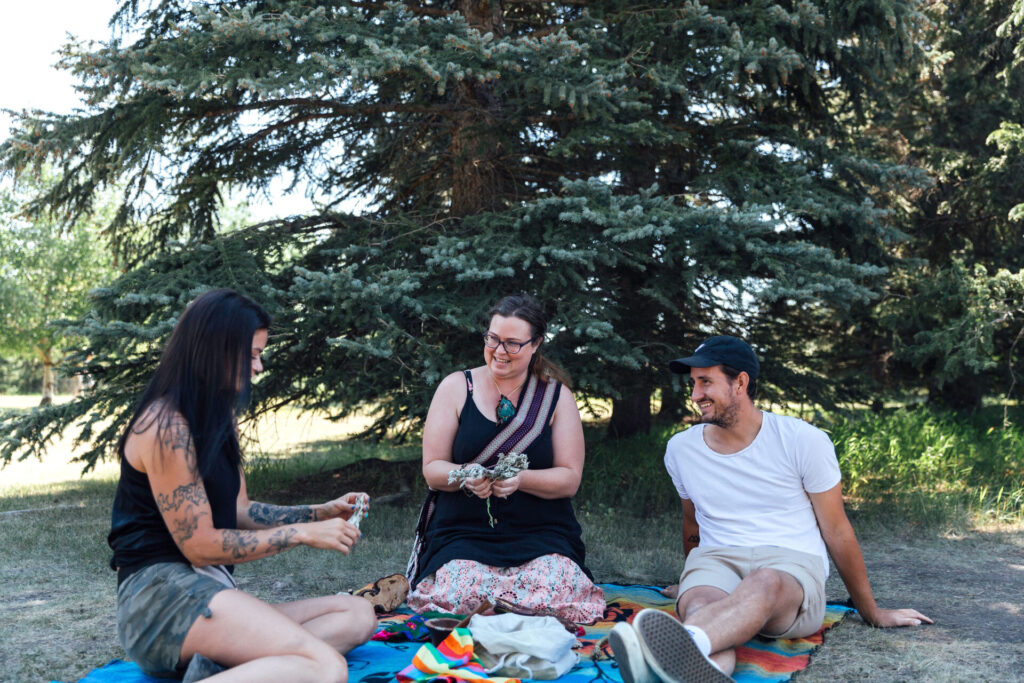 Through Kodiak Herbal, Kalyn Kodiak is following in her grandma Smith's footsteps by sharing the beauty of Métis culture. She runs a variety of workshops, presentations, and experiences including guided medicine walks, apothecary tea parties, wolf willow rosary workshops, Métis finger weaving, Métis beading, and more. Along with the workshops she runs, Kodiak has visited numerous schools, youth groups, and colleges to provide cultural education opportunities.
Her passion is evident in everything she does.
Starting her business has not been easy and Kodiak has been able to overcome many challenges to get to where she is today. "I was diagnosed with a disability when I was twelve and I've had it my whole life," she explained. "There have been years where I couldn't work. There are so many experiences you have with a disability, where you're trying to measure up to what's expected of you." Kodiak went on to explain that when she grew up, disabilities were something that nobody talked about and it made her feel ashamed. Now, the narrative is changing and more and more people are speaking up about these topics. "I'm grateful that now people are starting to open up and share their experiences with living with a disability because it enables everyone to open up and talk about it," she said. As a trained herbalist, Kodiak has also been able to witness first-hand the effects of medicinal herbs. "Herbs helped me overcome my disability in so many ways," she said. "It's still not perfect, I'll always have it, but I can manage it so much better with herbs."
Kalyn Kodiak has spent a lifetime garnering knowledge about herbs and Métis culture and she is passionate about sharing what she knows. "There's something in my soul that tells me I am meant to do what I do," she said. Her wonder, joy, and knowledge about the traditional Blackfoot territory and the plants that grow in it is inspiring to those who experience it. As the medicine walk concluded, each person who participated left with the realization that the land holds so much more value than many people realize. In a short, guided walk through nature, Kodiak provided a glimpse into the abundance of the land and the respectful use of the plants and traditional herbs that grow on it.
Kelsey Olsen is a Métis writer and author. Follow her on Instagram at @kelseyrolsen or on www.wanderwoman.ca.