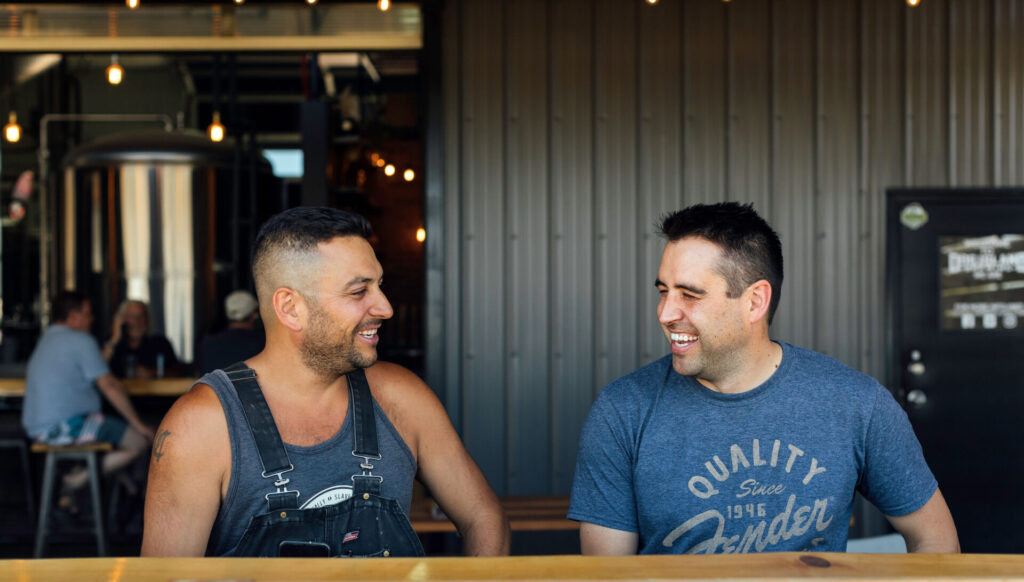 How two Indigenous men are reclaiming craft beer
Dog Island Brewery owners art part of a movement combatting racist stereotypes while also offering a place for community fun
By Kelsey Olsen. Photos by Noella Steinhauer
As long-time residents of the northern Alberta town of Slave Lake, Alberta, Ben Fiddler and Chad Paulson felt the town, despite its charms, lacked a certain type of gathering place.
"Growing up here, we've had a couple bars open up," Fiddler explained. "They play loud music and encourage dancing, which is great for the younger crowd. But for some people, that's not what they want. We wanted to create a place where people can go and sit down and have a beer with some friends, something that Slave Lake has never had."
Fiddler and Paulson set out to change that when they opened the doors to Dog Island Brewing in 2016. Years later, not only have they provided a place for locals and tourists to connect as they build solid reputations as brewmasters, they also managed to overcome systemic barriers facing Indigenous Peoples in the industry.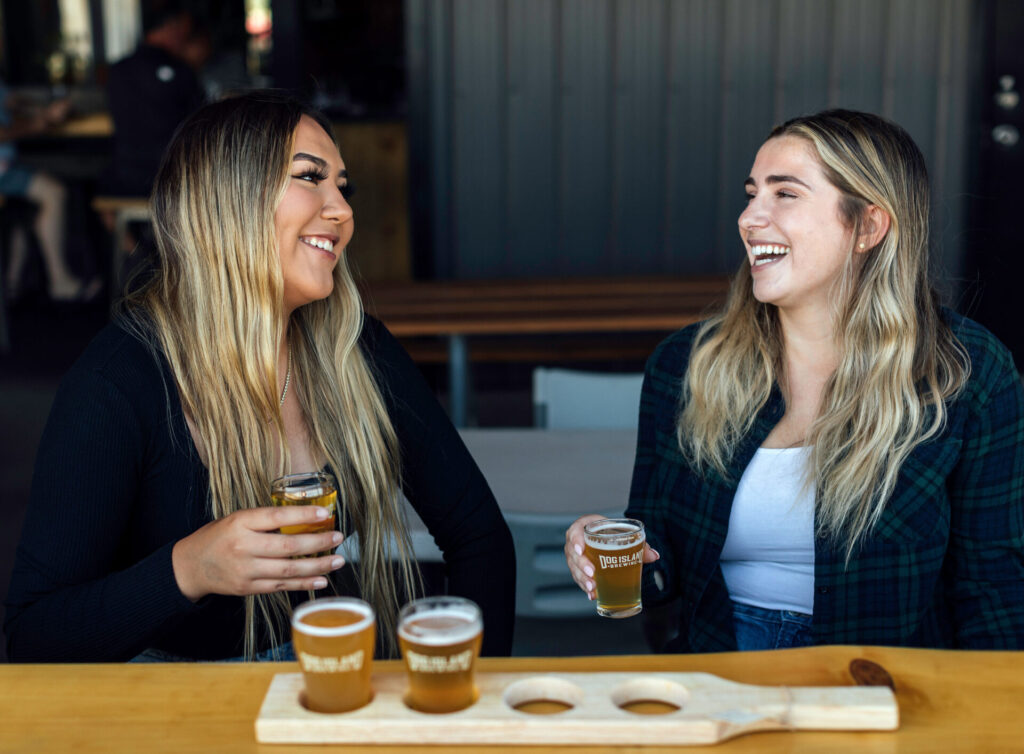 For Fiddler and Paulson, their thriving business did not come easily. Both are Métis, meaning that Dog Island Brewing is one of the few Indigenous-owned breweries in the country. Indigenous-owned breweries are rare mostly because of Canada's history of injustices towards Indigenous people. The enactment of the Indian Act in 1876 took away Indigenous rights, traditions and autonomy, including the right to possess or purchase alcohol on reserves, a policy that wasn't rescinded until 1985. Such policies also perpetuated generations of racist stereotypes about Indigenous Peoples' relationship with alcohol.
Today, Fiddler and Paulson are proud of their role in helping change this narrative through the community-friendly atmosphere they have created at Dog Island Brewing.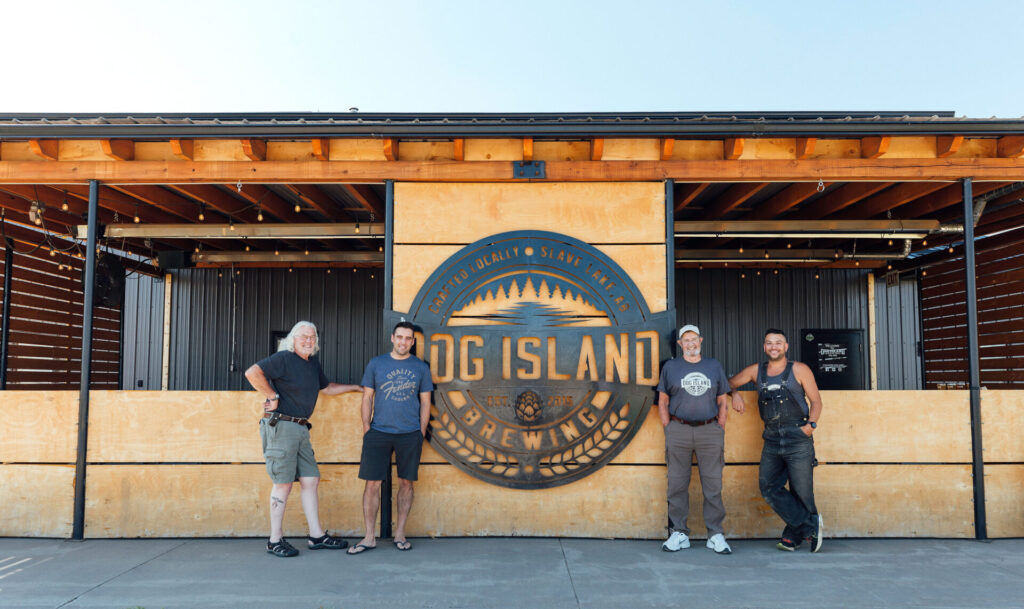 "Running a business wasn't the intention," says Fiddler. "The intention was to make beer with a good friend."
After working together as tradesmen, Fiddler and Paulson started brewing beers for fun in a storage room, the only place they had access to. Being experienced instrumentation technicians, the pair already had a background with working with a variety of pneumatic, electronic and microcomputer devices, many of the same or similar machines used in brewing, so it felt like a natural fit.
After learning the basics of brewing, they would invite friends to stop by and have a beer with them, and the positive feedback made them think bigger. Eventually, Fiddler and Paulson decided to pursue their dream of opening their own craft brewery. They wanted to pay homage to their home town, so they named the brewery after the small island located within Lesser Slave Lake that locals believe was once used as a summer home for sled dogs.
From starting out in a tiny storage room to the taproom they operate today, Fiddler and Paulson have every reason to feel proud, but how far they've come. But that is not the only thing they are proud of.
"Being Métis and being a part of the tourism industry is really important to Ben and me," Paulson stated. "We are proud of our culture and we want people to know that we're a Métis-owned business." A large wooden Métis flag is positioned beside the front door that emphasizes the two business owners' cultural heritage and pride within.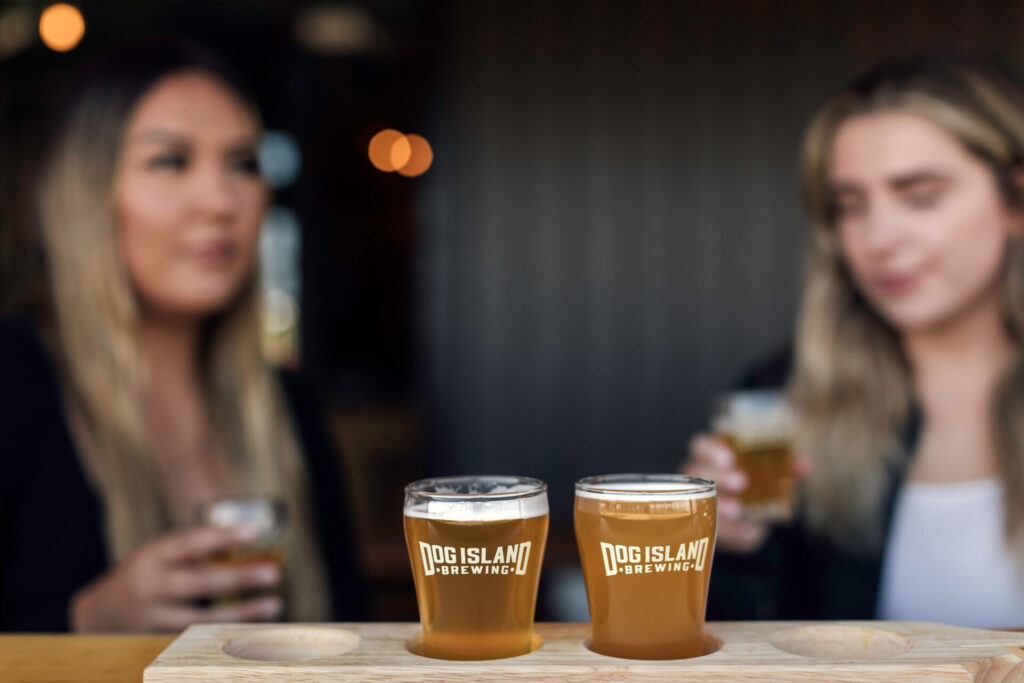 The two entrepreneurs are always looking for ways to give back to the community and are frequently offering various promotions to help a number of charities and organizations. To recognize National Day for Truth and Reconciliation in 2021, the duo donated 50 per cent of all beer sales to the Orange Shirt Society. Initiatives like these are important for Fiddler and Paulson, not only to support important causes, but also to help inspire important conversations within the community about allyship.
Kelsey Olsen is a Métis writer and author. Follow her on Instagram at @kelseyrolsen or on www.wanderwoman.ca.