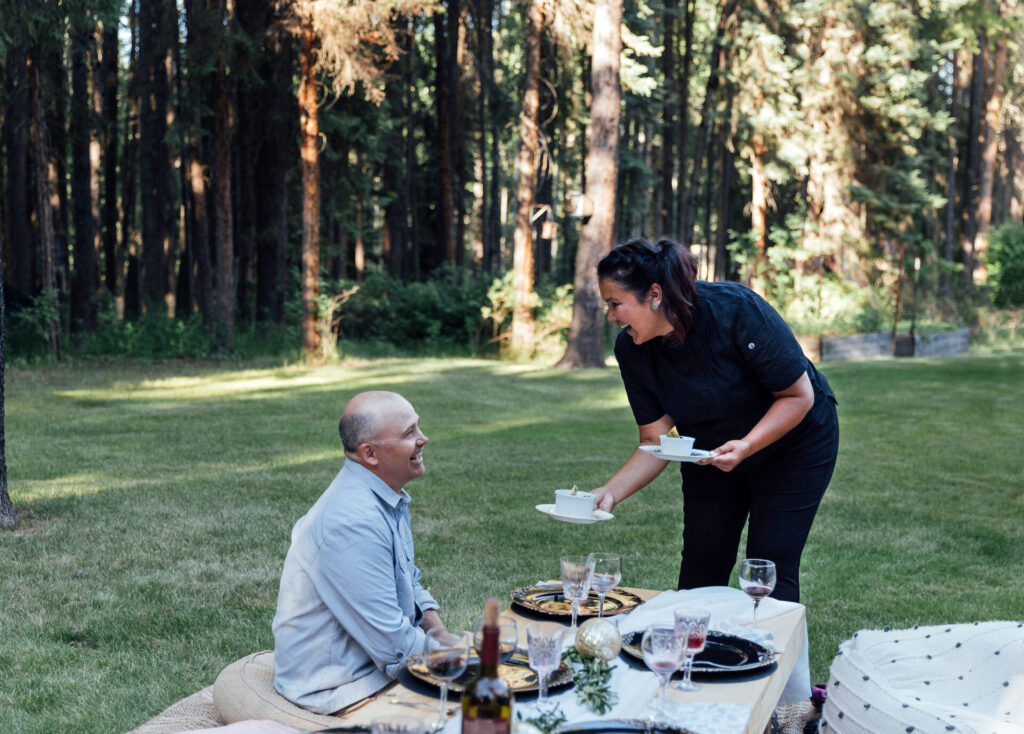 Dene chef bring healing, love and great taste to her Indigenous-inspired dishes
By Kelsey Olsen. Photos by Noella Steinhauer.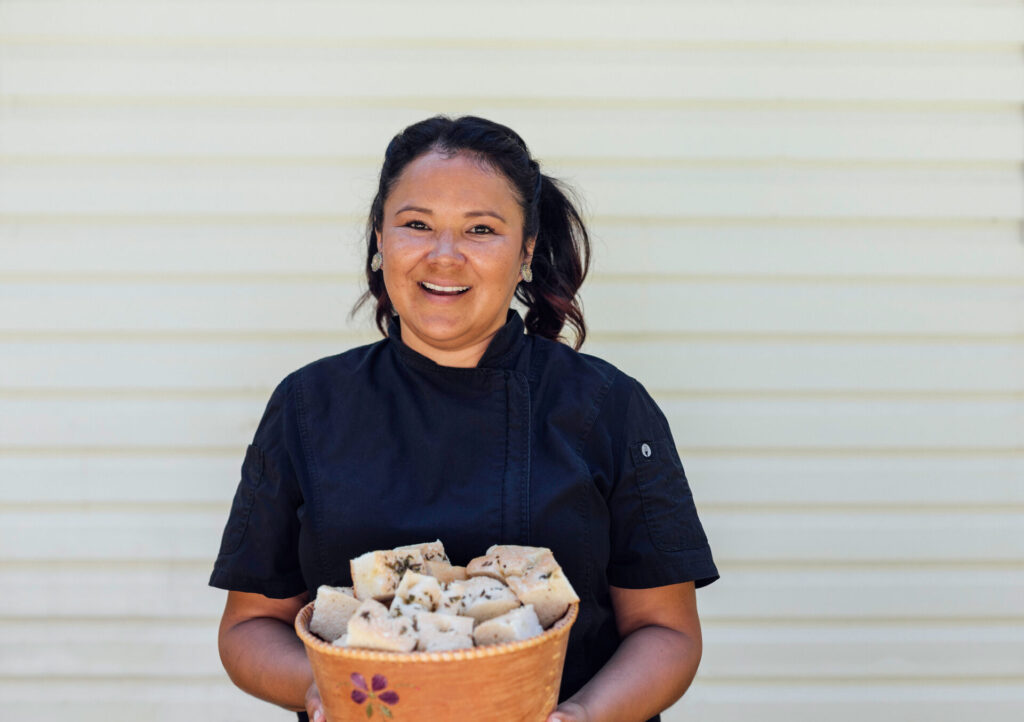 For many Indigenous people, food is, and has always been, a vital part of their culture. Indigenous chef Denia Baltzer draws from personal experiences and the land to inspire cuisine that is helping to re-establish food traditions.
Baltzer has many fond memories of her upbringing in the Northwest Territories as a Dene woman and a talented chef. She can remember a great deal of her childhood spent with family and the comforts of traditional Indigenous meals. Now a resident of Rocky Mountain House, Alta, Baltzer is preserving her traditional family recipes while adding her own unique twists. Baltzer's dishes not only come with delicious flavours and aromas, but also stories of rich culture and familial traditions.
"This is duck soup," Baltzer said as she introduced the first of four courses at an Indigenous-inspired dinner. "I grew up eating a version of duck soup and it was always a really special treat because it meant that it was spring time. The ducks would migrate north and we'd go duck hunting. It was always so exciting and I have many good memories of this dish." Baltzer went on to explain how she elevated this dish by smoking the duck, adding crispy duck skin on top, and incorporating wild rice and squash. As we enjoyed our first course, Baltzer refilled our glasses with a wild blueberry and mint Italian soda that made for the perfect summer beverage.
For many Indigenous people, food has a much deeper meaning than throwing a few ingredients together. "I really feel like food is medicine, that's how I approach the way I cook," Baltzer explained.
She emphasized the importance of having a good mindset while preparing food because it plays a vital role in each of our lives. Baltzer has seen firsthand the medicinal effect that food can have through an organization she has worked with called Deep Reflections Inc., in partnership with Wounded Warriors Canada. These organizations provide a multi-day equine therapy program for veterans and first responders affected by post-traumatic stress disorder. Equine-assisted therapy is a form of therapy that incorporates specially-trained horses into the therapeutic process. With the guidance of a mental-health professional, clients work hands-on with these majestic creatures by caring for them and building close relationships. Horses possess a unique ability to read body language and pick up on non-verbal cues which allows clients to build these therapeutic relationships, learn more about themselves, and begin to heal.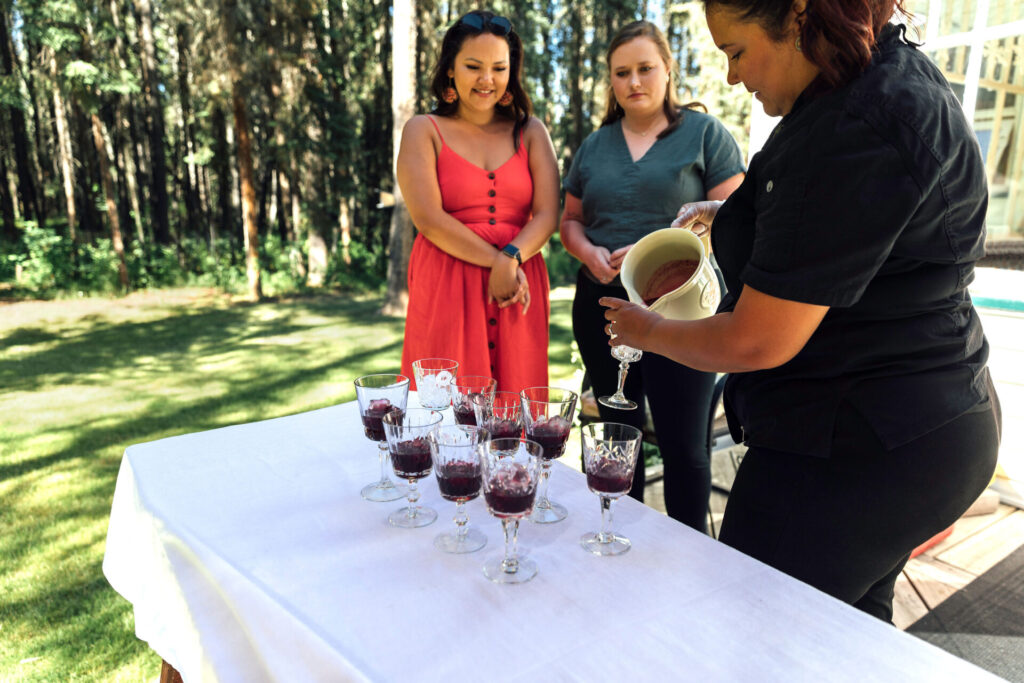 For close to seven years, Baltzer has provided the meals for this organization. "From day one of the program to the last day you can visually see the difference in these people that were really suffering," she said. "They are always so grateful for the food I provide and they say it makes them feel so comforted. There is just so much love and that's why I do what I do. I feel like I'm playing a little part in a bigger story."
The second course Baltzer served was a vibrant salad beautifully plated with maple pureed squash, greens tossed in a wild cranberry and maple vinaigrette, fire roasted squash, and pumpkin seeds. It was clear that Baltzer considered every aspect of the dining experience as each course was made with intention. As we prepared for our main course of elk and beef steak encrusted with juniper and dried mushrooms and a saskatoon au jus, Baltzer explained her inspiration behind the dish. "I call this dish an ode to my uncle David," she said. "Growing up we ate a lot of meat and it was always boiled. My uncle David hated boiled meat and potatoes so he'd always show up with his own steak and baked potato while the rest of us ate boiled meat." The group laughed at Baltzer's anecdote and dug into their entrees. A chorus of satisfied sighs and praises followed.
Our dinner concluded with the fourth and final course, dessert: rice pudding topped with wild blueberries and a pumpkin seed brittle. "I just created this dish today so I hope it tastes OK," she humbly stated. The spontaneous creation of this dessert speaks to not only Baltzer's talent, but also her creativity, passion, and entrepreneurial spirit as a chef. Despite being full from three prior courses, the group polished off dessert with pleasure.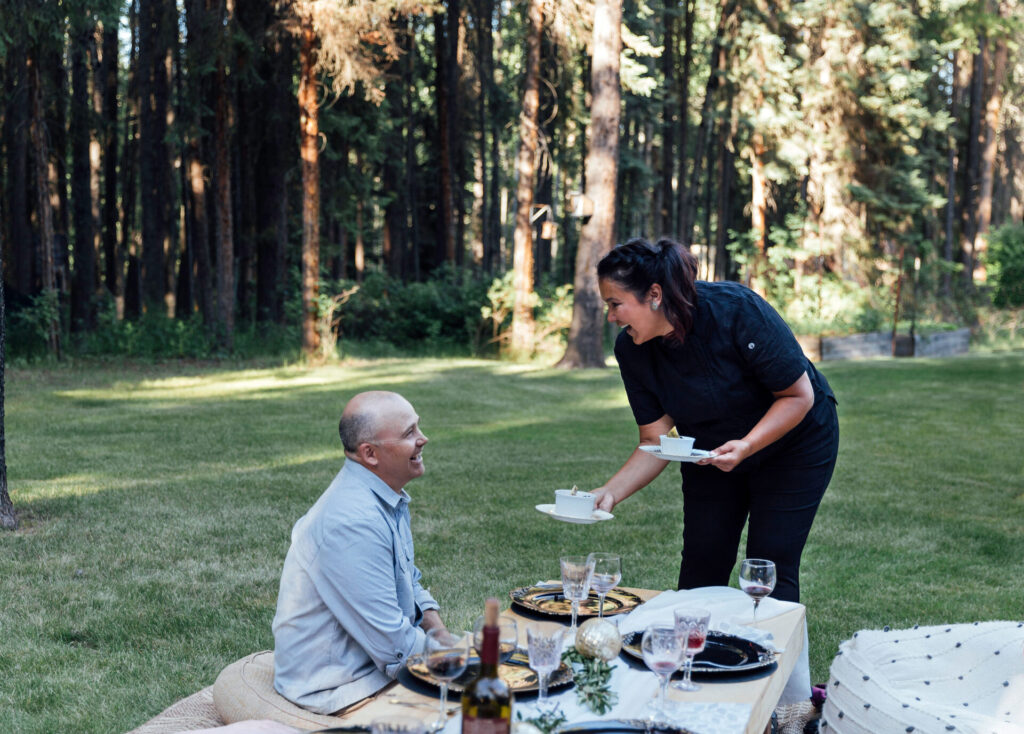 Baltzer has put an immense amount of work into Creative Cuisine to get to where she is today. Starting a business from scratch was not easy and there have been challenges that she has had to overcome. One unexpected challenge was when the COVID-19 pandemic hit in 2020 and she was unable to cook for people. She took this unique opportunity to create graze boxes, essentially a charcuterie to-go box featuring cured meats, fine cheeses, fruits, and more. Now, on top of catering for all kinds of events, Baltzer continues to offer graze boxes to her customers. Her passion and dedication are clear in everything she does and through her Indigenous background she is able to combine two aspects of her life that are extremely important to her. "I would like for people to think of me as not just a good chef or a nice person but as an Indigenous chef," she stated. "It's not something I am really flashy about, it's just who I am. I am a Dene woman."
Kelsey Olsen is a Métis writer and author. Follow her on Instagram at @kelseyrolsen or on www.wanderwoman.ca.