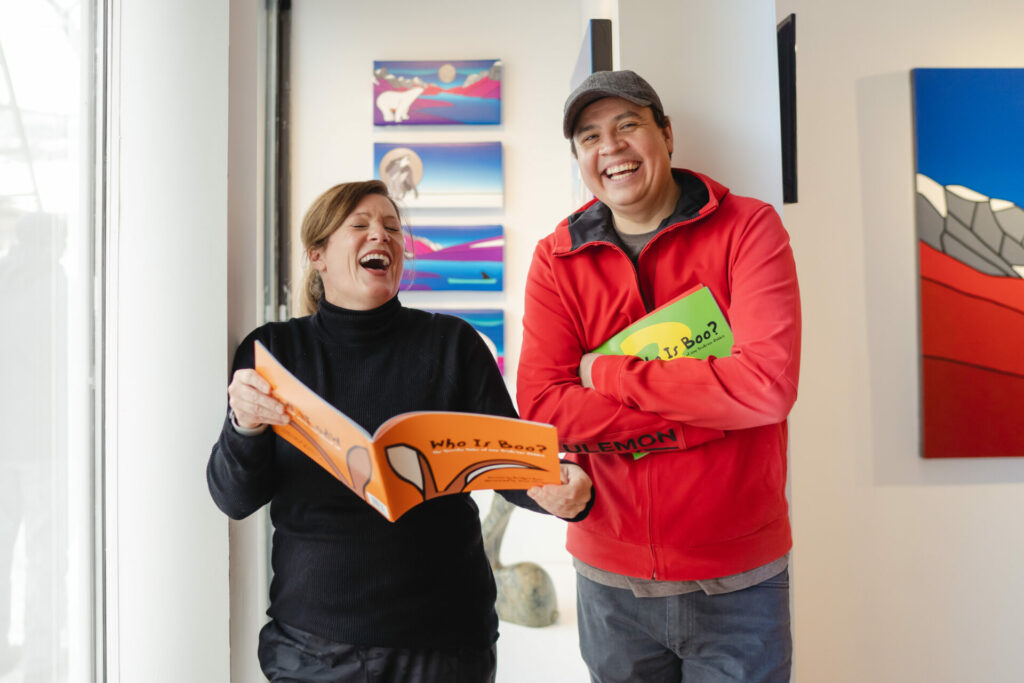 Indigenous products that will brighten up your life at home
Give the perfect gift, or splurge on yourself, while supporting local Indigenous makers and creators
Getting out of the house can be difficult these days, but thankfully, there are ample opportunities to pick up amazing take-home products from Indigenous tourism operators in Alberta. The products not only offer insight into Indigenous worldviews and support local entrepreneurs and communities, they are great products that just might give you a nice pick-me-up when you're stuck at home.
Whether for yourself or as a gift, here are some ideas of Indigenous products that you can purchase in each region of Alberta.
---
Northern Alberta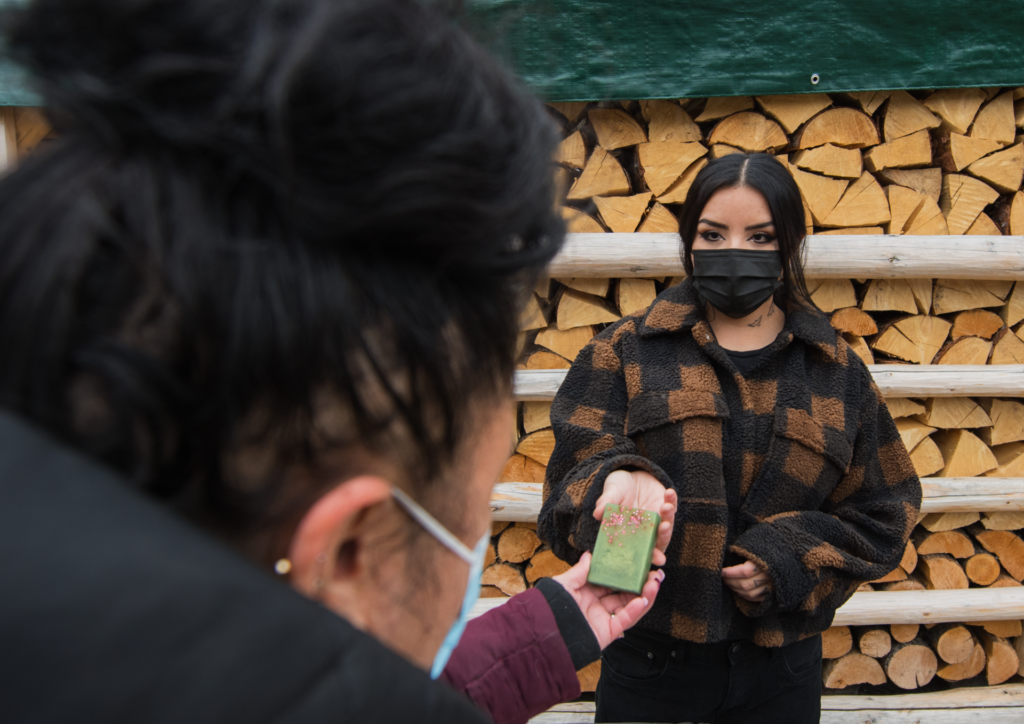 Lauren Moberly has deep entrepreneurial roots. Her great-great-grandfather was a successful business owner in the Jasper area around the turn of the 20th century, and is credited with discovering the famous Miette Hot Springs. Today, Lauren handcrafts soap through her company Fallen Mountain Soap, located in Grande Cache, that captures "the colours, scents and textures echoed in the landscapes that my people have walked over many generations." Her soap is available at a number of retailers around northern Alberta.
Carrie Armstrong, who descends from a long line of Cree Medicine Women, started Mother Earth Essentials to sell her luxurious bath and beauty products from natural ingredients and traditional recipes. She incorporates the traditions and knowledge of natural products that was passed down to her into beauty products, essential oils, lotions and more. Also check out her book Mother Earth Plants for Health & Beauty
---
Central Alberta
Thanks to its location on the steps of the Canadian Rockies, the town of Rocky Mountain House is famous for its ruggedness. But Denia Baltzer, the Indigenous woman who founded Creative Cuisine Catering in the town, loves the idea of having beautiful food anywhere, no matter how rugged. So she created a series of Graze boxes to fill this need. What is a Graze Box? You can think of it as charcuterie to go. When you show up at home or a friend's house with the box to share, they'll think of you as their new favourite person.
Jillanna Hannah is a Plains Cree woman now living in Treaty 7 territory in Alberta who has caught the eye of many American customers with her gorgeous handmade jewelry. Working in many styles, she captures the spirit of her Indigenous culture in everything from earrings to belt buckles.
---
Southern Alberta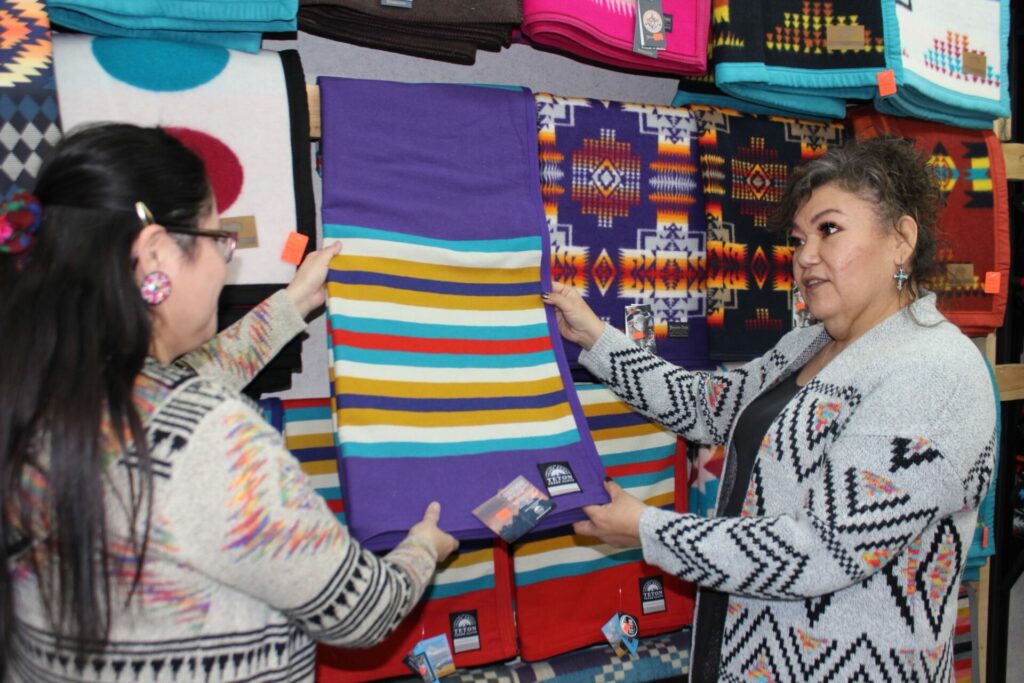 Eagle Spirit Gifts is a retail shop, carrying unique, Indigenous-designed products, including everything from clothing to housewares, jewelry, and furniture. The company is owned and operated by a Blackfoot family, and is a great place to find unique and authentic Indigenous clothing, bags, jewelry and more.
Who doesn't love the idea of receiving a box in the mail four times a year filled with magic? Created by Diana Frost, an Algonquin Métis woman, Colouring It Forward is known for its acclaimed colouring books featuring art from the Blackfoot, Dene Cree and Ojibway Nations, the organization is a social enterprise to support Indigenous communities. It's a unique collaboration between many artists, makers and Elders that also offers a mail-order EquinoxBox filled with Indigenous-made bath and skincare products, music, art cards and teachings from elders that will brighten your mailbox once a quarter.
---
The Rockies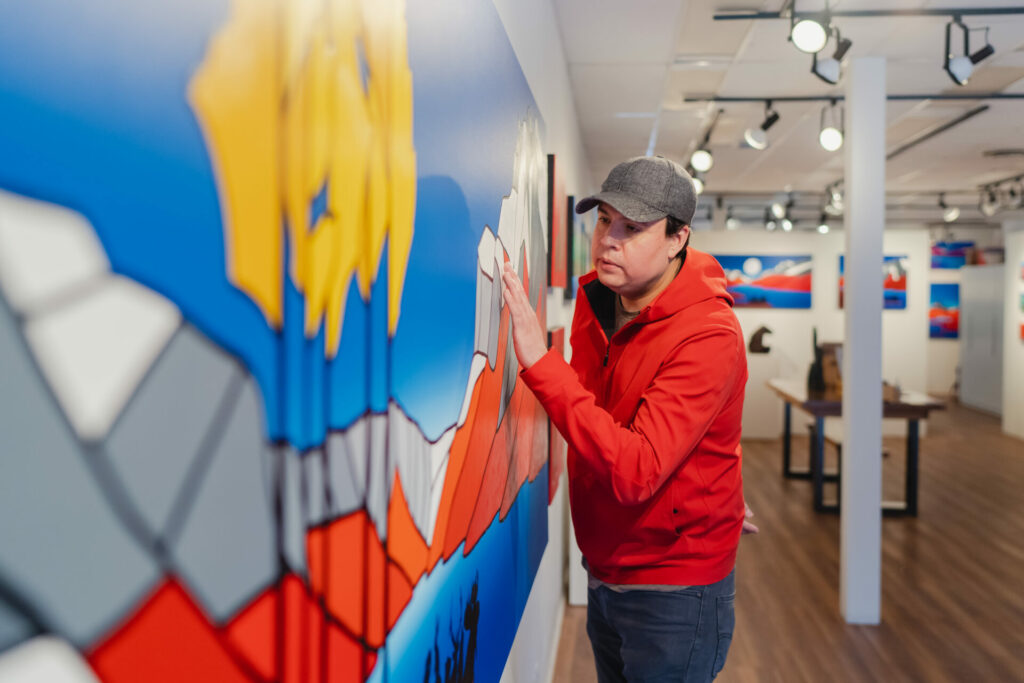 The Carter-Ryan Gallery and Live Art Venue is a unique hub of both art and theatre, with locations in both Canmore and Banff. The artwork comes from Jason Carter, an acclaimed and hugely popular Cree soapstone sculptor and painter who blends Indigenous art traditions with those of the famous Group of Seven Canadian painters. Carter's work can be seen at both the Calgary and Edmonton airports, in galleries across Alberta and even Canada Goose retails shops all over the word. And from the Carter-Ryan Gallery, you can even bring home your own original.
Located just a stone's throw from one of the most gorgeous and photographed locations in the world – Lake Louise in Banff National Park — Samson Native Art Gallery represents some of the world's most acclaimed Indigenous Canadian artists, including soapstone carver Nuna Parr and painter Clemence Wescoupe. The gallery's website also offers Indigenous products such as footwear, jewelry and giftware.