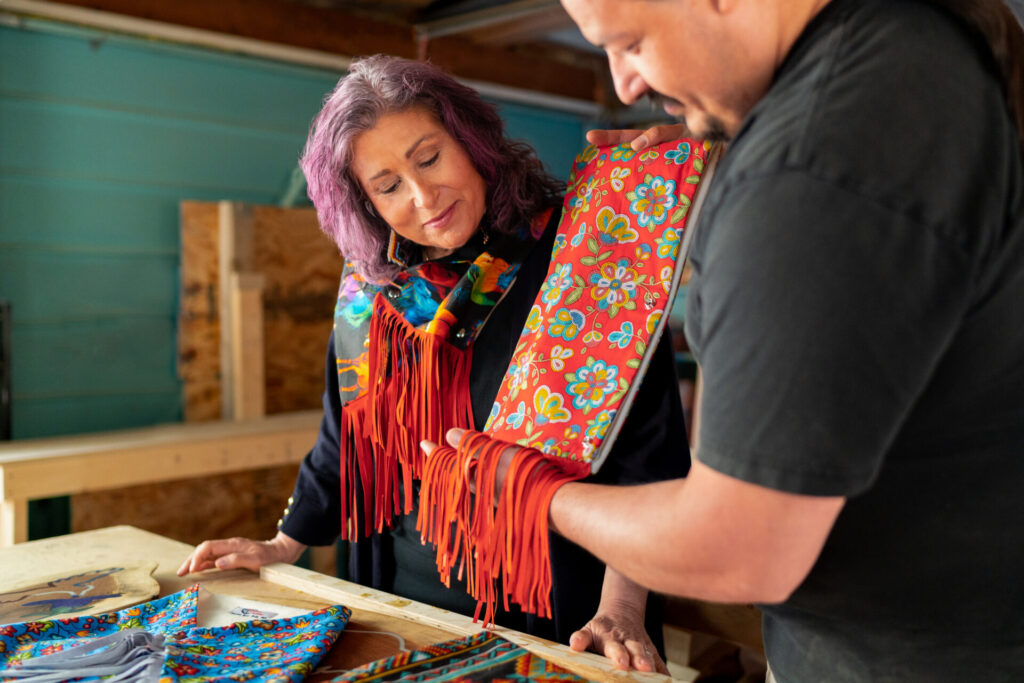 National Truth and Reconciliation Day: Taking a closer look at reconciliation through action and relationships
By Lysandra Nothing
What does reconciliation look like?
That question comes up a lot, particularly on National Day for Truth and Reconciliation, when atonement for past wrongs bring into focus the ongoing and systemic barriers facing Indigenous Peoples in Canada today. But for many, reconciliation as an ideal comes down to a simple thing that is inherently part of all of us: relationships. 
Reconciliation can be as simple as open and honest relationships. Such relationships are an important part of the burgeoning Indigenous tourism industry every day in Alberta.
To mark National Day for Truth and Reconciliation, we are taking a look at reconciliation in action through the relationships that have formed between Indigenous and non-Indigenous partnerships in the tourism industry in Alberta.
Bringing Indigenous culture to Alberta's famous glacier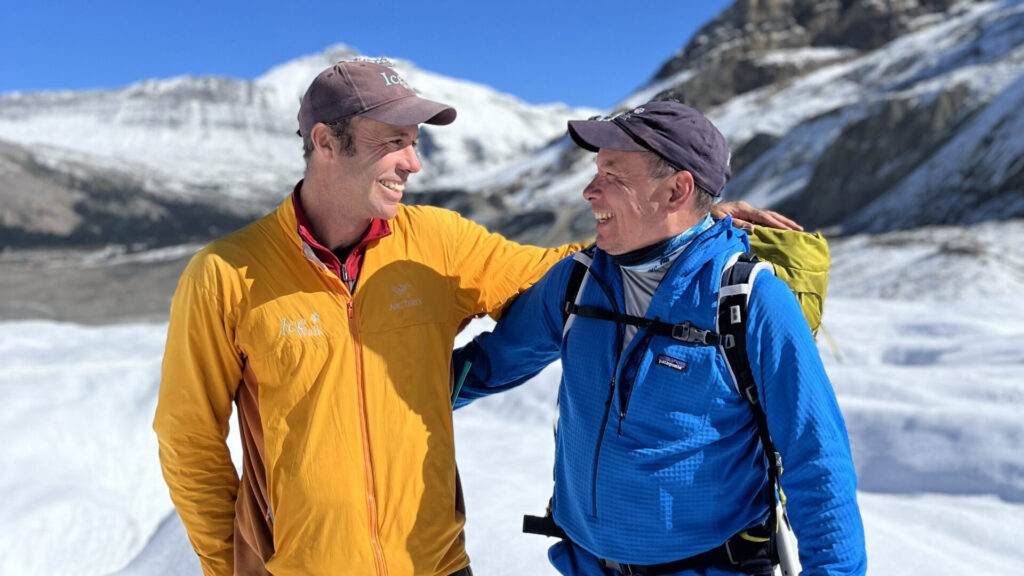 For Tim Patterson, a member of the Lower Nicola Indian Band (which belongs to the Scw̓éxmx, a branch of the Nlaka'pamux Nation) and the founder of Zucmin Guiding, his partnership with Corin Lohmann, owner of Ice Walks, is a manifestation of worldviews coming together to create a unique Indigneous outdoor guide experience.
"We're building each other's company, but also I'm teaching their guides and he's teaching my guides. That's what reconciliation is," Patterson says. "It's not a token thing of 'Oh I want you to tell us a story, or bring in an Elder,' it's actually being a part of his experiences and building my experiences."
Together, the two offer unique glacier walks on Columbia Icefield in Banff National Park through an Indigenous perspective with an educational focus. .. Upon starting their partnership, it became clear the two companies balanced each other out in that both businesses had cumulative knowledge and experiences to pair together to establish a one-of-a-kind glacier hike.
"One of the things about reconciliations is to develop those partnerships and advance our capacities, and our ability as individuals, companies and communities," Patterson says. "But it's also about us working together.".
Lohmann agrees, and says everyone benefits from the partnership. "The result of our partnership is increased awareness of Indigenous knowledge, and a better understanding of Indigenous culture and stories," he says.
Patterson shares that there is no such thing as losing culture, knowledge or stories because through partnerships with non-Indigenous peoples, they are developing a sense of togetherness in which Indigenous knowledge is preserved.
"If reconciliation is a partnership then we have to accept and encourage non-Indigenous and Indigenous to work together."
A rancher helping revitalize Metis culture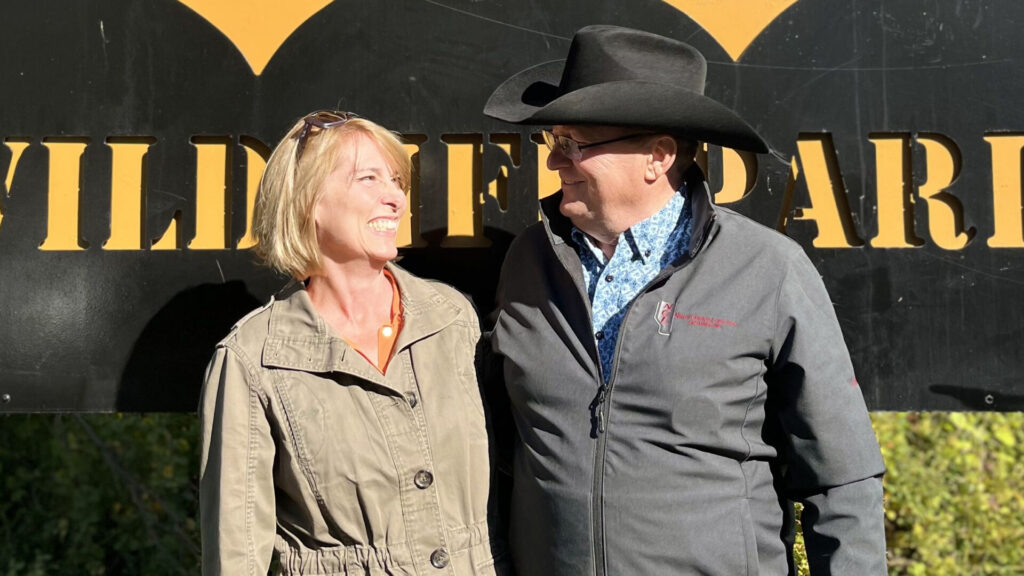 Juanita Marois and Len Hrehorets may be neighbours, but they seem very different on the surface. Marois is the CEO of Metis Crossing, as comfortable in a corporate boardroom as she is on a medicine walk with a Métis Elder. Hrehorets is a rancher with land just up the road from Métis Crossing, rarely seen without his cowboy hat and his well-worn extended-cab pickup truck.
But both say their unique partnership is paving the way for reconciliation in action for future generations.
Métis Crossing is a place of gathering for the Métis people and others to connect to land and culture. Hrehorets worked closely with Métis Crossing for two years in the development of the Visions, Hopes and Dreams at Métis Crossing Wildlife Park, which opened earlier this year with the return of woods bison, plains bison, white bison, elk, white elk, and percheron horses to the traditional Métis Lands at Métis Crossing. Hrehorets work as a rancher in developing and managing the animals was integral to this park's development.
"We want this to be here for Lens' grandchildren's grandchildren, and for multiple generations of Métis people to enjoy," Marois says. "So it's not about it's not about Len and I's partnership. It's about how we set a foundation to move this forward."
The partnership represents an important step towards reconciliation, as these Indigenous and non-Indigenous equal partners collaborate to welcome the return of heritage species to traditional Métis lands. The return of these animals is symbolic of the connection between Indigenous people and the land on which their ancestors once hunted and lived.
"It honestly took us a long time to figure out how this is going to work because we come from different places. We learned a lot from each other and everyday Len and I bring the best of ourselves to the table," shares Marois about their partnership.
"Reconciliation is everybody coming together," said Hrehorets.
Bringing Indigenous stories to life in the theatre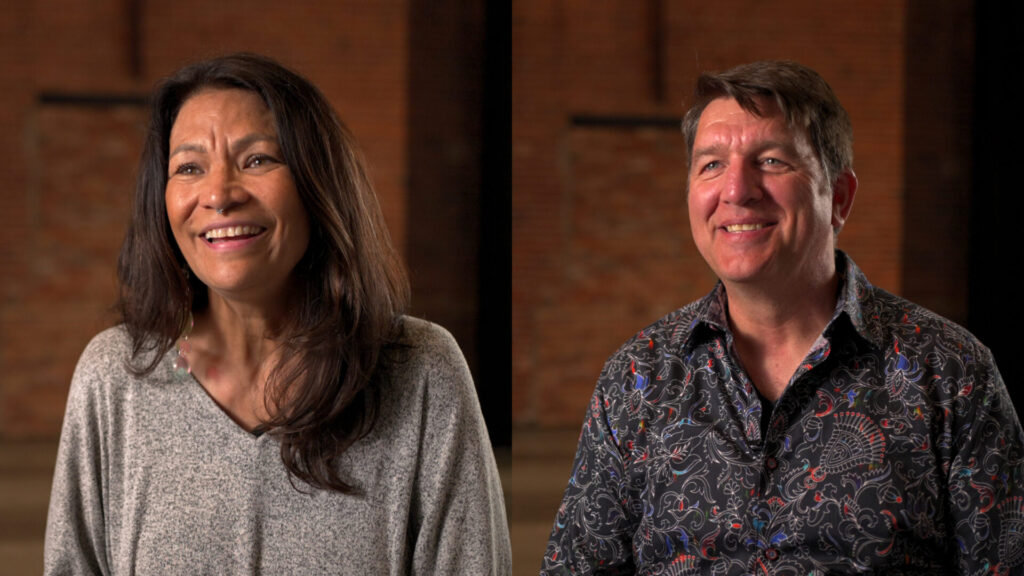 Michelle Thrush, creative director at Making Treaty 7 and Neil Fleming, executive director at Making Treaty 7 have a phrase they like to use to describe the way their partnership empowers allyship.
"Making Treaty 7 has always been to be an Indigenously led and settler supported," says Thrush, who is a founding member of the theatre company based in Mohkinstsis (Calgary).
Thrush, who is Cree with French and Scottish intermingled, is the creative force behind the theatre company, which is all about amplifying Indigenous voices and the Indigenous narrative. Fleming works behind the scenes to support the creative work. Reflecting on their partnership at Making Treaty 7, the dynamic shared between the two amplifies the true meaning of an alliance between an Indigenous person and non-Indigenous person.
"Neil is really great in that sense that he does not have to be the savior of Indigenous people. He does not have to be the face of Making Treaty 7," Thrush says. "He's the one that makes sure that we can do what we do and he supports everything that I've brought to the table."
As an ally, Fleming's understanding of Indigenous culture quickly changed his perspective on his role as a settler who lives on traditional Blackfoot land. His new perspective enables him to better support Thrush and all Indigenous artists who step foot within theatre.
"It's part of my gig to answer questions so that there isn't an extra heavy lifting on the Indigenous artists to have to explain all their culture and the art that they create and the stuff that we put out in the world," Fleming says. " I'm happy to take questions from people who are still learning.".
Their partnership has led to an understanding that allyship is more than just learning about the history of Indigenous people, it's also about holding space for Indigenous people to just be.
"Michelle leads from her heart and leads from her soul. For me, I try to be a filter," said Fleming.
Fleming and Thrush point out that National Day for Truth and Reconciliation creates a spotlight being turned on to Indigenous matters, but it means more emotional labor for the Indigenous artists that carry lived experiences.
Thrush and Fleming encourage reconciliation in a new way: to just gather together without an extensive agenda such as vigils and protests.
"We just had a happy hour. And so between five and eight, we had a DJ, you could come by and just chill. There was no agenda, just showed up at The Grande and hanging out with us was kind of a nice change up," shares Fleming about the Sookapii Hour event hosted on National Indigenous Peoples History Day on June 21st, 2022.