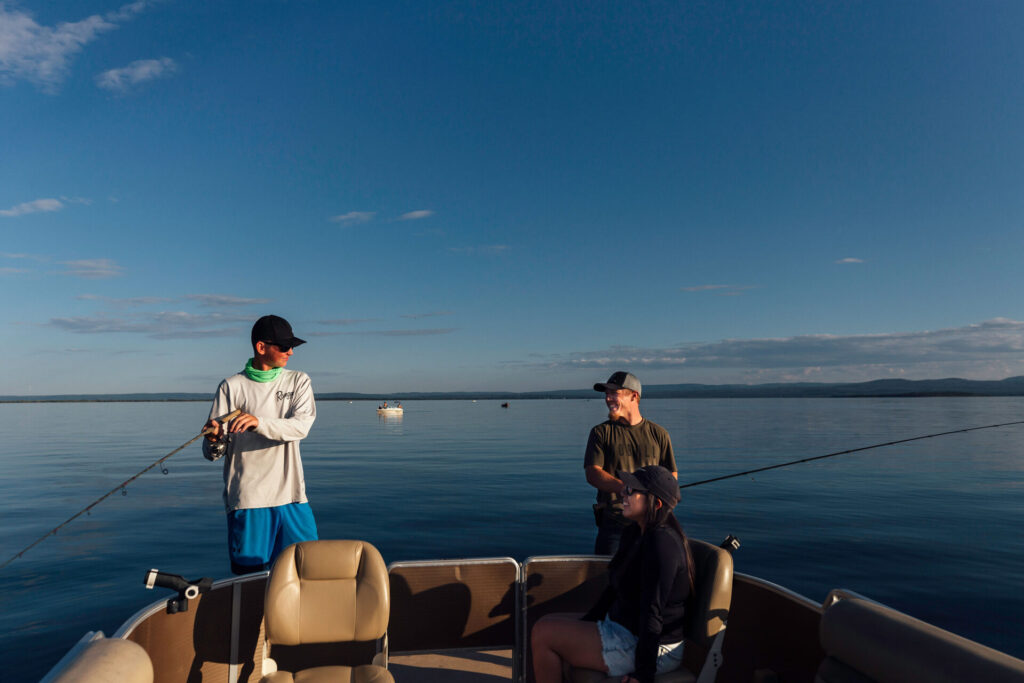 Connect with nature (and catch a nice walleye) with this Indigenous guide
Indigenous guides offer fishing tours on Lesser Slave Lake that help to facilitate connections to the land and preserve the importance of fishing to Indigenous culture.
By Kelsey Olsen. Photos by Noella Steinhauer.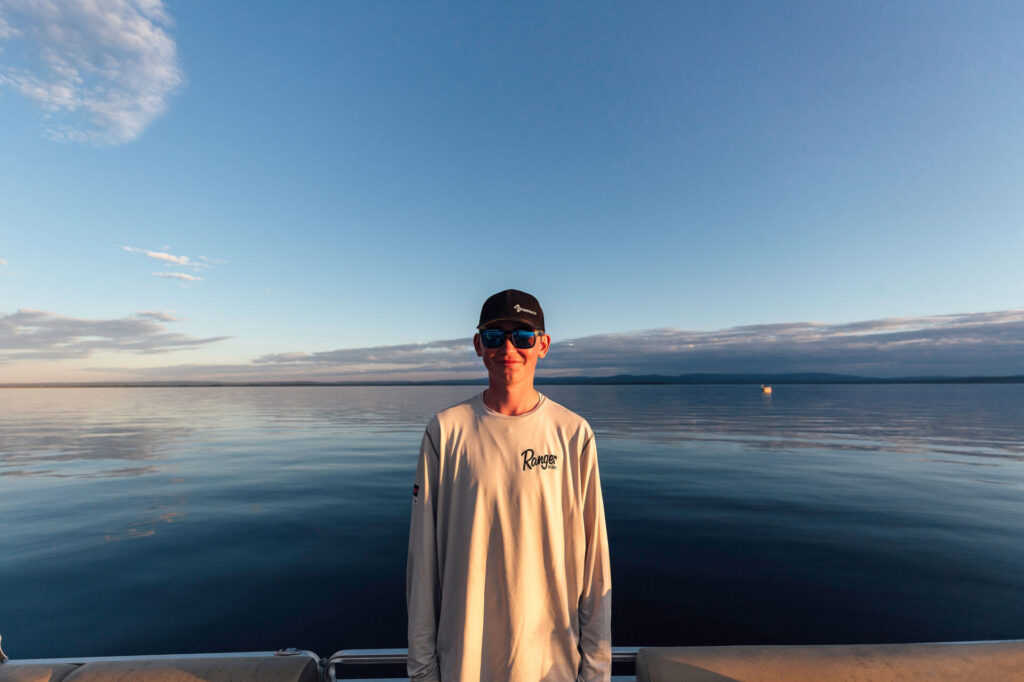 Five minutes into a guided fishing trip with Slave Lake Fishing Tours, I was reeling in my first walleye of the day. The sun was shining and the water on Lesser Slave Lake was still and glassy. It was a perfect day and a perfect place to experience your first guided fishing trip. There are a few things that will probably surprise you about Lesser Slave Lake — it's closer than you think it is, the 1,168 square kilometre lake is bigger than you can imagine, and the experience of fishing with an Indigenous guide is unforgettable.
Located a little more than 250 kilometres north of Edmonton, Lesser Slave Lake is Alberta's largest road-accessible lake and the province's largest managed fishery. The region has long been important to Indigenous peoples and the name "Slave Lake" was taken from its Cree name, Awokanek (Slavey), which is what the Cree traders referred to the Dene First Nations who inhabited the shores of Slave Lake before they arrived. The word "Lesser" was added to the name to prevent it from being confused with Great Slave Lake, which is farther north. In 1799, David Thompson became the first European to visit the lake and he established a trading post for the North West Company soon after. Though the trading posts in the region are long gone, the lake and the lush region surrounding it have remained important to Indigenous peoples since time immemorial.
Our 17-year-old fishing guide, Chris Courtorielle, took us to the best fishing spots on the lake and gave us countless tips and tricks to ensure we had the best chance at catching fish. Despite his young age, his knowledge of sport fishing is vast and his passion and experience is impressive. While we fished, he explained that he learned much of what he knows from his father, owner of Slave Lake Fishing Tours, Joshua Courtorielle. The father and son have been fishing together for many years. As Métis men and lifelong Slave Lake residents, fishing has been an integral part of both of their lives. Fishing and hunting are also important in Métis culture. For thousands of years, Indigenous people have valued the rich waters of Lesser Slave Lake and the lush land that surrounds it.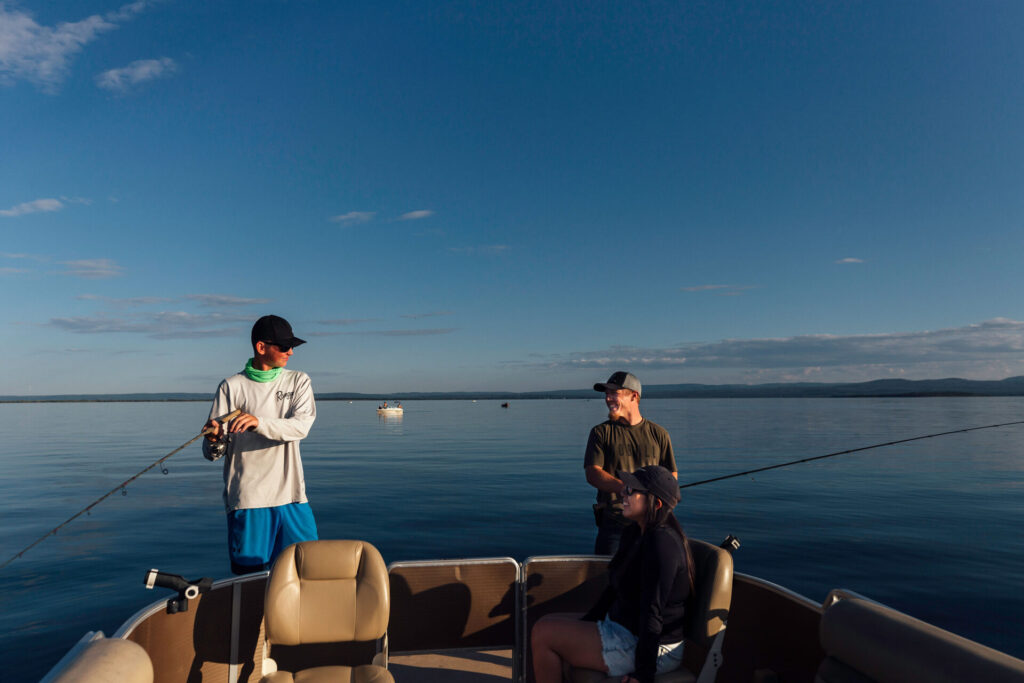 Chris and his dad Joshua run Slave Lake Fishing Tours together and share their passion and talent for the sport with anglers of all abilities. "The best part about running this business is seeing that look of excitement and pure joy on a kid's face after catching a fish," Joshua said. "Seeing how happy the mom or dad is that their child is catching a fish, makes me really proud."
On our guided fishing trip, everyone in our group had the opportunity to catch a fish. As we reeled them in, Chris expertly and gently scooped the fish up in a net and attached a fish gripper that allowed us to hold the fish without harming it before releasing the fish back into the lake.
Slave Lake Fishing Tours has been in operation for just over five years. Before Joshua started the company, he recalled the fact that nobody seemed to offer this service at Slave Lake. "I had no clue that a fishing tour company was even an option in this area," he said. "Fishing was something we were doing all the time and we would even meet people and take them out fishing. People started telling me that I should be charging for the experience and that got the ball rolling with our business."
Recreational fishing has become much more popular on Slave Lake in recent years, specifically fishing for walleye. This is not only because of the elusiveness of the species, but also due to the excellent food source that these fish have provided for many years. Traditionally, walleye were regarded as one of the best tasting freshwater fish and today, many people enjoy fishing for Walleye for this same reason. Other popular fish species in Slave Lake include burbot, northern pike, yellow perch, and whitefish.
Historically, Indigenous people within the area relied on fishing as a means of food and nutrition for their community, but also as an important cultural activity. Hunting and fishing were essential to the survival of Indigenous communities. Additionally, in many communities, exchanging fish or other traditional meats with the elderly, the sick, or the young was an important cultural protocol. Fishing brought Indigenous people together and it still does today. Some Indigenous communities have even started fishing derbies that foster a sense of fun and community. Through the valuable skills that were developed by Indigenous people, fishing has been able to evolve to what it is today. Slave Lake Fishing Tours continues to expand upon their fishing knowledge through incorporating new techniques, searching for the best fishing spots on the lake, and incorporating new technology to provide a contemporary fishing experience while still embodying the significance of cultivating relationships with the land and each other.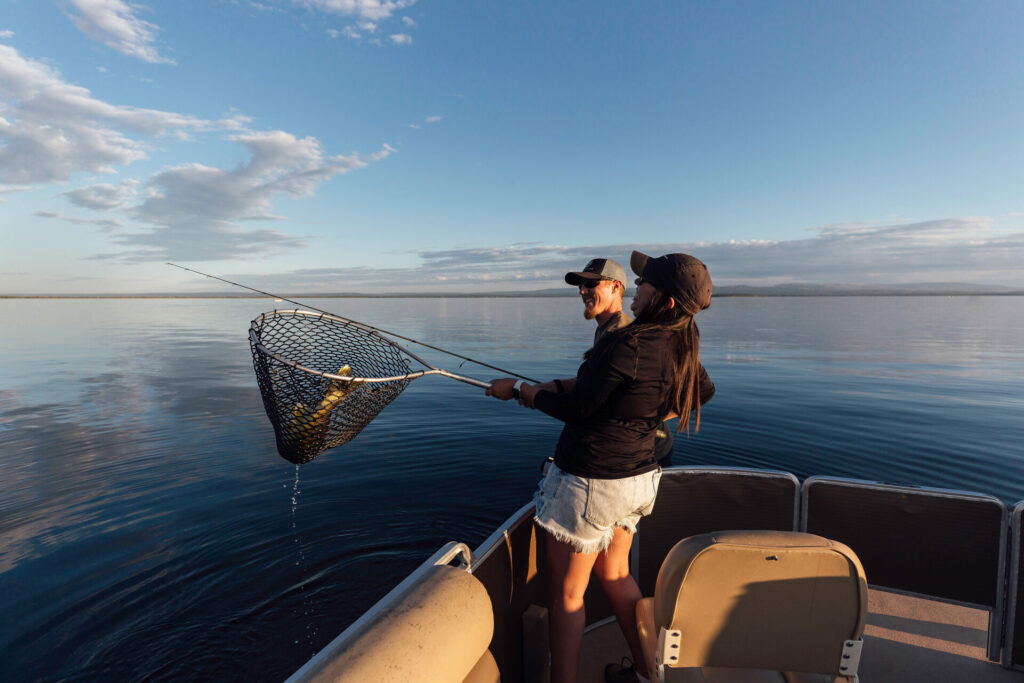 Our group was thrilled to make several catches throughout the day and into the evening. We were lucky to have an extremely calm day on the lake which meant we were able to keep fishing right until dusk. As the sun started to creep below the horizon, we began making our way back to the dock. We zipped across the glass-like lake with the burning orange sunset casting a golden glow over us. As we listened to Chris share his own personal fishing stories and admired the beauty of mother nature, I could easily understand his passion for fishing. There's an old saying, "a bad day fishing is better than a good day at work," but on a guided experience with Slave Lake Fishing Tours, it's hard to imagine that there could be such a thing as a bad day of fishing. Catching fish is a bonus, but being able to connect with each other and the beautiful land makes every day a good one.
Kelsey Olsen is a Métis writer and author. Follow her on Instagram at @kelseyrolsen or on www.wanderwoman.ca.