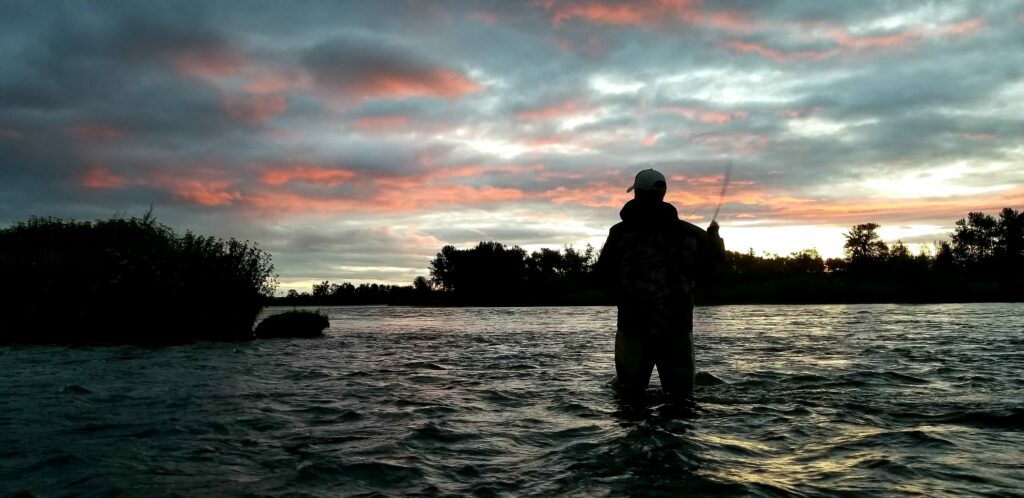 Summer outdoor adventures in Alberta
This summer get out and explore this province and the land that we call home. Indigenous Tourism Alberta's members are excited to welcome you and offer a variety of outdoor adventures for many interests. Below is an introduction to five of those members.
From mountain climbing to fishing, hiking, horseback riding and more, there are so many things for you to do on a day trip from Edmonton with Indigenous Tourism Alberta and its members.
Explore the amazing day trips from Edmonton:
Jasper Touring Company
Experience the terrain, wildlife and majestic views of Alberta's Jasper National Park. Joe Urie, the owner and operator of the Jasper Tour Company, comes from a long line of proud Métis who've been living and guiding along the Athabasca River since 1860, where many Europeans ventured during the Fur Trade in the 1800s.
Treat yourself to a memorable adventure offered by the Jasper Tour Company in this breathtaking region of Canada. Through the eyes of an experienced Indigenous guide, hike through the Canadian Rockies on wildlife adventures.
As part of a small group, you will view the grandeur of the Rockies, walk along the shoreline of the largest natural lake in the Canadian Rockies, hear stories of the region's First Peoples and learn about the wildlife that roams in the area. The Jasper Tour Company specializes in half-day tours year-round and offers an excellent introduction to Jasper and its surrounding areas.
Drift Out West Fly Fishing
Experience fly fishing on one of the most renowned fly fishing rivers in the world with Drift Out Fly Fishing. Run by the experienced Quinn Soonias, Drift Out West Fly Fishing provides everything you need to have a bucket list type of adventure, including Quinn's experience, passion for fishing and love of the river.
Quinn's guiding experience is extensive and his knowledge and understanding of the Bow River is comprehensive. In addition to being an excellent angler, Quinn is a talented fly tier and produces all the dry flies, streamers and nymphs used by his guests.
Book one of the three trip packages provided by Drift Out West or inquire about customizing an experience.
Wildhorse Ranch & Outfitters
Wildhorse Ranch & Outfitters is built on the goal of making lives better for both people and horses. Owners Diane and Bear Baker work to create a place of peace where people can come together and understand life on a higher level.
Focused around the Equine Evolution of Excellence, Wildhorse Mountain Ranch is a blend of consciousness and horse sense designed to help people live. The Warriors of old are said to have come back as great horses. Let them guide you on your journey to remember who you are, what your are and why you are here.
Join Diane and Bear at Wildhorse Mountain Ranch, 45 minutes west of Red Deer for girls camps, business retreats, personal retreats, land-based learning, camps, events and more.
Girth Hitch Guiding
The Girth Hitch Guiding team is lead by ACMG Rock Guide Tim Taylor whose first outdoor climbing experience was powerful enough to teach him he was capable of far more than he ever dreamed.
A trip with Girth Hitch Guiding is based on their core belief of transformational adventure and will take you into the majestic Rocky Mountains. Depending on the day they will be friendly and welcoming or imposing and intimidating. Either way, Taylor has spent the last decade of his life seeking excellence, learning, failing and sharing journeys. It's this experience and his love of walking with people as they encounter and overcome challenges that will have you walking away from this one-of-a-kind experience with powerful memories.
Embark on one of their popular guided adventures or allow them to tailor an experience to exceed your expectations.
Mahikan Trails
Gain a new perspective, learn traditional knowledge and discover ancient survival skills in the heart of the Canadian Rocky Mountains. Brenda Holder, Indigenous owner and operator of Mahikan Trails, connects visitors to the land through guided hiking tours and medicine walks that explore the traditional lands Brenda calls home.
Following in the footsteps of her family lineage as a traditional guide of the Kwarakwante people of Jasper, Alberta, Holder offers many opportunities to share cultural knowledge with visitors about the area and how her ancestors survived off the land for millennia.
Visitors will learn unique teachings carried through generations and knowledge about the plants in the area through distinctive identification methods taught through hands-on experiences and connecting with the land.
On medicine walks, visitors will be provided with the opportunity to harvest and store traditional plants, while learning how to make medicines from the land.
Wild West Badland Tours
Wild West Badlands Tours is an Award-Winning tour of Drumheller. Let Wild West Badlands Tours show you a side of the Drumheller Valley you've never seen before.
Choose from different tours to discover the beautiful geography, hidden history, and unique culture surrounding Drumheller. Local stories, anecdotes, humour and history will accompany you as you view the sites and unparalleled scenic views from the comfort of their air-conditioned bus. Their goal is to provide guests with an enjoyable, informative, and memorable vacation experience while visiting this unique location in Drumheller, Alberta.