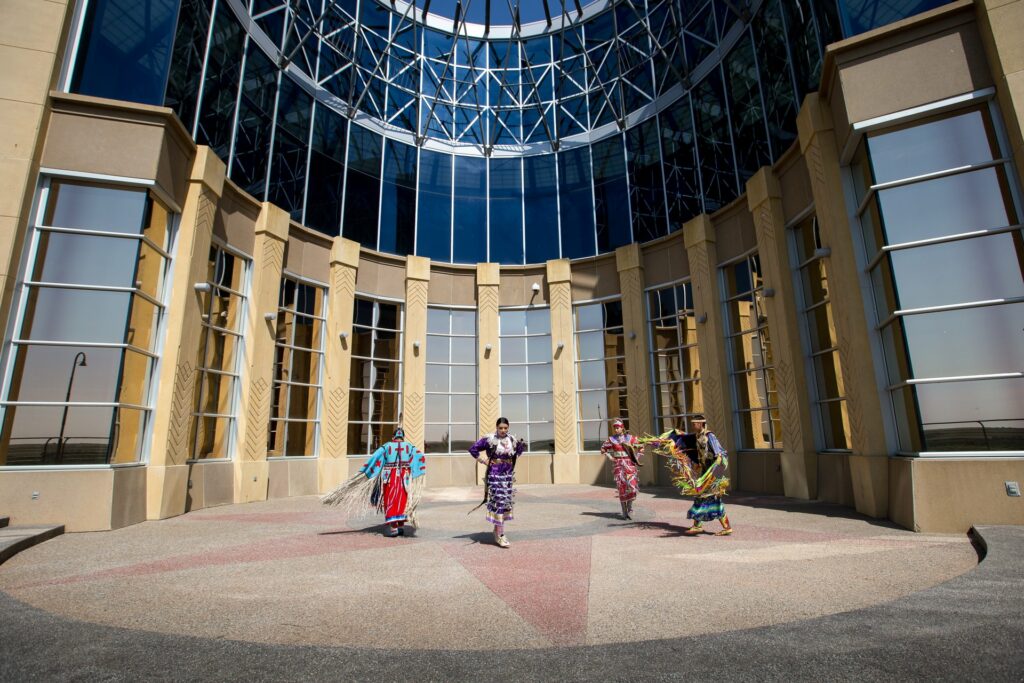 Take a Fall Indigenous Road Trip – It's Good for Your Soul!
Road trips are good for the soul – especially when they're the kind that allows you to explore other cultures and gain new perspectives. You don't have to go far in Alberta to experience another culture and that makes it the ideal destination for this kind of trip. There are at least 11 different Indigenous languages spoken in the province and a vast number of Indigenous sites and tours to experience. No matter which part of the province you set out from, there will be something fascinating to discover. Here are just a few spots to consider for your next road trip.
South
Blackfoot Crossing Historical Park
The site of the signing of Treaty No.7 is less than an hour's drive south of Calgary. Blackfoot Crossing Historical Park is dedicated to the promotion and preservation of the Siksika Nation's language, culture, and traditions. Explore the eco-friendly museum, taste some Indigenous food at the restaurant and take a self-guided tour of the historic sites outside the building. You can also camp overnight in a traditional tipi. The museum is currently open by appointment only.
Buffalo Rock Tipi Camp
Sleeping under the stars in a traditional tipi is a special way to experience Blackfoot culture. Buffalo Rock Tipi Camp has six tipis alongside the Oldman River on the Piikani Nation Reserve. You can also arrange guided hiking tours, storytelling, traditional ceremonies led by Blackfoot Elders, and authentic food and drinks as part of the experience. The camp has hot showers, toilets and hand wash stations.
Alberta Rockies
Girth Hitch Guiding
Indigenous tourism is diverse and there are many experiences to enjoy. In David Thompson Country near Abraham Lake, you can follow Métis guide Tim Taylor with Girth Hitch Guiding on a transformational climbing adventure in the Canadian Rockies. Taylor's passion for climbing is rooted in his culture.
Warrior Women
Join the Warrior Women in Jasper National Park on a medicine walk or around the campfire for a fireside chat, drumming and singing. Matricia Bauer and Mackenzie Brown are a dynamic mother-daughter duo who share their Cree culture and traditions in these unique experiences.
Central
Painted Warriors Guest Ranch
This guest ranch 28 km southeast of Sundre is home to the Painted Warriors Indigenous Outdoor Experience. Experience the culture of the Cree and Saulteaux people and learn to use a bow and arrow from a master archer. Ranch guests can also enjoy horseback riding, animal tracking, snowshoeing and camping in a Métis trapper tent.
Wildhorse Ranch & Outfitters
Stay in a rustic cabin at Wildhorse Ranch and experience an authentic western lifestyle with hosts Diane and Bear. Enjoy horseback riding, delicious meals, view and touch Indigenous artefacts and experience the peace and rejuvenation that comes from ranch living.
North
Métis Crossing
Experience Métis Culture and history at Métis Crossing, Alberta's first Métis cultural interpretive centre. Located 120 km (75 mi) northeast of Edmonton, this site was built on the original river lots of Métis settlers. Paddle a voyageur canoe and interact with costumed interpretive guides at the historical village. You can stay overnight in a traditional trapper tent. In fall 2021, there will also be a new 40-room guest lodge.
Grant Berg Gallery
This Indigenous-owned commercial art gallery represents more than 50 artists and carries a large amount of Indigenous art. More than half of the artists represented at the Grant Burg Gallery are local. An amazing collection of paintings, sculptures, prints, pottery, and giftware are available for purchase.