Siksika First Nation guide strives to educate people about Blackfoot culture and history from business
Entrepreneur Profile: Many Guns Ranch
By Kelsey Olsen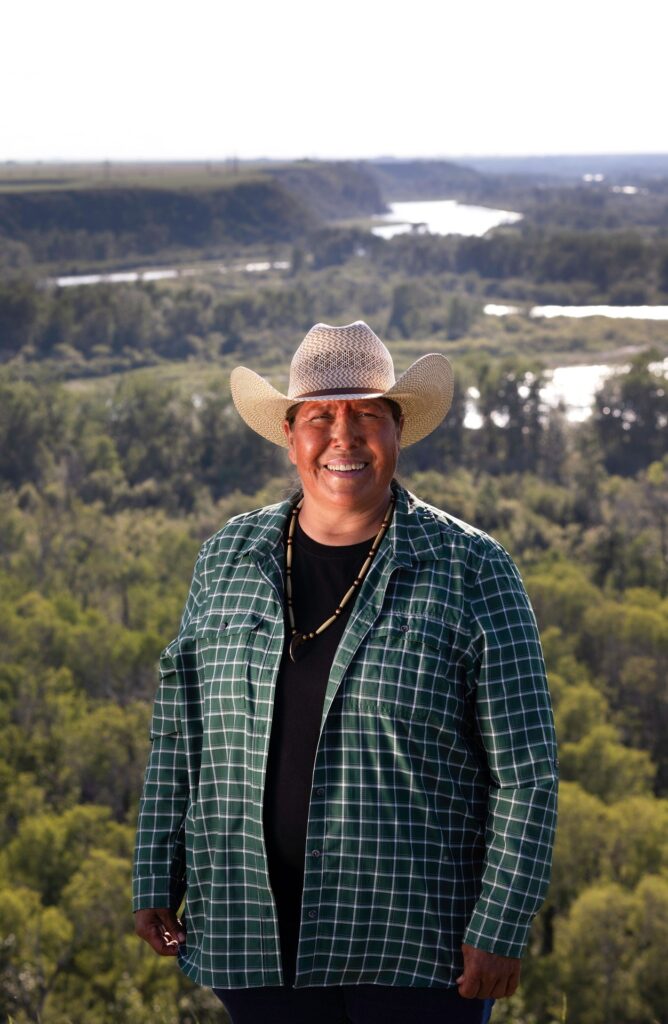 What's your name and where are you from?
My name is Jeanette Many Guns and I am from Siksika Nation. My late father Clifford Many Guns wanted a warrior to give me my Blackfoot name. He asked Fred Weasel Fat, a war veteran and leader of a sacred society, to name me. My Blackfoot name is Mii Sa Mii Po Ya Kii — Long Standing Woman, someone that doesn't give up. I am very proud of my Blackfoot name and very proud to be a Blackfoot.
Describe your business in one sentence.
A Blackfoot experience where we share our culture, history, and the spirit of the horse through teepee lodging, wagon rides, and trail rides.
What's the biggest challenge in running your business?
My biggest challenge is getting experienced help. For example, to set up our tipi, it took me a long time just to get the help I needed. A lot of people don't know how to set up a tipi anymore and now a lot of people don't ride horses so it's really challenging getting help from a person with enough experience.
What's the best moment you've had with your business?
Riding out through our traditional lands and sharing our culture and history. A specific moment that comes to mind is when I brought a woman from Switzerland out to the sand hills by horseback. The woman started crying and she said, "I can't believe this. There's not a soul in sight. There's no noise. It's beautiful out here." She couldn't believe how much land we have and that it's still untouched.
What part of your business are you most proud of?
My family history because all of us are historians. We love our culture and our history and we love to share it. I am also proud of our Blackfoot territory. It was from the North Saskatchewan River all the way down to south of the Yellowstone River. That's why Siksika is one of the biggest reserves in Canada because that's how powerful we were before the white men came.
Why do you run this business?
I run this business because I want to educate people about who the Blackfoot people are, the history of our ancestors, and the land. I want to give visitors authentic Blackfoot experiences and educate them about my people. Thousands of years ago we were here, we protected all of this land. We never called it "our land" because nobody owns the land, it's the creator. It's important for people to know who we are because we were the First Nations. When I was young at school I never learned about my own history so now this is our time to start telling people about who we are.
Who is your inspiration?
My mom and dad, my grandfather, my great-grandmother; my family. I grew up with my great grandmother. She lived to be 102 years old. We always went to the Sundance and she'd cook and she'd always paint her face. She always wanted to protect us. My grandfather would tell me stories and that's how I learned about my culture. My great-grandfather was a historian and my mom and dad always did a lot of activities for our community. My children also inspire me; I love their curiosity about our culture and language. My children are the future generation who will carry on the traditional Blackfoot way of life.
What's your hope for the next seven generations?
That we still have our language. That we still have our culture. That we still have our Sundances. That we still can use all the medicinal plants and herbs. That we can still live off the land.
What's one thing you wish more people knew about your business, yourself or your community?
How beautiful it is because no one will ever know unless they come.
What ITA resource is most valuable to you?
The people who help me with getting resources like grants and the help I get with social media marketing. I have also found that the conferences are really helpful to learn about running a business.